The script is a standard one, and is followed to perfection nine times out of 10. A country playing their first match of a tournament that they are hosting completely dominate the game from start to finish, and win with ease. At least that's what India was expecting when their team took to the field against New Zealand in Nagpur.
But New Zealand had different script in mind. One that was read, rehearsed, and executed to perfection as they bowled India out in the second innings who were chasing a paltry 127, for a dismal 79.
It has not been an ideal start for the favorites. While winning the world cup looks to be a tough battle now, there is still hope for the Men in Blue .
Pakistan went on to win the T20 World Cup in 2009 - albeit in a different tournament format - despite losing two matches. India made the final of the 50 over World Cup in South Africa after losing one of its matches to Australia earlier in the tournament.
Let's take a look at what India needs to do to qualify for the semi-final stage in the ongoing T20 World Cup.
This is what the current points table looks like in India's group: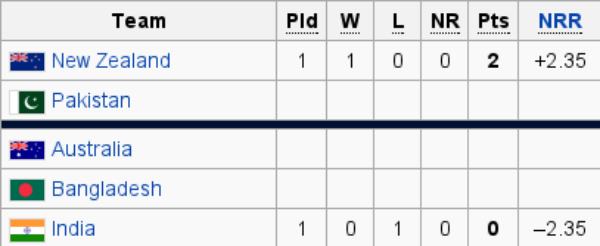 India have three matches left in the group - against Pakistan on 19 March, against Bangladesh on 23 March, and Australia on 27 March. As can be seen in the table, New Zealand sit at the top of the group with 2 points, while India are rock bottom with 0 points.
Since the teams that finish at the top two positions at the end of the group stage will qualify for the semi-final, the loss to New Zealand means that the hosts will need to win all their remaining matches to be guaranteed to qualify. Difficult, but not impossible.
However, there are two 'R's that could majorly work against India in their bid to qualify - namely, rain and run rate.
Challenge #1: Rain
Unexpected showers had come to haunt the Netherlands in their qualifiers for the super 10's and it could very well do the same for India.
If a match is abandoned due to rain, both teams share 1 point. But while New Zealand can afford to share a point by virtue of already having 2 on the board, it would almost certainly mean curtains for the Men in Blue.
Netherlands lost their opening match to Bangladesh in their qualifiers and their next game - a must win against Oman - was rained out in Dharamsala, making it mathematically impossible for them to qualify even if they beat Ireland in their last match. Indian fans would only hope that this doesn't repeat itself during their clashes with Pakistan, Bangladesh and Australia.
Challenge #2: Run rate
Imagine a scenario where at the end of the group stage, New Zealand top the group with 7 points, while Pakistan and India languish below them with 5 points each.
Which team will go on to join New Zealand in the semi-finals? The decision will be made by considering run rate, or more specifically - the Net Run Rate.
To arrive at a team's net run rate, a simple formula is applied:
Sum all runs scored in the tournament by a team and divide this by the total number of overs faced in the tournament.
Add together all the runs conceded in the tournament and divide this by the total number of overs bowled.
After arriving at both figures, the bowled rate is simply subtracted from the batted rate, and that is the net run rate of a team.
As can be seen in the table, India currently has a net run rate of -2.350 - a number the team would hope to get into positives over the course of the next three matches.
So there it is. India still have their destiny in their own hands to a large extent.
Win the next three matches without any fuss, and it's all smooth sailing.
Win two and share points in the third? A tricky scenario where India would need to have a superior net run rate than their opponent.
Lose another match? The hosts would then almost certainly go crashing out of the tournament, barring a miracle and hoping that their opponents slip up too.
It's still all wide open for India in group 2.