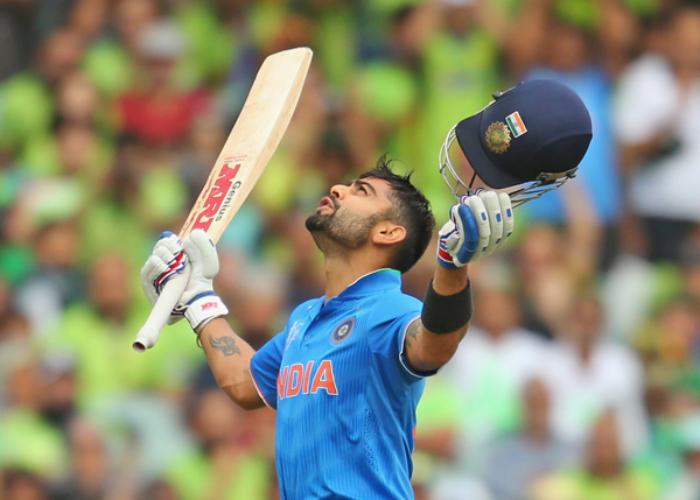 In awe of Virat Kohli's batting genius in the World Twenty20 win over arch-rivals Pakistan, Indian captain Mahendra Singh Dhoni said the elegant right-hander's willingness to take challenges head on sets him apart from others.
Also read: Pakistan denied their 'mauka' by India once again
In a low-scoring tense encounter last night, Kohli played the sheet-anchor role to perfection by slamming a 37-ball 55 to guide India to a six-wicket win at the Eden Gardens. The hosts were chasing 119 in the rain-curtailed game.
Also read: Top Twitter reactions after India's win over Pakistan
"It's the hunger to perform, his willingness to take up the challenge that sets him apart. His biggest plus point is he takes everything as a challenge. He wants to contribute in each and every game. That's why, he prepares well, he takes care of his fitness," Dhoni said in praise of the Kohli in the post-match press conference.
"He understands how he is supposed to bat in different wickets to score runs. We all know once he gets going, he always converts it into a big innings which I feel is one of the most important things for any youngster.
"When you're scoring runs, make sure you score a lot of runs. Everyone will go through a bad patch but what you can do is try to minimise the duration. The best way is when you're going through a purple patch make sure you score a lot of runs," he said
In two back-to-back innings against Pakistan - the 49 he scored in the Asia Cup last month and the unbeaten knock here yesterday - , Kohli proved his class once again and Dhoni said the swashbuckler's ability to convert starts by simply rotating the strike is also an added plus .
"It's about how you're converting and about tackling pressure. Often individuals go for big shots when there's a lot of pressure. The best way to deal with it is just take a single and go to the other end.
"It calms you down and at the same time you've the positive intent as you're looking for a single. If you see his batting that's what he really does," he said.
Dhoni further said that running between the wicket is an an area where Kohli has an edge over others.
"You've to push hard. He loves batting with individuals who can run hard with him. Running hard is the easiest way to score runs. You hit it in the mid-wicket, long on region and if you've two good runners you can convert one into two and that puts a lot of pressure on the bowler and the fielding side," Dhoni explained.
On the flip side, the win has done little to help India's Net Run Rate which took a hit owing to the loss to New Zealand in the campaign-opener.