Rohan Raj
| Updated on: 14 February 2017, 5:58 IST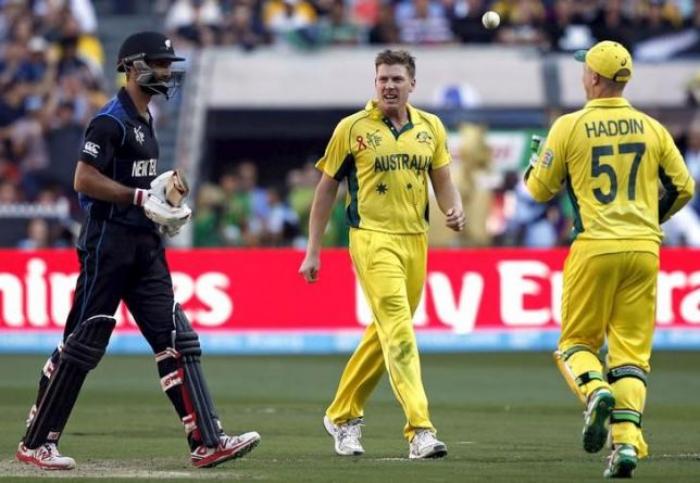 On 17 February 2005, Australia defeated New Zealand in the first men's full international T20 match at Eden Park in Auckland.
The game was played in a light-hearted manner with both the teams turning out in the 1980s kit and players sporting moustaches, beards and hairstyles popular in the 80s. It was all fun and games back then as Glenn McGrath cheekily recreated the infamous Trevor Chappell underarm incident from the 1981 ODI between the two sides.
Watching the players goofing about on the field, the umpires, too, didn't shy away from having a bit of fun as Billy Bowden showed McGrath a mock red card for his antics.
Also read: High-flying Kiwis eyeing Oz scalp in World T20
11 years later, the trans-Tasman rivals find themselves pitted against one another in a match where having fun will be the last thing on the players' minds.
New Zealand will be eager to boost their chances for the semi-finals, while Australia will be looking to make a statement in their World T20 campaign opener today.
Kane Williamson's men gave a stern warning to their rivals after shocking the title contenders India in their opening game. The spin trio of Ish Sodhi, Mitchell Santner and Nathan McCullum did all the damage as much-hyped Indian batting line-up failed to negate the challenge.
However, Australia have always been an indomitable side, especially in big events like the World Cup, and they too will fancy their chances in the upcoming encounter at the Himachal Pradesh Cricket Association (HPCA) stadium in Dharamsala.
Head-to-head in T20Is
Australia and New Zealand have only met four times since their inaugural international T20 match in 2005. The teams have never played each other outside Australia. New Zealand won their last encounter - back in 2010 - in a Super Over but Australia have been winners on every other occasion.
As they have not tasted T20 success in recent times, Australia will seek to use last year's emphatic World Cup final victory to gain a mental edge. And while the Australians are inspired by their 50-over World Cup triumph, New Zealand have recently beaten them 2-1 in an ODI series.
Also read: Top T20 cricketers and their quirky superstitions
Recent form
Australia: After a gap of 484 days, the Aussies won a Twenty20 International when they beat South Africa by five wickets at the Wanderers in Johannesburg on 6 March.
To build on this win, Australia took the final game of the three-match series to seal a 2-1 win. The result should give the team enough reason to be confident, but there is no denying that the recent past has not been the kindest to Australia. Of their last 10 matches, Australia has won just four, losing six, including a 0-3 result against India in Australia.
New Zealand: In their last five T20Is before the World T20, the Kiwis won four matches against the likes of Pakistan and Sri Lanka.
The only game that the Black Caps lost was against Pakistan - by 16 runs. More importantly, the Kiwis are high on confidence following the shock win against India in the World T20 opener.
Key facts
Shane Watson is Australia's most successful batsman in World T20s, racking up 441 runs in 20 matches at a strike rate of nearly 140.
Kane Williamson holds the record for the highest percentage (70 per cent) contribution (of a completed innings) to a team's total in a T20I.
With Mitchell Johnson having called it a day, Watson tops the bowling charts as well, with 17 scalps. Watson's economy of 8.23 may appear high, but for a non-specialist bowler, this is nothing to complain about.
New Zealand has been involved in two of the three ties in World T20 history - they lost both in the Super Over.
Australia's biggest wins in World T20s in terms of runs (81) and wickets (10) have both come against Sri Lanka. The two teams will not meet in the first round.
Daniel Vettori (5.83) and Nathan McCullum (6.08) are the second and third most economical bowlers in World T20 history.
Australia have been semi-finalists twice and finalist once, but have never won a World T20 title.
Brendon McCullum is one of six players to have hit a century in World T20, in the 2012 edition against Bangladesh.
World T20 history
Australia: The usually dominant Australian side has never won the ICC World T20 in its short history.
The Oz brigade came close to winning the coveted title in 2010 where they lost the final by seven wickets to a spirited England team who clinched the title for the very first time.
They were also the semi-finalists in the 2007 and 2012 edition of the tournament. The team also had a forgetful outing in 2009 and 2014 edition of the tournament where they crashed out in the second round.
New Zealand: In the inaugural World T20 in 2007, New Zealand made it to the semi-final before losing to Pakistan by six wickets. But the next three editions saw it eliminated in the Super 8s stage.
In 2009, two defeats to Pakistan and Sri Lanka sent New Zealand packing. In 2010, a loss to England and an inferior Net Run Rate saw Pakistan nose ahead.
In 2012, New Zealand lost to all three of its opponents - Sri Lanka, West Indies, England.
Yet, 2014 was probably the toughest pill to swallow as New Zealand failed to close out a game against South Africa and eventually crashed out to a 59-run loss against Sri Lanka after being bundled out for 60.
Track record in T20Is
Australia: Of the 84 matches, the Oz brigade has won 42 games and lost 39 matches. They have also tied two matches while one game had no result. Also, their highest total in T20Is came against England when they scored 248/6 at 12.40 runs an over at Southampton in 2013.
New Zealand: The Kiwis have played a total of 89 T20Is where they have managed to win 43 matches and lost 39 games. They have also tied five matches against their opponents while two games had no result.
Their highest total in T20Is came against Australia in 2010 when they scored 214/6 at 10.70 runs an over at Christchurch.