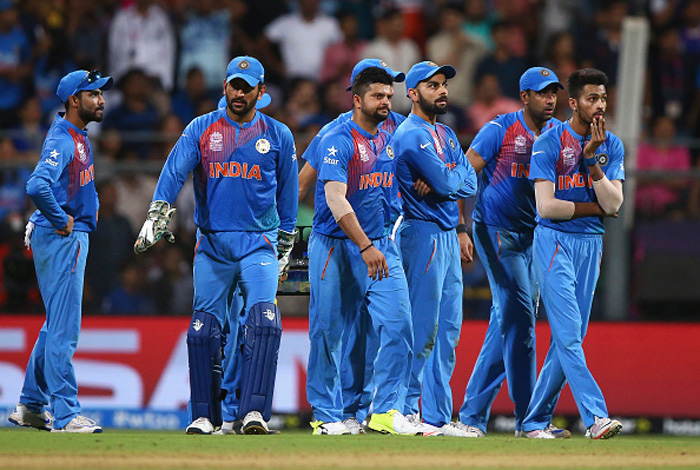 Losing the plot
India crashed out of the World Twenty20 semi-finals when WI chased down the target of 193 with seven wickets in hand
The Indian bowlers lost the plot against the marauding Caribbean batsmen, and the short boundaries and dew didn\'t help
Share the blame
Virat Kohli scored a brilliant unbeaten 89 as India put up a total of 192/2
However, given the conditions, the other batsmen, especially Ajinkya Rahane, could have done more
More in the story
Did India get their team selection wrong?
Dhoni\'s over-reliance on Pandya, and how it cost India the game
The young and the old, men, women and children noisily filled up Mumbai's Wankhede Stadium terraces, willing a Virat Kohli special and an Indian victory over the West Indies in the second semi-final of the ICC World Twenty20 on a dew-laden Thursday night.
Kohli obliged with an unbeaten 89, but India were clueless about stopping the marauding strokeplayers during the chase.
Lendl Simmons, drafted in as a replacement player for this game, was the West Indies' hero, starring in two dominating partnerships with opener Johnson Charles and Andre Russell. They made the most of Darren Sammy's luck with the toss and the opportunity to chase down a below-par score, with the Indian bowlers struggling to negate the dew factor.
Also read: #INDvsWI | Heartbreak for India, West Indies enter final of World T20 after miracle win at Wankhede
Where the batsmen faltered, despite Kohli
The Indian batsmen hit only 17 fours and six sixes during their 20 overs. This meant they had to run hard for as many as 47% of their runs. The West Indies' chase was a sharp contrast - as many as 74% of their runs came through 20 fours and 11 sixes. Such numbers indicate that the Indian attack was found wanting, but only after the batsmen had not posted a winning total.
Wankhede has short boundaries. India scored 53% of runs in fours and sixes, while WI scored 74%
India paid the price for not getting their team composition right on a belter of a track. Yuvraj Singh's injury could not have come at a worse time for India, making a reshuffle necessary. With left-handed opener Shikhar Dhawan also losing the faith of the team management at a crucial time, India went in with two changes to the side that scraped its way through to the semi-finals.
Ajinkya Rahane did make runs, but on a track on which aggressive strokeplay was not only possible but also desperately needed, he did not make them at a quick enough pace. Manish Pandey was picked ahead of Harbhajan Singh, who has plenty of experience of bowling in T20 games at the Wankhede Stadium, but did not even need to bat.
At a time when the innings should have taken off on the platform laid by Rohit Sharma, it appeared as if the second-wicket pair was playing the consolidation game until Kohli unfurled some strokes. Of course, Kohli began as if he were in a hurry, edging a couple of times and, flustered by a short-pitched barrage from Dwayne Bravo, surviving two run out chances as well.
Also read: IND vs WI: How India-West Indies clashes are decided in T20 Internationals
To be sure, Kohli settled down and unleashed a flurry of strokes, including the trademark cover drive and an exquisite square cut off Suleiman Benn. And once Mahendra Singh Dhoni had paddle-scooped Carlos Brathwaite to the long-leg fence, a dazzling Kohli show was magically unfurled. The skipper had only charged the ignition but Kohli was turbo-charged during their 64-run stand.
Bowlers' inevitable meltdown at the wrong time
However, on a pitch on which England had chased down South Africa's 230-run target earlier in the tournament, the score of 192/2 appeared insufficient to stop the West Indies' big-hitters from running away with the game. It needed a disciplined effort by the bowlers for the wishes of the 32,000 fans in blue to come true. But that was wishful thinking on Thursday night.
India's familiar problem of inadequate bowling resources resurfaced at the business end of the tournament. Barring old warhorse Ashish Nehra, India's bowling was found wanting when the West Indies batsmen waded into them. And this, after Jasprit Bumrah had castled the dangerous Chris Gayle and Nehra had dismissed the bulwark Marlon Samuels.
One of the sore points, if it can be called that, was Dhoni's over-reliance on Hardik Pandya's bowling skills. On tracks that have a bit of juice, Pandya can be a useful trick to employ, but on a featherbed, it was always apparent that he did not have the variety or the pace to worry the West Indies batsmen.
Dhoni over-relied on Pandya's bowling on a flat deck. He didn't have pace or variety to worry WI
The spinners, India's strongest suit this season, came off second best as well. Contrasted with the Caribbean spinners, Samuel Badree and Suleiman Benn, who between them conceded 62 runs off eight overs, R Ashwin and Ravindra Jadeja proved expensive, averaging 10.5 runs in the six overs that they were afforded by the skipper.
In fact, things had got to such a pass during the 97-run Charles-Simmons partnership that Dhoni had to turn to Virat Kohli to try and rein in the Windies batsmen. He succeeded in enticing Charles to loft his first delivery to long-off for Rohit Sharma to take a running catch. But India needed more than that, and kept searching all night.
Also read: Out of form & now injured. Is it time for Yuvraj Singh to retire?
Gift a batsman three lives, pay for it
Simmons was recalled three times after starting his walk to the dugout. He was brilliantly taken by Bumrah at point off Ashwin when he was 18, but the bowler had overstepped the crease. He was fortunate that when he was on 49 and holed out to cover, Pandya had delivered a no-ball. And when he was on 68, Jadeja touched the rope at mid-wicket when lobbing the ball for Kohli to complete the catch.
Simmons got three lives - when Ashwin and Pandya overstepped and then Jadeja stepped on the boundary
Kohli, who made three wonderful half-centuries in the tournament, was a desolate figure in the middle after having been entrusted with the last over - perhaps more in hope than with any conviction. Nehra was forlorn, having bowled his heart out each time he was given the ball.
The others were shaken as well, but in the distance, the West Indies made a happy picture, enveloping Simmons and Russell and dancing in celebration.
Edited by Shreyas Sharma
More in Catch:
Ahead of World T20 semi-final, Suresh Raina match-fixing allegations resurface
This World T20 hasn't seen many upsets. WI & England progressing isn't an upset