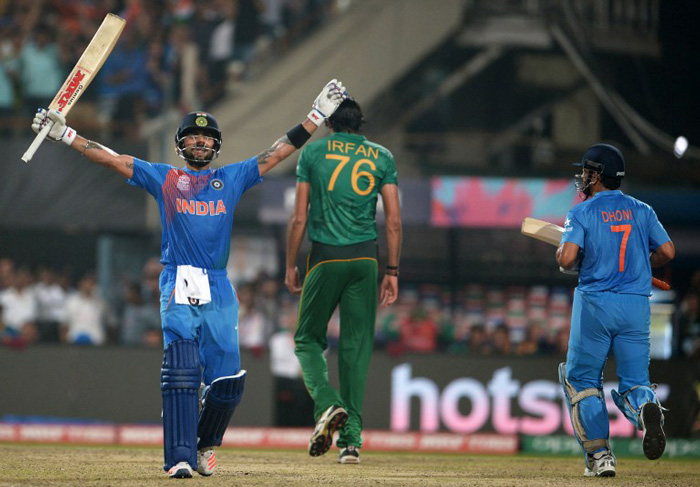 The result
India beat Pakistan by six wickets in their ICC World Twenty20 Super10 match at the Eden Gardens in Kolkata on Saturday
Virat Kohli played the match-winning hand for India with an unbeaten 55 off 37 balls on a difficult pitch
The shortcomings
While the country celebrates the 11th victory over Pakistan in a World Cup match, India still look flawed
The opening combination is a shambles, the middle-order hasn\'t done much and India are over-reliant on Kohli
More in the story
Dhoni\'s questionable selections and on-field decisions
Why the road ahead is going to be tough for India
Right. Now that the India-Pakistan 'Match of the Century' has been played and decided predictably, it's time to take pot-shots at all and sundry.
Till Saturday afternoon, no one in Pakistan knew they had a women's cricket team. Now everyone is hiding behind these ladies and saying 'hisaab barabar'!
Not that we knew. After all, the only two women I googled in the run-up to this game were Sherry Rehman and Qandeel Baloch. Not necessarily in that order.
Also read - Who will blink? It's India's streak vs Pakistan's perfect record at Eden
But let's be fair - the Pakistan ladies won, in spite of trying to lose. As for the Indian women, you can't expect to score 16 runs in the first eight overs and then win.
Cut to Eden.
Couldn't get over Mamatadi's vote of thanks, where she made the International Cricket Council (ICC) sound like some neighbourhood bank.
Anyone thanking a bank gets immediate attention nowadays, so Didi did really well.
Then there were awards galore for Indian and Pakistani cricketing stars, Bachchan Sr and Bachchan Jr (why him?), followed by a very soulful rendition of the National Anthems by Shafqat Amanat Ali and Amitabh Bachhan.
Wonder what'll happen if India and Pakistan were to play the final.
Anyway, to the match then.
Walking wickets
We tend to lose sight of the glitches when the team wins. India's opening partnership is a shambles.
Rohit Sharma can't chase his own shadow, forget a total. Sure, give him a flat track and the job of setting a target, and he will be unstoppable. But the moment he is asked to score at a certain rate to get the side across the line, he's a different man.
As seen in the match with New Zealand, as also against Pakistan, when arrogance and lack of application are your key weapons, the results are easy to predict.
We tend to lose sight of the glitches when the team wins. India's opening partnership is a shambles
At the other end, if we could concretise the raw material Shikhar Dhawan uses to cement his place in the side, we could build the third bridge across the Hooghly.
He will take forever to get to 15, and then get out. On a good day. Wonder what his claim to fame is, what makes him so un-droppable.
Suresh Raina did play both matches, didn't he? Ummm.... let me check the scoreboard.
Yes! He did indeed. I rest my case.
So basically, if Virat Kohli doesn't get runs, we are in trouble. Yuvraj Singh and Mahendra Singh Dhoni seem to be finding their feet, but Cheeku seems to be the flavour of the season.
Also read - India 11-0 Pak: Eden and Kohli make the pilgrimage worth it for a die-hard fan
Questionable selections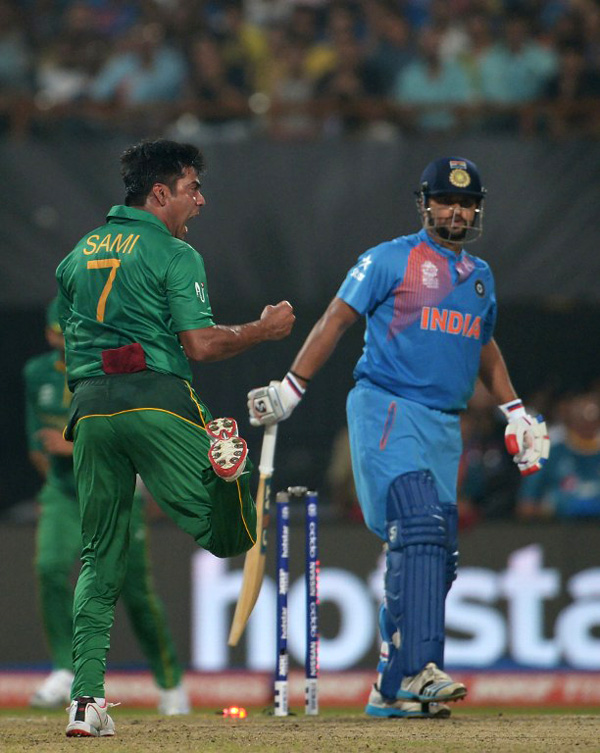 Could someone also please explain why Jasprit Bumrah gets the last over? Or rather, why does Ravichandran Ashwin not bowl his full quota? Especially after Hardik Pandya and Bumrah are taken to the cleaners?
One other thing is pretty clear - none of our cricketers can read a pitch. As was seen from team selections.
One wonders exactly when Harbhajan Singh will get a game. He sure could have played in Nagpur, as in Kolkata. Dhoni prefers not to disturb his set combination, fine. But those two overs by Pandya and Bumrah could have cost us the game.
As for Pakistan, everyone is going on about how they should have gone in with another specialist spinner. But not one person suggested it before the match, including Waqar Younis and the rest of the team set-up.
Left-arm spinner Imad Wasim was left out, replaced by Mohammad Sami, as Pakistan went in with the same combination that had faced India in the Asia Cup.
India are still mid-table, with a run-rate of -0.90. Getting past Bangladesh and Aus is no easy job
So, evidently, they too had no clue how much the strip at Eden would turn. Then, there was the fear of having the left-handers in the Indian line-up going after the inexperienced Wasim.
This also goes to show that the lessons from India's contest with New Zealand were not really noted by the Pakistanis.
Our left-handers didn't really faze Mitchell Santner, nor did they play him well at all.
So may be a little adventure and courage was needed when Pakistan played India.
But, hindsight is always 20/20.
Also read - Water, water, everywhere. And incessant queries about tickets for #IndVsPak
Angry teams lie in wait
India would be relieved to get the points, though their abysmal performance against the Kiwis still has them mid-table, with a run-rate of -0.90.
So they indeed need to get past Bangladesh and Australia, and neither is as an easy job any more.
Bangladesh is seething. The ICC's ban on Taskin Ahmed and Arafat Sunny is quite a blow for them, and they'll be weaker in the bowling department. They will be out for vengeance.
Australia hate losing, especially to New Zealand, so they too would be baying for blood.
As for Pakistan, for all the song and dance around the India match, it was just one game. But they too have quite a deal to face, with New Zealand and Australia waiting. This is, after all, the group of death.
But they need a little inspiration, a little magic. Completely a mood team, Pakistan can implode with even one reverse. One hopes it isn't so, for the sake of the tournament.
As for India, they need to stay on the ground, and ground some of the stars. The winning combination is all well and good, but only if it can cater to all situations.
Those who don't bend with the wind are often broken.
More in Catch - India vs Pak: Impressive records, gripping history & other T20Is statistics
ICC World T20: Top 5 cricketers and their quirky superstitions