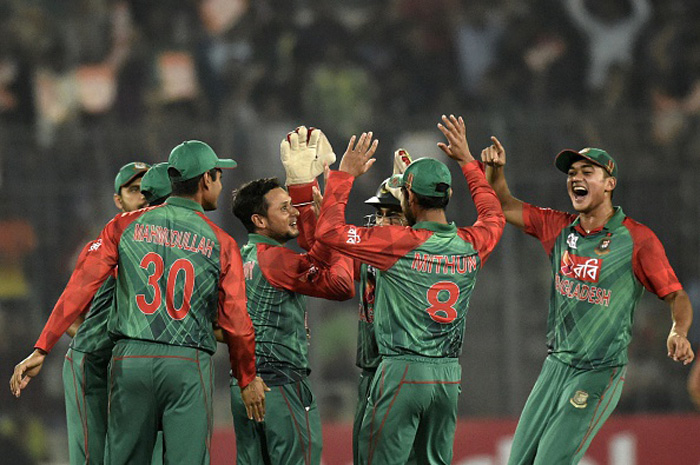 After reaching the Asia Cup final last month, Bangladesh cricket team was expected to threaten stronger opponents with spirited performances in the coveted ICC World T20. However, consecutive losses to Pakistan and Australia have got the minnows staring at an early exit from the tournament.
The Mashrafe Mortaza side, the weakest team in Group 2, will now face familiar foes India on 23 March. But, for the second ICC tournament in a row, it is the 'injustice' done to Bangladesh that remains the focus.
The Bangladesh camp has been in disarray after ICC's announcement on 19 March that pace bowler Taskin Ahmed and left-arm spinner Arafat Sunny have been suspended for illegal bowling action following a test at the ICC's Chennai facility.
The two players, who were reported after Bangladesh's win over Netherlands on 9 March, underwent bowling tests in Chennai where the duo failed assessment tests to clear the suspicion over their bowling.
While there is disquiet in the camp that the testing disrupted the team's schedule, Bangladesh insist there is nothing wrong with Taskin's action.
"Taskin was reported after a match. The tests were done accordingly. We have gone through the footage - not a single delivery in that match was illegal. How can he be suspended?

There were some issues during the testing, not with his full-length deliveries but with his bouncers. But we have seen that he didn't bowl any bouncer in that game (against Netherlands)," the Bangladesh camp was quoted as saying by Hindustan Times.
Miffed with ICC's decision, scores of Bangladeshi cricket fans took to the streets of Dhaka on 20 March to express their outrage against the international cricket body. "Shame on you ICC. Your action is illegal," one banner read as young fans rallied against what they described as a "conspiracy" targeting Bangladesh.
"The ICC has been consistently trying to destroy the chances of small teams like Bangladesh to do better in the World Cup. The bans of Taskin Ahmed and Arafat Sunny are part of this conspiracy," enraged cricket fan Sanjiban Sudip told AFP.
"This is nothing new. No players from India, Australia or England have been banned for suspect actions. In contrast, plenty of players from teams like Bangladesh were suspended," he added.
In the 2015 World Cup, Bangladesh erupted in fury after the delivery off which Rohit Sharma was caught early in his innings in the quarterfinal - he scored a match-winning century - was ruled a waist-high 'no ball' with a senior cricket official even suggesting it was due to the influence India had in world cricket.
"Taskin has been outstanding in the last eight matches - has been outstanding. We has been outstanding all over the world. His economy is less than 6. It is a big blow. Sunny has been bowling well in the qualifiers and in the last match as well. It is a big shock," Mortza said during a press conference before their match against Australia.
Here's a look at what Bangladeshi cricket fans feel about the suspension of Taskin and Sunny:
: Filthy Indian Nasty Conspiracy to ban two BD tigers (Taskin Ahmed and Arafat Sunny) due to their false bowling... https://t.co/uTiiWkFdSy

- shariful hasan (@hasan1021) March 12, 2016
#ShameOnICC Take a look at these picture of Taskin Ahmed's bowling during #WT20. Don't think people are blinds pic.twitter.com/QsRo324fi2

- Raihan Mahmud Arman (@ArmanRaihan) March 11, 2016
#Cricket: TaskinAhmed & ArafatSuny; Both are Very Correct Cricketer. Factis: Jealousy of NearNation. Learn from them & us.

- Enamul Kabir (@enamulkabir99) March 11, 2016
This is 24 Deliveries against Netherlands by Taskin Ahmed.#I_SUSPECT_ICC_ACTION#STAND_FOR_TASKIN#ICC @ICC pic.twitter.com/tqZut14TKN

- Tareq Ahmed (@BeingTareq) March 11, 2016
The report for a suspect action of young Bangladesh quick Taskin Ahmed is a disgrace. If his action isn't legal, no one's is. #cricket

- Giovanni Torre (@GiovanniTorre) March 11, 2016
Bangladesh Progressing?Lets ban their best bowler #TaskinAhmed #WT20

- RΞHAN IQBAL (@I_Rehan_) March 10, 2016
I strongly condemn @ICC decision regarding #TaskinAhmed's bowling action. What about @ashwin or #bhumra's action? @BCBtigers @ESPNcricinfo

- Junaed Kabir (@xunaed) March 10, 2016
Go home #ICC you're drunk! #ICCWT20 #TaskinAhmed #ArafatSunny pic.twitter.com/Ti5J2wbKcm

- Khalid Khan (@habibkhalidkhan) March 10, 2016
Taskin Ahmed reported for suspect action.. Clearly BCCI taking revenge for that poster against the best fast bowler. ICC =BCCI #BeggarLogic

- Batman (@ImAbhishek_) March 10, 2016
- Edited by Aishwarya Yerra