Why Mayweather vs Pacquiao is the 'battle of the century'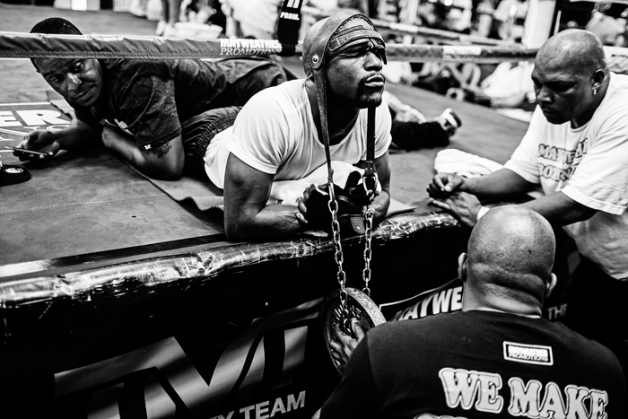 The battle of the greats
On 2 May, Floyd Mayweather takes on Manny Pacquiao
The two are arguably the greatest pound-for-pound boxers ever
The pride of the Philippines
Rags-to-riches story: Pacquaio lived in the slums with a large family
Started fighting at the age of 12, left home at 14
Fought on the streets of Manila and went to become an eight-time world boxing champion
Money Mayweather
Mayweather too had a rough childhood, with his dad often in jail and his mother addicted to drugs
Eventually lived with his grandmother
Boxing became his outlet and he later won a bronze at the Olympics
Drama outside the ring
But there\'s another side to both players
Light-hearted and genial Pacquaio has faced tax evasion allegations, and has infidelity and gambling issues
Mayweather is a serial domestic abuser, having spent time in jail for assaulting his ex-girlfriend in front of their children
Mayweather also flaunts his wealth and celebrity status
The final word
But it\'s the boxing that matters at the end of the day
Their popularity despite their faults is proof of their greatness in the ring
On Saturday, 2 May, Floyd Mayweather Jr, who has never had a career loss, will face arguably the greatest threat to his unbeaten legacy when he takes on Manny Pacquiao. Pacquiao, meanwhile, is out to prove that he's still top tier after a slump in 2012 where he lost two fights in a row for the first and only time.
Regarded as two of the greatest pound-for-pound boxers to have ever lived, Saturday will see the culmination of a grudge match six years in the making. Since the fight was first mooted in 2009, the animosity between the two has only grown.
Soon after the first negotiations in 2009 failed, Pacquiao filed a suit against Mayweather and his representatives, alleging defamation. Mayweather, keeping with his usual trash-talking persona, once called Pacquiao 'a queer', threatening to 'stomp that midget' and cook him 'with cats and dogs'. With no love lost over the years, on Saturday, their fists will do the talking.
Billed as the 'Battle of the Century', the half-decade long build-up to the fight has all the trappings of a Hollywood movie. But the back stories of the fighters themselves are no less dramatic and fascinating.
It's a hard-knock life
On one hand, Pacquiao is the quintessential rags-to-riches story; a high school dropout, hailing from the slums of Philippines, he began fighting at the tender age of 12. Fighting for a prize of one to two dollars, he'd give his winnings to his single mother to buy rice with. But this wasn't enough to feed his five siblings. So, at the age of 14, he left home so his mother would have one less mouth to feed.
From battling to survive on the streets of Manila, he has now risen to be an eight-time world boxing champion across eight different weight divisions. On Saturday, under the bright lights of Las Vegas, watched by thousands at the venue, and millions more worldwide, his days of fighting for dollar bills will be truly long gone, though not forgotten.
On the other hand, Mayweather was born in Michigan into a family of boxers. His father (and coach) Floyd Mayweather Sr. even squared up against the legendary Sugar Ray Leonard.
That's not to say that Mayweather was born into a blue-blooded boxing legacy. Growing up in New Jersey, Mayweather was no stranger to a harsh life - routinely being on the end of 'whippings' from his father and having to deal with a drug-addicted mother.
In an atmosphere ripe for self-destruction, boxing became Mayweather's outlet
He was eventually sent to live with his grandmother when his father was jailed. In an atmosphere ripe for self-destruction, boxing became Mayweather's outlet. Even as his father languished in prison on charges of drug trafficking, Mayweather won the bronze at the Olympics.
Today he's a 10-time world champion across five different weight divisions. He was also the highest-paid athlete in 2014, earning $105 million. Saturday will see him supersede that record in a single bout.
A clash of personalities
As they were fighting their way up and out of the harsh realities they grew up in, their motivating factors were remarkably similar. Their personalities are anything but. Mayweather, who early in his career went by the moniker 'Pretty Boy', switched over to the 'Money' tag that represents him to the T.
He's never been ashamed of flaunting his wealth, routinely bragging about it in the media. Frequently in the company of Hollywood's A-listers, he's no stranger to the paparazzi. Famously brash, loud and aggressive, his in-ring aggression extends to his personal life as well.
A serial domestic-abuse offender, Mayweather was involved in seven incidents of assault against five different women that resulted in arrests or citations. He even spent two months in jail for assaulting his ex-girlfriend in front of their children. His oldest son was the one who called the police.
With this track record, it's a testament to Mayweather's boxing genius that he still commands top billing and an army of followers.
Pacquiao, meanwhile, is a serious contender in the ring but doesn't let it carry over into his life outside. Routinely light-hearted in his interviews, Pacquiao has even sung pop ballads on American talk shows, and starred as the hero in an action/comedy movie. Still, his life outside the ring isn't all fun and games.
A father of five, Pacquiao has been a member of Congress since 2010. So popular is he in the Philippines that during a Pacquiao fight, the crime rate drops as the whole nation pauses to watch their hero. That's not for nothing though. In 2013, after Typhoon Yolanda had battered the Phillipines, Pacquiao responded to victims' requests for his presence by visiting the devastated Sarang province. There he handed out Bibles, food and money to the victims. Famous for his charity, his promoter Bob Arum expects him to give a significant part of his earnings from Saturday's fight to charity.
So popular is he in the Philippines that during a Pacquiao fight, the crime rate drops
But don't be fooled, he's far from saintly. Pacquiao has faced allegations of tax evasion that saw several of his bank accounts frozen. On the personal front too he's faced accusations of infidelity and gambling. Luckily for both fighters, Saturday's contest isn't a popularity contest. It's a slugfest, and what a slugfest it promises to be.