Vijay Goel, Anil Vij & Udit Raj - the three stooges ruining Indian sport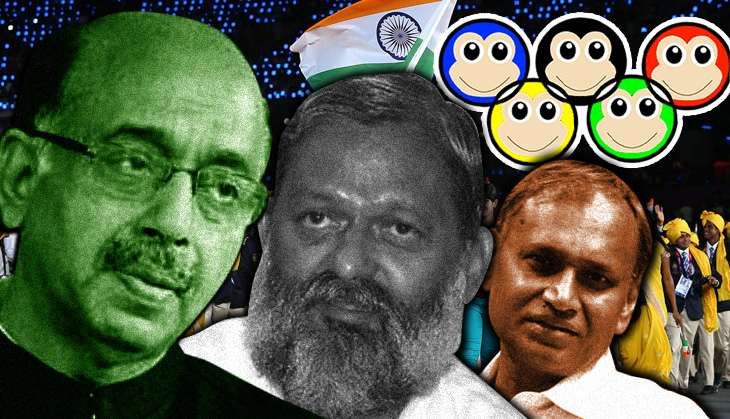 If you already thought India's sporting future was in jeopardy, prepare to be a lot more worried. In the week since the Rio Games debacle, Indian politicians are all trying to revive Indian sports...in increasingly depressing ways.
Prime Minister Modi, in his Mann ki Baat may have announced a task force to help India prepare for the next three Olympics. But, if his party members' antics are any indication, forget the two medals we managed at Rio, we'll be lucky if we even send athletes to Tokyo 2020.
Own Goel
Even as Modi made his address, Vijay Goel took to twitter to assure India that Indian sports was in good hands.
Met @SunielVShetty, discussed constructive steps for the encouragement & development of Sports in India. pic.twitter.com/PtmWiFcJQf

— Vijay Goel (@VijayGoelBJP) August 28, 2016
If you're wondering what Suniel Shetty has to do with finding "constructive steps for the encouragement & development of sports in India", you aren't alone. As far as we can tell, this is the extent of his involvement in Indian sport:
Sunil Shetty enjoying the @U_Mumba vs @JaipurPanthers STAR Sports Pro Kabaddi match in #Mumbai #JeetegaWahi pic.twitter.com/vxeVQSfkKq

— Star Sports (@StarSportsIndia) July 26, 2014
In fact, Shetty's forays into sports have ended fairly embarrassingly with his attempt to start a water sports business in Goa flopping. He does own a gym though, so clearly, he's the man for sports administration tips.
Still, having managed a photo-op with a Bollywood celeb, Goel must have already been feeling pretty good about his yeoman service to Indian sports. So good, in fact, that even India's bronze and silver medals from Rio seemed like gold to him.
That's right, while talking about Prime Minister Narendra Modi's interaction with Khel Ratna, Dhyaanchand and Dronacharya awardees, he claimed India had two gold medallists from Rio.
He later clarified that it was merely a "slip of tongue", and even went so far as to justify his slip of the tongue saying "Who knows we might bag a gold medal in the coming years."
All of this is in addition to his antics in Rio where he proved to be both ignorant as well as boorish.
If putting your foot in your mouth was an Olympic Sport, Vijay Goel would bring home the gold for India. And he'd even have a team to back him up.
The Vijil idiot
Goel isn't alone. He has illustrious company in the form of Anil Vij, Haryana's sports minister. Vij stirred controversy when he donated from his discretionary funds to the DSS, a religious sect in Haryana. Still, at least it was to promote sports... that aren't played in the Olympics.

He was at the DSS headquarters in Sirsa on

Saturday

, where he was witness to 'Tiranga Rumaal Chu', MSG's personal Olympics. Here he made the announcement of a Rs 50 lakh grant for the games. So what sports was played at the game? A glorified version of the children's game 'Dog and the bone'. You can't even make this up.

Vij thought the game was "very interesting". Interesting enough to throw a sizeable chunk of tax payer money at it.

That wasn't the end. Vij also said that a sports village would be built. There, athletes would be given the absolute best training on their way to winning gold medals for India. Here's what Vij had to say about the 'donation', "What is wrong with it? They run schools, sports are promoted there. I cannot give more than this. If I had more money, I would have given it".

He isn't the only one supporting it though, Goel also backed the upcoming sports village.

Now, the setting up of a sports village isn't a problem at all. The problem is that this is a sports village being managed by the DSS - an organisation that believes their leader invented T20 cricket and is the best athlete in the world. Wasting valuable resources and money like this is not just irresponsible, it's downright criminal.
A load of bull
Goel's response to the Olympic debacle is to hobnob with Bollywood stars. Vij prefers wasting tax payer money that coud've been used to better Indian sport. And then there's Delhi BJP MP Udit Raj.
Unlike Goel and Vij, Raj has actually found the root cause of the problem - diet.
Usain bolt of Jamaica was poor and trainer advised him to eat beef both the times and he scored 9 gold medals in Olympic

— Dr. Udit Raj, MP (@Dr_Uditraj) August 28, 2016
Basically, it wasn't training or infrastructure that helped Bolt become a champion, it was beef.
Raj spoke to the media afterwards and his clarification made even less sense. "My remark is in context of allegations that athletes don't have enough facilities. In favour of Indians eating beef, BJP too has never said don't eat anything," News18 quoted him as saying.
"All I wanted to say that giving excuses that we don't have infrastructure or there is corruption should be done away with and lesson, dedication should be learnt from Usain Bolt... What I wanted to say is our players should find ways and means as he found ways and means," he told PTI, completely shirking any responsibility a country has to its athletes.
According to Raj, athletes should find a way. Even if it means breaking laws his own party wants and, in some states, has put in place.
An alternative to sporting misfits
With Indian sports at the mercy of these ignoramuses like Goel, Vij and Raj, one wonders if there isn't an alternative. And indeed there is.
One of our current ministers is former Olympian and silver medallist at the 2004 Summer Games in Athens, Rajyavardhan Singh Rathore. In the years post his retirement, the swashbuckling star has risen through the ranks of the BJP to become an MP. Strangely, while the sports portfolio is mismanaged, he is the current Minister of State for Ministry of Information and Broadcasting.
According to legendary athlete Milkha Singh, Rathore should be made sports minister for obvious reasons. But, looking at media reports, that's the only mention of Rathore and sports for quite some time.
While Rathore is wasted with an I&B portfolio, Indian sports continues to languish. In football, India is ranked a lowly 152. In tennis, we just had our first singles player, Saketh Myneni, making it to a Grand Slam main draw since Yuki Bhambri back at the Australian Open in 2014. Then there's field hockey, where India's performance from 1980-2016 is enough to make one cry. While the less said about swimming and track and field, the better.
Even as we introspect on what went wrong in Rio, four members of India's women's hockey team - also members of the Indian Railways - that played at Rio were denied a seat on a train. They were eventually forced to sit on the floor. So if you thought Rio was bad, at the rate we're going, prepare for the biggest horror show to hit Tokyo since Godzilla.