Think only Djokovic is funny? Wait till Federer leaves you in splits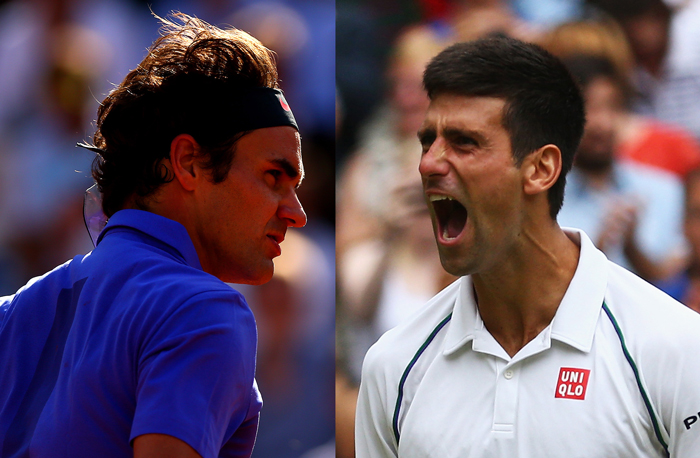 They are the best male tennis players in the world (with due apologies to Rafael Nadal, on current form). One is a 17-time Grand Slam champion, the most ever; the other is getting there. One is a former World No.1 seemingly on the wane, the other the incumbent in his prime.
On court, both are machines and go about the task of decimating their opponents with an amazing mix of power and finesse. Both are currently in the third round of the US Open.
But off the court, Novak Djokovic and Roger Federer come across two people remarkably who are almost polar opposites? After all, one is the 'Djoker', a blend of jokes, dancing and mimicry. The other is 'Fedex', the epitome of efficiency and precision.
In the heat of battle, Djokovic has a manic expression on his face. But as soon as the job is done, he's certainly inclined towards histrionics. No matter whether he's playing or giving an interview, the Djoker seeks to entertain.
Federer seems the exact opposite. Stoic on and off the court, barring the odd emotional outburst, it's strange to see even a strand of hair out of place when he's using his forehand to outfox opponents. The nickname 'Fedex' is nothing but an allusion to the delivery service company's reputation for robotic efficiency.
But don't get the wrong idea - Federer enjoys a good laugh too.
Djoker's dance, Federer's frown
After winning his second round match at the US Open against Andreas Haider-Maurer of Austria 6-4, 6-1, 6-2, Djokovic decided that it was time for some fun. With Oscar winning actor Jamie Foxx in attendance, he decided to do this.
For one of Federer's young fans, though, things didn't turn out so well at this year's French Open. Despite beating Alejandro Falla in a first round match, Federer wasn't in a particularly sunny mood, and definitely not as inviting as Djokovic.
Watch how things turned out for this boy when he apparently dodged security and tried to take a selfie with Federer on court.
Djokovic has had a knack for impersonating his fellow tennis players ever since he broke on to the professional circuit. Clearly a showman, he relishes performing in front of an audience, be it with his tennis skills or otherwise.
Here is a clip from the 2007 US Open, where he had everyone in splits with his imitations of Maria Sharapova and Rafael Nadal. He even has the commentator saying, "How can you not like this kid?"
Here's the thing: Federer also likes to get the crowd behind him, albeit in his own way. It's all a part of the package, as he goes about following his PR advice to a T. Showboating is not his style, but he doesn't come across as sullen or boring either.
But there's a catch. Put his friend and rival Rafael Nadal opposite him in an exhibition scenario, and Federer can leave even Djokovic rolling on the floor. Literally!
And when Federer and Nadal teamed up to play a charity match, here's what happened during the shoot of their promo video:
In terms of serious tennis, though, this is an epic rivalry. Out of the 41 competitive matches Djokovic and Federer have played against each other, the record is 21 wins to 20 respectively.
As of now, barring upsets, the legends look on course to collide in the US Open final. And, just as an appetiser, here's a tie breaker from this year's Wimbledon final (which Djokovic won).