The undying afterlife of Milkha Singh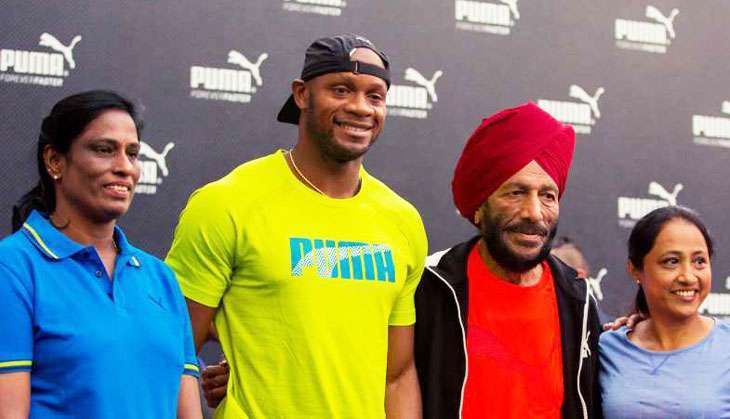 On the eve of the Airtel Delhi Half Marathon on 20 November, Jamaican Olympic medallist sprinter Asafa Powell was seen with Milkha singh on the stage. It is not clear whether Asafa Powell - he who has run 100 m under 10 seconds nearly 100 times - was honouring Milkha Singh or if it were the other way around.
PT Usha was also present at this function organised by Puma. For Milkha Singh, however, such functions held to honour him are nothing new.
For more than 50 years after he finished fourth in the 400m at Rome Olympics 1960, Milkha Singh has occupied a place at the high table of Indian icons. In the history of sports, there will be no other whose stature grew year after year, despite having missed a chance at winning an Olympic medal.
Worldwide, hundreds of gold medal winners have been forgotten, hundreds of conquerors of time barriers dropped by the wayside as time marched on, but Milkha Singh has been standing on the podium of Indian imagination for half a century... for failing to win a medal.
Milking Milkha's legacy
A particular Milkha Singh joke (Are you relaxing? No I am Milkha Singh) has been passed on generation after generation, his so-called exploits have been immortalised in film and books, his presence sought at every glamourous sporting event. He has held in his hands various torches of various Olympics, and his name continues to stand as an example for persistence and victory.
Milkha Singh - the vanquished, became the victor in the Indian imagination. No one has challenged his position, there's no one who doesn't reassert Milkha's exploits (mostly imagined), no one who doesn't want a selfie with him.
India has produced the likes of Kapil Dev, who brought the World Cup home, but Milkha Singh still occupies the big stage with Kapil Dev in the commentators box.
Perhaps, Asafa Powell who started out as a cricketer, would have preferred to talk to Kapil Dev instead. But here, on the high stage, it was Milkha Singh with whom Powell, a multiple Olympic medals winner had to deal with.
What has made Milkha Singh the imperishable prima donna of Indian achievement? What is his draw? And why do we, as a nation, refuse to let go of him, off and on calling him back to our stadiums for one more canonisation ritual.
Michael Phelps, who has won more Olympic medals (27) than he can count, doesn't occupy such a position in the American imagination. In complete contrast stands Milkha who has been revered over 50 years as the greatest athlete India has produced.
A celebrity athlete
Part of the mystification of Milkha can be attributed to journalistic hype. "The greatest male athlete India has ever known," Boria Majumdar and Nalin Mehta wrote in Olympics: The India Story.
Even Dhyan Chand, much superior to Milkha as a sportsman and also a gold medal winner, was never as highly celebrated. Though a Dhyan Chand statue occupies pride of place in Delhi's National Stadium.
Milkha Singh lost because he had no clear cut strategy, nor enough training, having spent only one hour a day to train after he reached Rome. As he himself has said, he "was relaxed and confident." The Hindu said of his race: " Had Milkha Singh run a well-judged race, instead of bursting out from the start, he might have clinched the gold medal". His timing in the 400 metres of 45.6 seconds was a world record, but the medal went to others who ran a well-judged race.
Milkha Singhs's glory could partly be attributed to the Indian under-confidence and failure to excel in any field, so much so that we make do with the also-rans. In fact, India's history of sports is one of failure and fourth place finishes (three in the Rio Olympics itself) are aplenty.
Another reason could be that Sikhs have often been identified with valour, pride and athletic prowess, and Milkha Singh fell neatly into that mould. While such glorification of imagined greatness cannot be faulted, there is reason to ponder or marvel at how long a failed runner ensconced himself in the Indian imagination.
Another reason, quite simply, could be that Milkha is quite accessible and does not charge appearance money like other great Indian athletes or cricketers.
The only other person who offers any competition to Milkha in visibility is Sachin Tendulkar, but he cannot be accessed easily. Also Sachin Tendulkar being a Bharat Ratna has officially been proclaimed as the greatest sportsman we produced. Sadly though, Tendulkar spends his time in commercial promos, and silly events like playing cricket with the Coldplay lead vocalist. The big sporting stage belongs to Milkha Singh. There and in the minds of millions of Indians he is firmly ensconced.