The undying afterlife of Milkha Singh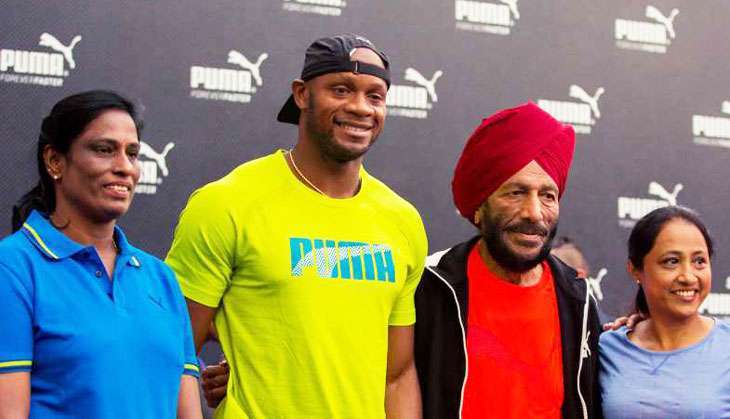 PHOTO CREDIT: sportskeeda.com
On the eve of the Airtel Delhi Half Marathon on 20 November, Jamaican Olympic medallist sprinter Asafa Powell was seen with Milkha singh on the stage. It is not clear whether Asafa Powell - he who has run 100 m under 10 seconds nearly 100 times - was honouring Milkha Singh or if it were the other way around.
PT Usha was also present at this function organised by Puma. For Milkha Singh, however, such functions held to honour him are nothing new.
For more than 50 years after he finished fourth in the 400m at Rome Olympics 1960, Milkha Singh has occupied a place at the high table of Indian icons. In the history of sports, there will be no other whose stature grew year after year, despite having missed a chance at winning an Olympic medal.
Worldwide, hundreds of gold medal winners have been forgotten, hundreds of conquerors of time barriers dropped by the wayside as time marched on, but Milkha Singh has been standing on the podium of Indian imagination for half a century... for failing to win a medal.
Milking Milkha's legacy
A particular Milkha Singh joke (Are you relaxing? No I am Milkha Singh) has been passed on generation after generation, his so-called exploits have been immortalised in film and books, his presence sought at every glamourous sporting event. He has held in his hands various torches of various Olympics, and his name continues to stand as an example for persistence and victory.
Milkha Singh - the vanquished, became the victor in the Indian imagination. No one has challenged his position, there's no one who doesn't reassert Milkha's exploits (mostly imagined), no one who doesn't want a selfie with him.
India has produced the likes of Kapil Dev, who brought the World Cup home, but Milkha Singh still occupies the big stage with Kapil Dev in the commentators box.
Perhaps, Asafa Powell who started out as a cricketer, would have preferred to talk to Kapil Dev instead. But here, on the high stage, it was Milkha Singh with whom Powell, a multiple Olympic medals winner had to deal with.
What has made Milkha Singh the imperishable prima donna of Indian achievement? What is his draw? And why do we, as a nation, refuse to let go of him, off and on calling him back to our stadiums for one more canonisation ritual.
Michael Phelps, who has won more Olympic medals (27) than he can count, doesn't occupy such a position in the American imagination. In complete contrast stands Milkha who has been revered over 50 years as the greatest athlete India has produced.
A celebrity athlete
Part of the mystification of Milkha can be attributed to journalistic hype. "The greatest male athlete India has ever known," Boria Majumdar and Nalin Mehta wrote in Olympics: The India Story.