The passion of football & the boredom of cricket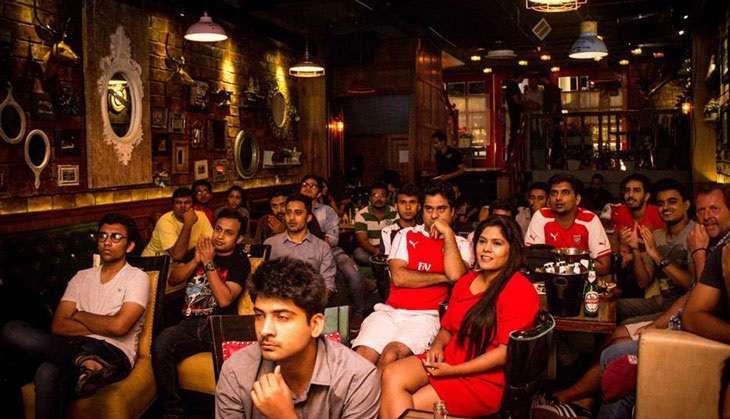 Passion. Rivalries. No sport around the world unites people like football. The sport brings together all different kinds of people, on a regular basis, to gather around a television/projector (or even a couple of them!), have a few snacks and drinks and enjoy an evening (at a public venue or in someone's house).
In India, some would say, at least among the youth, that football is the most popular sport to watch in a group. Cricket may have the most number of spectators (in the stadiums and on the television) but it is rather individualistic. Individualistic in the sense that one may call over a friend and keep the match on in the background, or go out for a dinner with friends and again, focus more on the conversation than the match. Football is completely different.
"No other sport in India has a huge enough following to unite people or have people invested in it emotionally to hold such events," says Akarsh Sharma, a sports traveler and writer. "Even then, you need passion, rivalries and factions to reach a certain level of fervor. Football gives that to you every week."
Take the current India vs New Zealand Test match going on in Kolkata. Now, have you heard of any clubs, groups, restaurants, bars, or any public venue advertising that they are showing the game? No. Even during the 50-over Cricket World Cup that took place in Australia and New Zealand last year, such screenings were few and far between.
Granted time is a hindrance with cricket. Even when you look at the shorter format T20, you don't get much involvement. During the 2016 T20 World Cup in India, you didn't see people asking their friends to come join them during a screening of India vs West Indies or India vs Bangladesh or Sri Lanka vs England.
Cricket tends to be longer regardless of format. Mostly it is on in the background, unless you make it to the stadium. Family and friends hogging food, drinking beer/whiskey, screaming - that is not cricket. Cricket is just in the background for everyone to watch the occasional wicket, four or six.
For the love of football
The football-cricket difference could be seen a week ago, at Underdoggs in Ambience Mall in New Delhi. Chelsea India Supporters' Club, - Delhi hosted the London derby - Arsenal vs Chelsea - just short of 8,000km away from the actual match at the Emirates Stadium in North London.
Fans of both teams obliged. The atmosphere - unparalleled. Not a Delhi Daredevils vs Chennai Super Kings Indian Premier League match, and not even India vs Spain Davis Cup match could get fans to the restaurant/bar to watch and enjoy the match. Before, during and after the football match, the place was deafening.
Nistha Kanal and Bhargab Sarmah, journalists with Asian Age and NDTV respectively, agree. Both, being Manchester United fans, have attended various screenings in Bombay and Delhi. "I started attending one or two a couple of years ago and it's only become more frequent, especially now that I'm a One United member. The meetings are packed, every single time. There is at least a 100 of us cramped in the room, singing and chanting. It's a proper tribe," says Kanal.
"Yes, I have been to Route 04 in Connaught Place quite a few times. It usually remains quite crowded during important matches. In last season's FA Cup final, for instance, we had to struggle to find some space to even stand. The atmosphere, however, is always fantastic during screenings there," chimes in Sarmah.
At Underdoggs, the place was buzzing, not with music but with the fans' favourite club chants. From "We love you Arsenal, we do, we love you Arsenal, we do, we love you Arsenal, we do, oh Arsenal we love you!" to "Super, super Frank, Super, super Frank, Super, super Frank, Super Frankie Lampard..." (an ode to one of their greatest players).
What works for football
Sure, it is a small set watching football (mostly European football) but a few things of note. The same people show up, time and time again, at venues decided beforehand (usually clubs tie up with a restaurant/bar) and enjoy a 90-minute match, week in and week out. The fact that the matches are s played at "reasonable" times, helps. India versus 'X' in Cricket doesn't have the same following.
Rohan Venkataramakrishnan of Scroll.in agrees that football is numero uno in India, but does say that cricket tries to give its best shot.
"I have been to screenings at pubs -- mostly sports bars and occasionally other places. I watched a lot of the World Cup games a few years ago at the Instituto Cervantes with Spanish fans. The pubs tend to be packed for big games, with lots of loud, vocal support and genuine appreciation for the game," Venkataramakrishnan says.
"I know there are lots and lots of cricket screenings. I've watched cricket screenings in Connaught Place and other public spaces in Delhi, with plenty of fans, not just of the World Cup that was held in India. Similarly, for IPL, I've seen big public events with those matches. The past Olympics also there were public screenings that I saw in CP."
While sports other than football try their best, they fail to succeed. They don't have what football has to regularly bring in fans. Sarmah agrees. "No, other than football, I haven't seen any other sport get this kind of traction in Delhi. Apart from cricket World Cup matches, as you said. Even the live screening of the Olympics at Central Park in Delhi got a very lukewarm response."
Beyond football and cricket
Sports fans across India want other sports screenings to happen and for people to attend them, but there just isn't enough interest out there. Sure, people may call a friend or two over at home and watch the occasional hockey match, tennis match, or MMA (mixed martial arts), but these days, no one tailors their plans around these screenings. Except when football is on.
"No, I haven't attended screenings of any other sport. I can't recall any apart from the most high-profile Indian cricket matches. That's not surprising either. No other sport in India has a huge enough following to unite people or have people invested in it emotionally to hold such events," continues Sharma.
Kanal is one fan who even wants hockey screenings in the future. "I haven't really seen other sports being screened in such a massive way. Even when I've attended IPL screenings or so, they've been tame, sit down affairs with occasional applause once in a while. One I did attend was the T20 world cup semi final, India vs West Indies. T20 can lend itself to constant attention, unlike ODIs and tests, so they make for better screenings. Hopefully some day we'll have hockey screenings with 70 minutes."
Just this weekend, I went to an Australian Rules Football screening at the Australian High Commission. This is a sport that isn't popular outside of Australia. It attracted a small gathering of 20-30 Australians and about four or five others. The Superbowl, one of the biggest sporting events in the world, doesn't attract many people here in India. Mostly due to the timings, but also due to less interest in the sport.
It is completely different abroad. During a couple of years in New York City, I noticed how there were dedicated sports bars there. Something lacking in India. In New York, if you wanted to see tennis today and say 14 days later again, you could show up to the same bar and you'd know that at least one or two TVs would show it. That doesn't happen in India. Also, abroad, you usually get dedicated sports fans at bars where screenings happen and you can always hear a moderate-to-loud noise, with fans screaming constantly at the TV.
Where we lose out
Popularity of football in India has been organic, from the ground level. The Indian Premier League tried to replicate the model of domestic rivalries but could never get going beyond the stadiums.
Venkataramakrishnan hit bulls-eye when he said fan culture has never really existed in India. "India's never been great at building fan culture, not even for the official cricket teams, but IPL has worked on it, and European club football has grown organically. If you go back to the past, supporters of Ranji trophy teams also existed and there are vocal fan bases for lots of Indian football teams as well, different levels of involvement from organisers."
Just take a look at Bengaluru FC. The newly christened team has a passionate fan base that regularly goes to home matches in the stadium but outside of Bengaluru, there is nothing. Delhi Dynamos fans exist, and you can always meet one on the road, but again, few and far between.
That's just it. Sports fans invest a lot in their football clubs. From buying merchandise, to playing fantasy football online, to even playing FIFA (the official football video game) to tweeting and facebooking, to blogging. When have you seen someone do this for Serena Williams, Tiger Woods, Usain Bolt, Roger Federer or even a Saina Nehwal?
The other problem, and this is a major one, is that there is no dedicated venue for sports screenings. Sometimes tennis will be shown, and sometimes it won't. Sometimes they would switch on a Pakistan vs West Indies one-day match and if you go back for the next match, it might not be showing. It just seems like no one - restaurant staff, fans, management - cares enough to watch it while they are enjoying a good meal or a few drinks.
"I reckon there would be a few supporter groups in other sport -- IPL definitely. They may not be official or huge in numbers but they'll exist. Problem is fan groups arise in domestic sport, which is virtually non-existent in India. There's little fun in sitting together as a nation and supporting a national team. It needs rivalries and animosity," Sarmah finishes off.
Football is clearly the king, while cricket lags behind. Maybe this is the reason why cricket has not been expanding into new territories as fast as it would like.
Final score: Football 1-0 cricket