The extreme, crazy world of Keirin: bicycle racing without brakes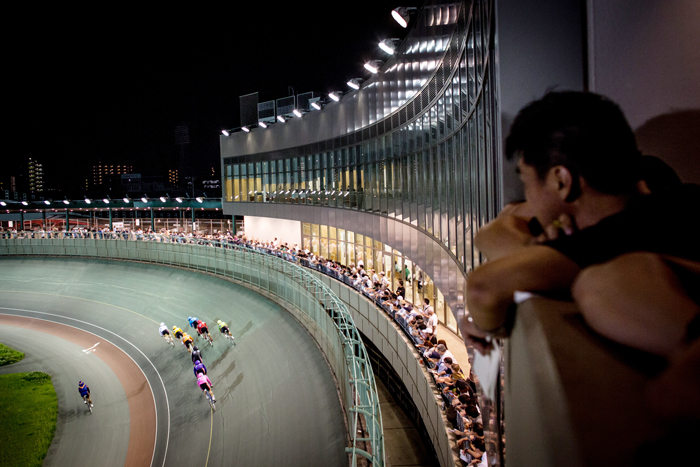 It's the extreme sport most haven't heard of. Keirin might sound more like a Japanese brew than suicide-on-wheels, but this sport dating to 1948 is a much-loved local institution.
Boiled down to its basics, it's horse racing on speed. Competitors circle a track on fixed-gear bicycles coupled with no brakes. They pace themselves behind a motorbike before a mad dash to the finish line.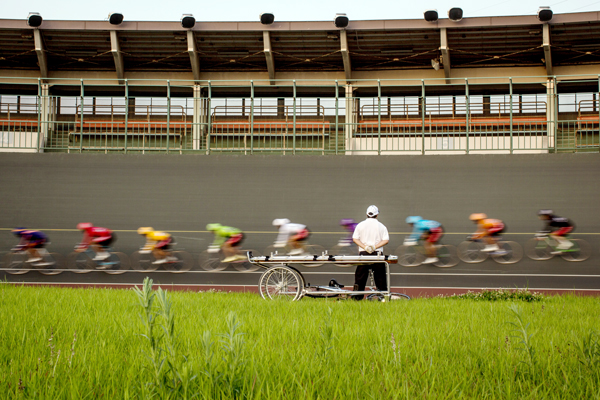 And as with horse-racing, it's a free-for-all as betting fans, old and young, cheer themselves hoarse.
Races are typically 2 kilometres long, which translates to 5 laps on a 400m track.
Lots are drawn to determine the starting positions for each rider behind the pacing motorcycle. The pacer gradually increases his pace and leaves the track when the race hits its last 600-700 metres.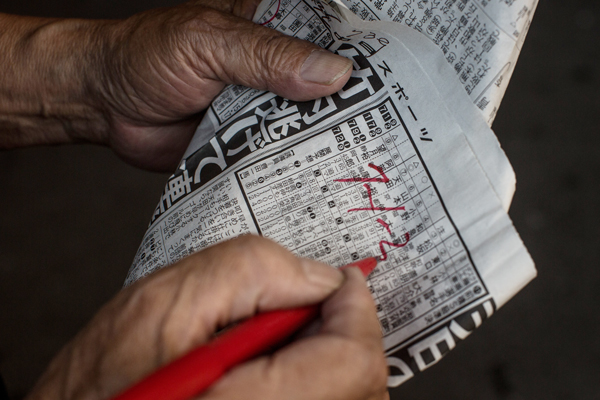 Also read: What's going on in tennis: what we really know so far about matchfixing allegations
That's when all hell breaks loose.
Before the race, riders have to state their strategy and points are awarded based on the outcomes. In a typical race, nine riders begin side-by-side in a line, usually not a straight line. Once the pacer in front of them leaves, the line turns into chaos as the mad dash begins. Winning cyclists end up hitting speeds of around 70 km per hour.
For a bicycle - without brakes - that's borderline insane.
Two strategies are typically seen:
Endurance - leading the pace at the front and battling wind resistance.
Quick bursts - manoeuvering past other rides one by one.
Crashes are common, a la Nascar, and sometimes horrifying.
As Bikeradar reports, "wheeled iron stretchers lay in wait on the corners, and serve as a testament to the extreme physical nature of the sport".
During keirin meets that last up to four days, racers may compete in as many as a dozen races a day. "Competitors are housed in dormitories and denied access to the Internet or phones, to prevent cheating or other shenanigans that may affect the betting," reports Wired.
How Keirin was born
The name means racing wheels, which is at once literal and poetic.
It began as a betting sport in the aftermath of the Second World War in Japan, a time when the Japanese economy was at an all-time low. It is one of only four types of sport where betting is legal in the country, the others being horse-racing, powerboat racing or kyotei, and football.
Seeing its popularity - and naturally, lucrativeness - the government then decided to build 70 dedicated keirin racing velodromes around the country and licence the sport for gambling. It was an attempt to rejuvenate local economies and to circulate money.
Also read: The Drone Racing League just raised $1 million. Is this the world's next sport obsession?
Kyushu province was witness to the first race on November 20, 1948 at the Kokura Velodrome and ever since then, the sport has only gained popularity.
Soon after, a keirin school opened near Tokyo and the government-run Japan Keirin Association (JKA) set up an intense training and licensing system for racers.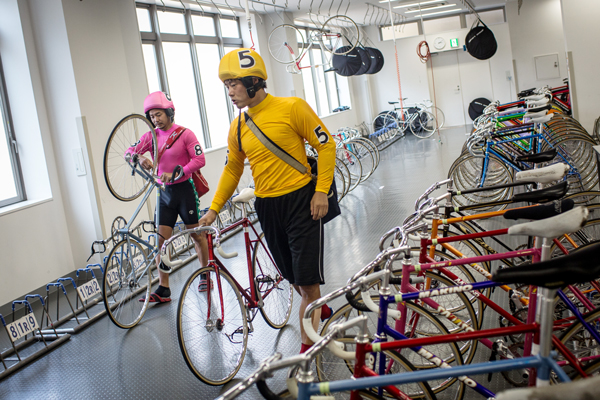 In 1957, the JKA established a uniform system for the sport. Today, it's so huge that estimates suggest 1.5 trillion Japanese Yen are bet on the sport every year.
Ironically, while keirin is naturally a young person's game, most of those betting are exclusively older men - middle age and above. In a stadium full of thousands of spectators, expect to see no more than a handful of women.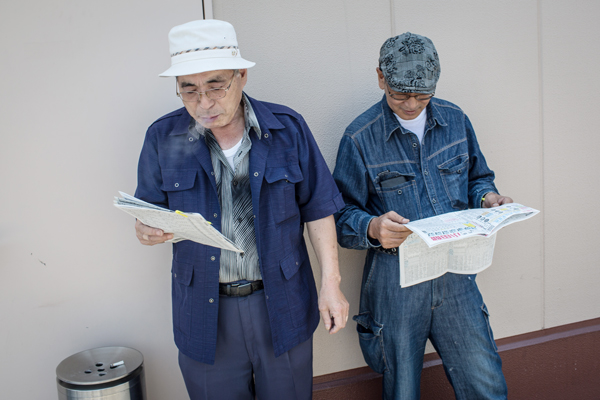 The atmosphere is electric, and the air hums with anticipation. The scents of cigarette smoke and alcohol permeate the air, and many of those in the stands have likely skipped work to be at the races.
It's not the cycling that interests them, it's the gambling. Most outsiders who have reported on the sport have seen more men or rather punters, indoors, smoking, placing bets and watching numbers constantly flash across a screen than being in the stands and cheering on the racers, like is typical in horse-racing.
With that kind of money at stake, it's unsurprising that no professional sport has more competitors in all of Japan than keirin.
So much so that in the year 2000, it became an Olympic sport. There are about 3,000 registered riders and someone at the top of his game can earn as much as $2 million dollars annually. Average rides bring in about $100,000.
Women competed in keirin from 1949 up until 1964, when the sport became male only. They were only readmitted, many years later, in 2012.
What it takes to be a pro
To become a professional, you must survive an intense 11-month bootcamp.
The word intense isn't to be taken likely: at the Japan Keirin Academy, riders train for a gruelling 15 hours each day, six days a week, come rain or shine. It's reminiscent of a military setup and one where little to no contact with the outside world is allowed.
Once they graduate, riders are approved as professional keirin riders and are eligble to compete in Japan's professional keirin league. The day of a young rider at the school starts as early as 6:30 am. After warming up and preparing one's bike comes breakfast. The most important meal of the day. During breakfast, riders consume 1,300 calories, which is double the norm.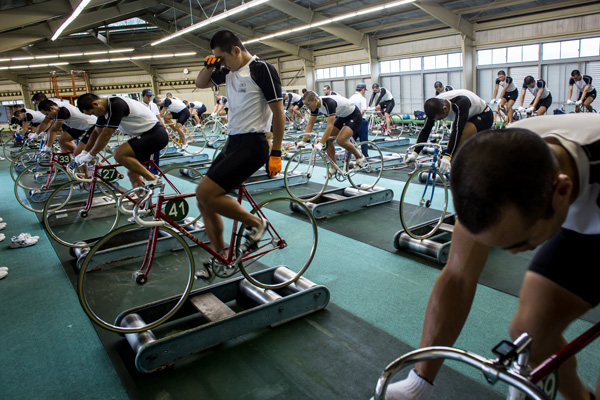 A core part of training is something called Hill Training. In this, cyclists have to ride up gradients of 14 degrees, a brutal incline. Apart from physical training, there's classroom sessions including training theory and race rules, and these sessions go on till 5.30 pm or so.
After practice races, that naturally include crashes, riders begin the long walk back to the bike garage. At night or in the dorm room, students can be seen studying the way you would for any academic training, and relaxation is only around dinner. Again, meals are calorie-high - typically 4,500 calories, because the body needs refuelling.
Keirin at the Olympics
The 2000 Sydney Games opened its doors to keirin, making this the second Olympic sport to originate from Japan after judo. The difference between the Olympic and Japanese version is that the former lacks any cyclist lanes.
The 2000 Sydney Games debut was only for men, though; it wasn't until the 2012 London Olympics that the women's event was introduced.
Keirin on the decline
Despite its popularity, an ageing population and more resistance to gambling on the part of young people means the sport has seen a decline. That decline has been aggravated by the rising popularity of baseball and football. In 1991, revenue from keirin stood at almost 20 billion yen, with 27.4 million people visiting a velodrome. Compare that to 2013 where 4.2 million people visited a velodrome, generating only 6 billion yen.
The JKA has in recent times been aggressively going after younger fans. Women's keirin was reintroduced under the name Girl's Keirin, with a national TV advertising campaign. The campaign featured riders in high heels and fun dresses in a bid to attract younger viewers. Yet, thanks to the possibility of Japan introducing casinos, and the increasing popularity of Pachinko slot gambling, keirin may well not hit its anticipated highs.
The problem with the sport is that the organisers themselves are more fixated on the gambling than the sport itself. A visit to the "take part" on the official website informs people how easy it is to fill out a betting form rather than highlighting aspects of the sport, the next game, or on visiting and riding inside a velodrome track.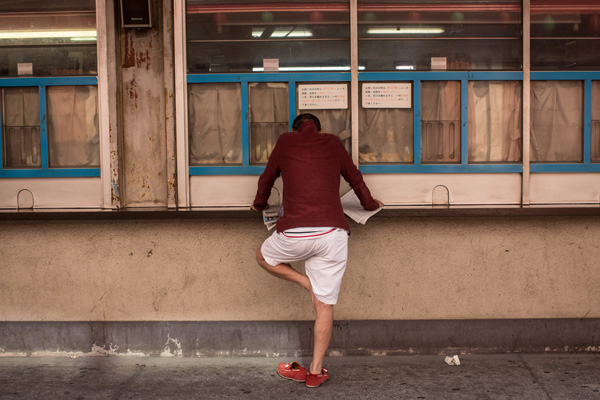 The population that gambles is growing older with each day and unless the sport's promoters take notice, keirin might fall off the charts completely in Japan. Right now, other than the Olympics, the only other place where the sport is at all popular is in South Korea, where too, the primary focus is on gambling.
The country's keirin fanatics are hoping the awarding of the 2020 Olympics to Tokyo will change the game's fate. Unfortunately, all bets are off on that one.
Also read: 'Pro Kabaddi teams have broken even in season 2': Ronnie Screwvala