Russia almost disqualified, heavily fined for Euro 2016 fan violence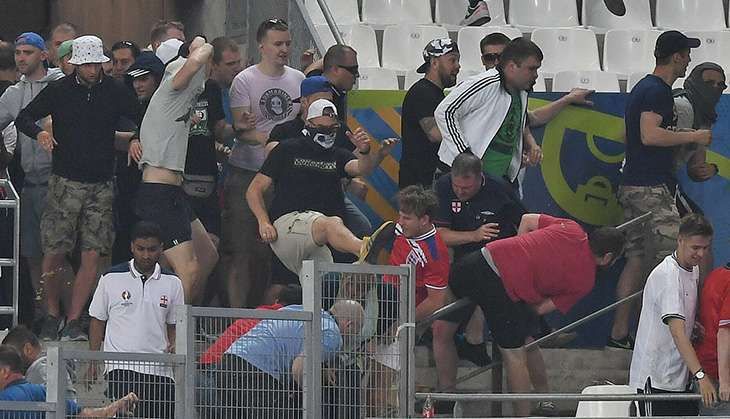 Any more crowd violence and Russia could be booted from Euro 2016 - that's the message that UEFA sent out today when it took strict disciplinary action against Russia. Not only did UEFA hand out a suspended disqualification - a disqualification that will come into immediate effect should crowd trouble involving Russian fans flare up again - they've also imposed a whopping fine of 150,000 euros on the Russian Football Association.
The incident
The punishment comes mere days after the recent fracas that took place during the Euro 2016 Group B match between England and Russia. During the tepid draw that took place between the two in Marseilles, the audience watching the game on TV looked on in horror as Russian fans broke through barriers to attack English fans, including women and children.
The violence then continued afterward with the streets of Marseille being turned into an urban battleground where English and Russian fans squared off. The videos and photos of the violence shocked and horrified the wider world.
Why only Russia?
French police have blamed the incident on 150 'well-trained' Russian hooligans. Already 29 Russian 'fans' have been deported, with more set to follow them back home.
While a French court has recommended jail sentences of up to one year for 10 people, both English and Russian, UEFA's action is directed at just Russia.
Despite both sets of fans eventually coming to blows, Russia is on the receiving end of UEFA's disciplinary wrath for the fan violence within the stadium. The Russian fans also smuggled fireworks and flares into the stadium and indulged in racist chants, something that has plagued Russian club football for a while now.
In addition to the fine and the suspended disqualification, Russia also faces a possible points deduction from their Euro 2020 qualifying campaign.
Russia 2018 in jeopardy?
Fans clash after the UEFA EURO 2016 Group B match between England and Russia at Stade Velodrome on 11 June, 2016 in Marseille, France. (Michael Regan - The FA/The FA via Getty Images)
What's more serious for the former Soviet republic however, is the fact that the 2018 FIFA World Cup, set to be staged in Russia, will now come under review. The event, which Russia hopes will be a grand success, is now under the shadow of security concerns.
Speaking about the incident, Theresa May, the British Home Secretary, said,"Our focus must be on the immediacy of 2016. Following this we must look very carefully [at the World Cup]... Any fans, whoever they support, who get involved in violence around these games are not only letting themselves down but letting law-abiding fans [down]."
The level of violence perpetrated by a relatively small number of Russian fans is also enough to make the prospect of playing in Russia itself downright terrifying. That the Russian fans displayed a racist streak again, also makes the prospect of a World Cup in Russia unfavourable given FIFA's concerted efforts to stamp racism out of the beautiful game.
A World Cup, FIFA's biggest cash cow, being marred by large scale violence and racism is a scenario the federation would not be keen on.
While fan hooliganism is not something alien to football, crowd violence at a major international football tournament is. Should Russian fans continue to display the sort of violent and boorish streak they displayed in Marseille, the team that they're supposedly fighting for could find themselves in the footballing wilderness.