Real Kashmir FC's leap to the I-League may inspire football fans in the Valley to root for new stars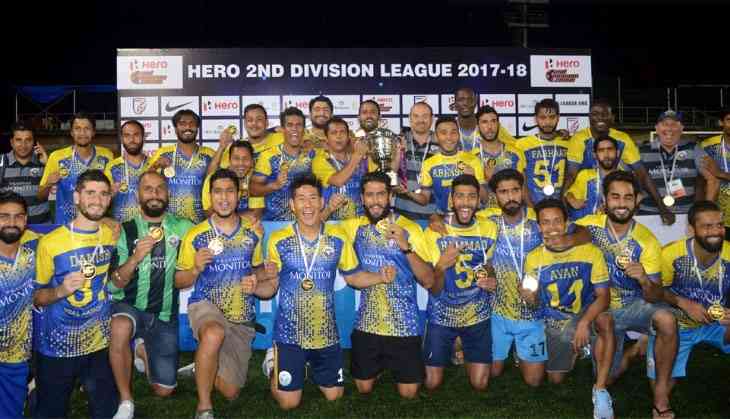 Before the 1990s, the open maidans in every nook and cranny of the Kashmir Valley would be jam-packed with soccer enthusiasts. Some of them were queue-jumping with the aim to choose a spot for a better view of the game and their favourite players.
Elbowing out one another, the crazy football freaks would be seen craving to catch a glimpse of their local soccer stars making swift moves and outwitting their opponents to score goals either with flamboyant kicks or smooth tap-ins.
In the rest of South Asia, the game of cricket is widely considered second only to religion. In Kashmir, football is the king.
After the eruption of the Kashmiri resistance movement in 1989, cricket as a sport took the centre stage for various reasons; one being that Pakistan's legendary cricketer Imran Khan lifted the 1992 World Cup crystal trophy at Melbourne, Australia.
That said, the present generation in Kashmir is passionate to fanatic levels, about the game of football.
Many Kashmiri boys and girls are ardent followers of the World Cup, Euro Cup, UEFA Europa League, the German football league Bundesliga, English Premier League, La Liga etc.
That is perhaps why even a historic moment for Jammu & Kashmir's Real Kashmir FC, a private club, to become the first football alliance from the restive region to qualify for the I-League, after claiming the 2017-18 2nd Division title on 30 May, did not surprise many.
The feeling was like "it was always on the cards".
Real Kashmir FC beat Hindustan FC 3-2 in their final game of the season to claim the coveted title.
Football in the Valley
Thanks to the live broadcast coverage on satellite channels and also the live streaming available on the internet, football aficionados get to watch their preferred players making the ball talk with dexterity and touch.
Ishfaq Ahmed, Kashmir's star footballer who represented India at the big stage, hails the achievement of Real Kashmir FC: "It is indeed a massive achievement for Kashmir because now our youth, especially aspiring footballers, will have a bigger platform available on their home turf (inside the Kashmir Valley) to compete with top quality teams of India."
Ahmed tells Catch, "That opportunity of playing against professional soccer teams on the home ground will take the game in Kashmir to another level. There will be new heroes to cheer for which will inspire many to take up this sport as a full-time profession."
He says that "our boys have done it" and now it is up to the government, sports ministry and sports council to do the rest.
Ahmed, who is a member of the All India Football Technical Committee (AIFTC) says, "the quality of grounds in Kashmir is still not up to the mark. There is also a scarcity of football grounds, lack of facilities, dugouts, dressing rooms and gyms," adding that "J&K Sports Council is trying hard, but a lot more is needed on the professional front to smooth the progress of aspiring players and also to tap the new talent when young".
Waheed Parra, Secretary Jammu and Kashmir Sports Council, showers accolades on Real Kashmir FC for its accomplishment to qualify for the I-League after defeating a strong Hindustan FC by 3-2.
"Obviously, it is an achievement and good move which will help in improving professional football environment in Kashmir," Parra tells Catch, adding that "The Real Kashmir FC is an established football club."
He claims that the J&K Sports Council has established football academies in 22 districts of the state and more work is being done to provide equal opportunity and platform for girls to excel in sports.
Kashmir footballers and experts speak on the historic moment
The nostalgic 35-year-old star footballer Ahmed recalls that during his playing days, the grounds in Kashmir (Islamia College ground in Hawal and Eidgah in Srinagar) would be filled to their capacity, but adds that "Kashmir's older generations is not coming to the grounds to watch football matches anymore."
That way, there is a little slide one may say. But the positive side of the coin is that the young generation is madly in love with the sport," Ahmed continues.
Professor Bashir Shah, honorary general secretary J&K Football Association, nods in agreement. Shah says, "Thousand of people would come to watch popular local football teams like Transport, Food & Supplies, Forests Football XI, J&K Bank etc. Many would skip their work to watch the matches at Bakshi stadium in Srinagar and in other grounds."
According to Prof. Shah, Kashmiri fans were madly in love with football during the 1970s and 1980s.
"People here were simply mad for football. Soccer was a craze of this place. Such was the passion that both white collar professionals and daily wagers would leave their work to watch their favourite football players play!," Mr. Shah tells Catch, adding that "post-1990, the fan following at the grounds witnessed a slight decline, partly because of the live coverage of football games on electronic media, and partly because of the popularity of cricket and our political circumstances."
The challenge at the moment for Kashmir is to sustain the momentum says Ahmed. "In that aspect, the government, sports ministry and sports council have a big role to play.
"We have to develop the game on professional lines. That's it," he says.
Abdul Rahim Bhat, a successful businessman and a philanthropist based in Srinagar, sponsors a private football club of Solina Srinagar, which is named as Rahim Greens Football Club.
"In my humble capacity, my environmental group Rahim Greens provides uniform, sports kits, refreshment and other facilities to the football club. We do this to support the game," Mr. Bhat tells Catch.
Qazi Ahmad Shohab, an aspiring footballer who idolises the Argentinian star Lionel Messi, says "the success achieved by Real Kashmir FC against Hindustan FC to qualify for the I-League will pave the way for up-and-coming footballers in Kashmir to dream big and rub shoulders with the best in the business."