'Mr Clean' Manohar set for BCCI chair after Pawar-Jaitley join hands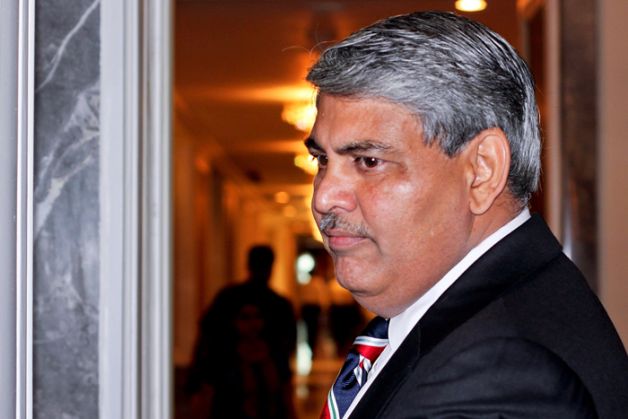 The man
Shashank Manohar is a Nagpur-based lawyer
He was BCCI president from 2008-11
He enjoys a clean image, talks straight and refuses to carry a mobile phone
His election to the BCCI presidency as the late Jagmohan Dalmiya\'s replacement looks almost certain
The mathematics
Political heavyweights Sharad Pawar and Arun Jaitley control two of the three groups within the BCCI
Pawar\'s group has five confirmed votes in the 30-member BCCI, while Jaitley controls eight
Ex-Board treasurer and Pawar ally Ajay Shirke confirms that both groups are backing Manohar
Shirke also says newly-elected Bengal cricket chief Sourav Ganguly supports him too
It shouldn\'t be too much of a hassle for Manohar to garner two more votes for the magic mark of 16
The Board of Control for Cricket in India (BCCI) is all set to get 'Mr Clean' Shashank Manohar back as its president.
Since the position fell vacant with the death of Jagmohan Dalmiya, there has been a lot of speculation regarding the top post in Indian cricket. But Maharashtra Cricket Association chief Ajay Shirke confirmed to Catch in clear terms that Manohar would indeed be the joint candidate put forth by a Sharad Pawar-led group and a BJP group overseen by Arun Jaitley.
"Mr Manohar is the unanimous candidate for everybody who matters in the Board," Shirke told Catch.
"Mr Jaitley initially suggested Mr Manohar's name, and it was also suggested and recommended by Mr Pawar. There is no issue of numbers: the BJP group, Mr Pawar and all - [new Cricket Association of Bengal chief Sourav] Ganguly - are supporting [Manohar]."
Internal politics
There are three groups in the Board - headed by Pawar, N Srinivasan, with the third one controlled by Jaitley. A candidate who enjoys the support of any two of them could have his way.
Of the three groups, the one headed by Pawar is the most close-knit unit, with five confirmed votes in the 30-member BCCI. It consists of the Mumbai Cricket Association (MCA), of which Pawar is president, Shirke's Maharashtra, Punjab, Manohar's own former unit Vidarbha and Saurashtra. These associations have been allies for years.
The BJP-Jaitley group comprises associations like Gujarat, which is headed by BJP president Amit Shah, Delhi, Jammu and Kashmir, Andhra, Odisha and the three government institutions - Railways, Services and Universities - which make up eight votes. So, together with Pawar's group, the total comes to 13.
Manohar will require 16 votes to become president for a second time. Crucially, he would need a proposer and a seconder from the east zone, since it is this zone's turn to nominate candidates.
If the Ganguly-led CAB is already on board, getting two more votes to reach the magic figure of 16 should not be too difficult as a few more east zone associations are expected to fall in line sooner than later.
Significance of the comments
Shirke's comments are significant because this is the first time a BCCI administrator has come on record to confirm Manohar's name as the presidential candidate. The new president will get approximately two years to govern the world's wealthiest cricket organisation, now worth over Rs 4,000 crore.
It's important that this confirmation has come from Shirke. He was the treasurer of the Board at the time of the IPL betting-fixing scandal in 2013, and was allied to then-president N. Srinivasan.
Srinivasan's son-in-law Gurunath Meiyappan was then arrested and later convicted for betting on matches involving the Chennai Super Kings franchise, which is owned by Srinivasan's India Cements. Gurunath called himself the 'team principal' of CSK, and court-appointed investigators found he was actually a 'team official'.
BCCI is split into three groups - those headed by Pawar and Srinivasan and one controlled by Jaitley
This led to the Supreme Court disallowing Srinivasan from contesting BCCI elections, at which point Dalmiya took over as president, with BJP MP Anurag Thakur as secretary.
Soon after the arrest of Gurunath, Shirke and then-secretary Sanjay Jagdale had resigned, citing the hurt the developments had caused them. Their resignations were seen as a message to Srinivasan, who had insisted on holding on to the top post.
Other candidates
Before the Manohar deal was sealed, former Congress minister Rajeev Shukla's name was also doing the rounds. Despite being from an opposition party, Shukla is close to Union Finance Minister Jaitley. But now it looks like Shukla will have to wait for two more years to throw his hat in the ring, as the current tenure of the BCCI president ends in September 2017.
Asked if he had himself been a candidate for the presidency, Shirke said: "The mischief that is being done by giving a wrong message to [the media] is harmful for the Board. Today, we have several challenges before the Board and we have to strengthen Anurag Thakur's hands [as BCCI secretary]. When we are getting a man like Mr Manohar, where is the question of getting somebody else?"
Who is Shashank Manohar?
Manohar turns 58 in three days' time, and unlike Dalmiya, who was 74 when he took the top post, age is on his side.
Like his father, VR Manohar, Shashank Manohar is a reputed Nagpur-based lawyer with impeccable credentials. He has a clean image, talks straight and refuses to carry a mobile phone even in this day and age.
Not many people know that he once "declined to head" the ICC, despite many countries wanting him to take up the reins of the world body, according to Srinivasan.
Srinivasan disclosed this to the members of the BCCI Working Committee at its August 2011 meeting, the last one that Manohar attended as BCCI president. Srinivasan, then the secretary of the Board, said this in his farewell speech to Manohar, to the surprise of most of the members of the committee.
Manohar is a well-known Nagpur-based lawyer. He has a reputation for being clean & talking straight
The wheel seems to have turned full circle as Srinivasan, who praised him profusely four years ago, and Manohar are in opposite camps today. Both have, since that working committee meeting, said undesirable things about each other.
If Manohar does become BCCI president, he could well be nominated for the ICC chairman's post. Currently, Srinivasan is chairman, but there have been hints from the Dalmiya-Thakur ruling group in the Board that a new man could be nominated before India's tenure ends in June 2016.
If that actually happens, it would be a huge blow to Srinivasan. However, no one from the Pawar-Jaitley-Thakur combine is ready to show his cards yet on this issue. Shirke merely said: "That is not for us to speculate."
The need for Mr Clean
Manohar's name is being proposed at a time when the BCCI desperately needs someone with clean credentials to head it. The IPL betting-fixing scandal has dented the Board badly and it needs to restore its image soon in the eyes of the public.
Manohar, who took over the reins of the BCCI from Pawar in 2008, could bring sanity to an organisation that desperately needs to streamline its administration. The Board, after all, has been virtually paralysed since the scandal broke in 2013.
The date of the BCCI special general body meeting, at which the new president would be elected, is yet to be decided, as there is a hitch over Srinivasan's eligibility to represent the Tamil Nadu Cricket Association that he heads.
Since the Supreme Court has held Srinivasan in a conflict-of-interest situation, the Board has asked the same court if he can attend meetings. The next hearing is scheduled for 5 October.