Meet Pranav Dhanawade: wonder kid who's broken 117 year record, 1009 runs, not out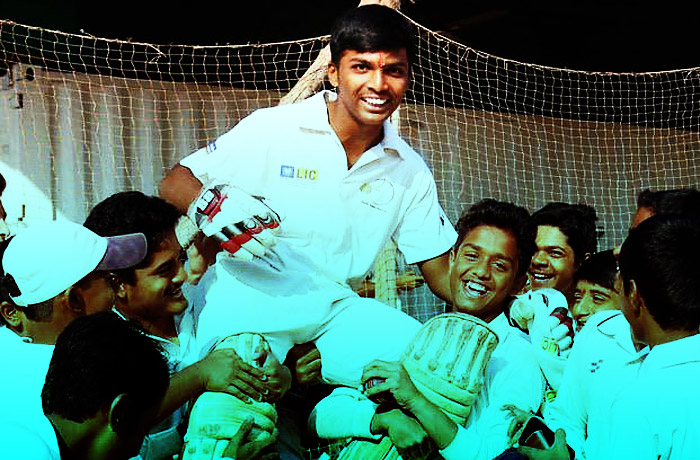 The record
Pranav Dhanawade scored 1009 not out in an inter-school cricket match in Kalyan
He broke a 117-year-old record of the highest score in any level of organised cricket
The background
Pranav comes from an extremely humble background
His father Prashant is an auto driver, while mother Mohini runs a small catering business
Prashant was an aspiring cricketer too, but couldn\'t make it due to limited family means
More in the story
What Pranav\'s coaches say about his talent and his future
The tweet that meant more to Pranav than the record
Look at the picture above. This could be the face of any of the thousands of youngsters in the Greater Mumbai area who harbour the dream of becoming the next big thing in world cricket. Except that he already has, at the tender age of 15.
Meet Pranav Dhanawade, the boy who scored 1009 unbeaten runs in a single innings in an inter-school tournament.
Also read - Pranav Dhanawade: 10 facts about the record-breaking Mumbai cricketer
Pranav, a 10th standard student of KC Gandhi High School, Kalyan, scored these runs off just 327 balls, hitting 59 sixes and 127 fours in 395 minutes against Arya Gurukul, Kalyan, at the HT Bhandari Inter-School Cricket Tournament organised by the Mumbai Cricket Association in Kalyan.
The entire cricketing world is applauding Pranav's feat, through which he broke a 117-year-old record for the highest individual score in any form of recognised, official cricket. And he didn't just break it - he obliterated AEJ Collins's 1899 mark of 628 runs for Clark House against North Town House, United Kingdom.
The total team score of 1465/3, is also a world record. The previous record of 1107 runs was held by Australian first-class side Victoria against New South Wales in 1926.
And then came a tweet from the god of batting, which sent Pranav over the moon.
Congrats #PranavDhanawade on being the first ever to score 1000 runs in an innings. Well done and work hard. You need to scale new peaks!

- sachin tendulkar (@sachin_rt) January 5, 2016
Record-breaker speaks
When he was told about the praise from Sachin Tendulkar himself, Pranav's face lit up. "It is the biggest compliment when the god of cricket acknowledges you performance. This is the most precious gift for me," he said.
"When I walked up to the pitch, my sole objective was to score maximum runs, so that my team wins the match. It was nothing intentional. I played my natural game and the record was set. However, after scoring 652 runs yesterday, today I was determined to score 1000."
Fulfilling his dad's dream
Pranav is not a child born into means. Dad Prashant drives an autorickshaw, while mom Mohini runs a small catering business.
"We recognised his interest and talent when Pranav was four years old. I wanted him to become a good cricketer, but it was difficult to provide for him due to financial constraints. Most of the time, we had to compromise on our other needs, so that Pranav could get what he wanted," admitted Prashant.
Pranav, 15, scored the runs off 327 balls, hitting 59 sixes and 127 fours in an inter-school match
Prashant himself had wanted to become a cricketer. "But I couldn't achieve that due to my family's poor financial condition. So when I saw the spark in Pranav, I decided I wouldn't let our financial condition be a constraint," he said.
Pranav was sent to the Mobin Shaikh Cricket Coaching Academy in Thane when he was six years old, as Prashant wanted his son to get "formal cricket coaching to reach his goal". The rest is history.
Coaches go ga-ga
Like all coaches who care deeply about their pupils, Shaikh isn't satisfied with this one performance.
"Pranav had always been promising. I only channelised his talent. It feels great to see my student scaling new heights in the game. It is through god-gifted talent and skill that Pranav has set the world record today. I only gave him whatever I had, which was nothing out of the world," he said.
"But this is not the final destination. Pranav has to scale new heights in future. We have to get ready for the future."
Also read - Mumbai boy breaks all-time cricket record for runs scored, crosses 1000 runs!
Pranav's school teachers, Ashok Jadhav (sports teachers) and Harish Sharma (cricket coach), haven't yet recovered from the high of the knock. They just can't stop praising him.
Jadhav said: "Pranav has been playing cricket since the fifth standard, and cricket is everything for him. So much so, that many a time, he has even said he doesn't want to study, only play cricket.
"Worried about his academic career, I once called his father and informed him about Pranav's intentions. We had a marathon discussion and decided to encourage Pranav."
The education society that runs the school spotted the talent in him, and was already bearing the costs of his coaching, kit and travelling.
"That naughty boy, who was never attentive in class and invited teachers' ire for that, has brought laurels to the school, and how! I wish to see him in the blue uniform [of the Indian cricket team] some day," said Jadhav.
Pranav's dad Prashant drives an autorickshaw, while his mom Mohini runs a small catering business
School coach Sharma added: "Nothing was planned or intentional when Pranav went to bat. But when he scored 250 runs, I first thought he could be heading for a record. Then we started digging the record books and came to know that the individual score record was 628.
"As Pranav continued to bat and runs kept on pouring in from all the sides of the ground, we all crossed our fingers and waited for the moment."
Help on the way
With even Tendulkar urging Pranav to aim higher, the road ahead is promising. But Pranav is not the first wunderkind to garner attention, and won't be the last. It'll only get tougher from here on in.
But this feat has ensured that history won't forget him quickly. And even on the road ahead, he will have more help than ever before.
The Maharashtra government has announced that it will bear all the costs of his coaching in the future. "In view of the classic performance by Pranav, the state government has decided to bear all the costs of his coaching, to ensure he gets the best," said sports minister Vinod Tawade.
And if that wasn't enough, there was more help coming. The company that made the bat Pranav used during his knock, Stanford (SF), has decided to provide him free cricket kits for his entire life.
The future never looked brighter for this rising star from the suburbs of Mumbai. Pranav Dhanawade will now certainly stand out in a crowd of wannabe cricketers.
More in Catch - Very Very Special! Laxman's 281 awarded best Test innings in last 50 years
Lodha Report: great ways to clean the BCCI. And why one can't count on it
Think Sachin Tendulkar is an inefficient Rajya Sabha member? This will prove you wrong