How Iran's archaic laws prevent women's sport from flourishing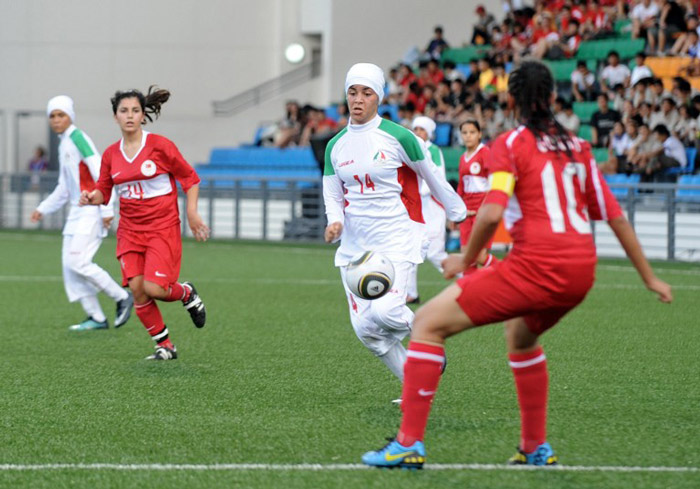 Niloufar Ardalan, captain of the Iranian women's futsal team, will not be able to lead her team out at the forthcoming AFC Women's Futsal Championship in Malaysia. And not because she injured herself in a training session, or because she was dropped by selectors on account of poor form.
It's because of a deeply sexist and discriminatory law in her country, which dictates that married women must have the permission of their husbands before travelling abroad. Niloufar's TV presenter husband wants his wife to be present when their son goes to school for the first time next week, and has reportedly refused to let her renew her passport.
Read more: Niloufar Ardalan's Asian Cup dream shattered after husband denies permission
Nicknamed 'Lady Goal', Niloufar is regarded among the best Iranian woman footballers ever. And yet, she won't be able to carry out her duties as a professional, despite her impassioned plea for an amendment in the law that would free Iranian women from this archaic set up.
Don't play, don't watch
Despite Iran being among the more liberal Islamic countries in the world, women's participation in any sports-related activities is met unfavorably by the government.
It probably doesn't matter that most university graduates in Iran are women, and in April this year, the government appointed its first female ambassador since the 1979 Islamic revolution.
When it comes to sports, a woman cannot even be a spectator.
In 2014, British-Iranian law graduate Ghoncheh Ghavami was a part of a group of women accused of, and subsequently arrested for, 'propaganda against the regime'. Their crime? They had staged a small protest after they were refused entry to a men's volleyball match.
That's right - they wanted to watch a volleyball match. Football and volleyball stadiums in Iran are named 'Azadi'. Irony, anyone?
Niloufar Ardalan couldn't play for the country because her husband refused to renew her passport
Since 1979, women have been prohibited from attending male-only sports matches in Iran, apparently introduced to 'protect' female spectators from any untoward incident like lewd behaviour by male spectators.
Ghavami was held in solitary detention for over 100 days, where she started a liquids-only fast, and was subsequently released on bail.
Ghoncheh's brother Iman Ghavami had spoken to various media outlets at the time, and in this video, he explains the conditions of his sister's time in jail, as well as the dubious charges on which she was arrested.
FIFA disapproves
Human rights groups in Iran have beseeched the powerful world football body, FIFA, to intervene in the ban which prohibits women from entering football stadiums.
They point to the fact that this is a violation of article three of the FIFA statutes, which states, "Discrimination of any kind against any country, private person or group of people on account of race, skin colour, ethnic, national or social origin, gender, language, religion, political opinion or any other opinion, wealth, birth or any other status, sexual orientation or any other reason is strictly prohibited and punishable by suspension or expulsion."
Unfortunately, the most that FIFA can do is express public support for this cause. FIFA president Sepp Blatter has done so in the past, but remains powerless in overruling what is state law in Iran.
And when an incident like the one involving Niloufar occurs, it leads to collateral damage. Women's sport suffers because of the law, which places considerable in the hands of their husbands. Interestingly, single women above the age of 18 enjoy free movement outside the country without needing approval.
This dichotomy leaves a massive grey area, which has come to hurt Iranian women's sport in this instance.
The reaction to the incident however, has been reassuring. Iranian cartoonists have depicted the absurdity in poignant ways - one cartoon depicts Niloufar kicking a ball with one of her legs chained, while another one depicts her playing a football match with her husband standing on the sidelines, instructing her to return home.
Speaking about the incident to Iran's Nasim Online news agency, Niloufar said, "This tournament was very important for me and, as a Muslim woman, I wanted to hold my country's flag high. I wasn't going there to have fun."
The reality is, it's really no fun if you're a woman in Iran who happens to love sports, whether as a player or a spectator.
Maybe someday, this will cease to be a permanent arrangement. Until then, all that can be done is to cry 'foul'.