Here are 5 of the biggest India-Pakistan cricket fights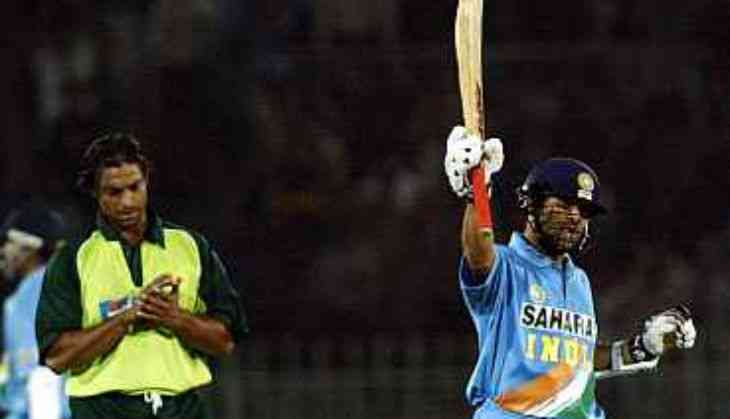 The matches between India and Pakistan are never short of high-voltage drama. Players of the teams are always expected to be at their best game.
The on-field high-level intensity is enough to keep millions of people glued to their TV screens. A lot is considered to be at stake when the two sides come face to face.
Here are 5 of the biggest India-Pakistan on-field fights:
1. World Cup match 1996 (Venkatesh Prasad vs Aamer Sohail)
Pakistan opener Aamer Sohail was looking forward to consolidating Pak's position in the 1996's World Cup match as he hit Venkatesh Prasad for a boundary through covers. After sending the ball to the boundary, the batsman signaled towards Prasad to go and get the ball.
Prasad's comeback was phenomenal at this stage as he bowled Sohail out on the next delivery and sent him packing to the pavilion.
2. World Cup match 2003 (Virender Sehwag vs Shoaib Akhtar)
This is one of the most talked about instances in the cricketing history of India and Pakistan. During the World Cup match in 2003, Pakistan pacer Shoaib Akhtar kept on bowling bouncers to Indian opener Virender Sehwag.
Sehwag asked Akhtar to bowl the bouncers to Sachin Tendulkar. The master blaster took no time in hitting the bouncer for a six.
Elated by Tendulkar's six, this is what Sehwag told Akhtar, "Baap baap hota hai aur beta beta hota hai."
3. Champions Trophy 2004 (Rahul Dravid vs Shoaib Akhtar)
In 2004, during a Champions Trophy match, a rare sight was witnessed as Mr. Cool Rahul Dravid lost his temper at Shoaib Akhtar. After hitting the ball, Dravid began to cover the pitch for a run and it appeared that Akhtar tried to block his way.
Both the players got indulged in heated verbal exchange and the then Pakistan captain Inzamam-Ul-Haq had to calm them down.
4. Asia Cup 2010 (Gautam Gambhir vs Kamran Akmal)
During a Asia Cup match in 2010, constant unsuccessful appeals from Pakistani wicket-keeper Kamran Akmal irked Indian batsman Gautam Gambhir, who decided to confront him.
The argument between both the players turned ugly during the drinks break and umpires along with skipper MS Dhoni had to intervene to cool the situation down.
5. Asia Cup 2010 (Harbhajan Singh vs Shoaib Akhtar)
In 2010, India required to score 7 runs off seven balls to win a match and Harbhajan Singh was on the field. Amid rising tension, Shoaib Akhtar ended his over with a dot ball and teased Harbhajan, which ultimately turned into an ugly spat.
Charging from Indian side, Harbhajan concluded the show with an impressive six and guided India to victory.