From cricket to golf; Golfication, the 'One-Stop Golf' app, is now funded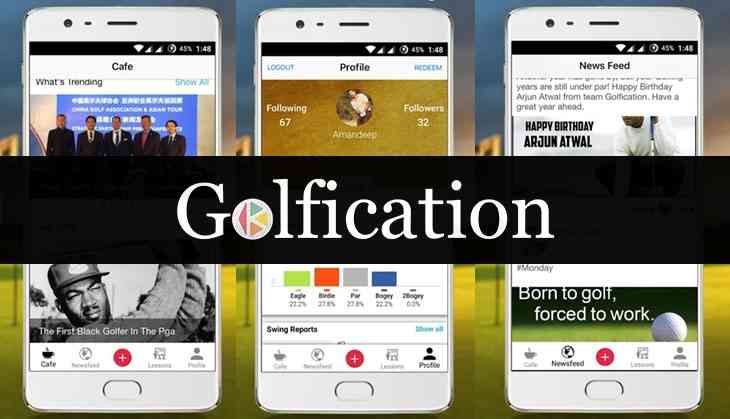 I first met with Anirudh Arun at a small cafe across IIT Delhi when he was in the midst of organising a cricket coaching session for bowlers. Several months later, I met him again at the very same cafe, where I saw the transformation of the app from cricket to golf. This time he was brimming from side-to-side with the funding news, though he kept silent on the actual figures, choosing instead to say "undisclosed amount" repeatedly.
The sport-tech startup Khelfie was founded by two IIT Roorkee-IIM Ahmedabad alumni in December of 2015. A year-and-a-half after it was founded - with cricket as the prime target audience along with tennis and golf - Khelfie has gotten their 'everything golf' Golfication app funded. Co-founders Arun and Rishabh Sood announced funding of their one stop golf app over the weekend of 5 May.
The name Khelfie is a combination of 'Khel' and smartphone selfies. "It started with combining "Khel" - Hindi word for "Play" - with the act of making a video or clicking pictures with your mobile phone," Arun tells Catch News. "As we started out building a Slow-Motion Video Assessment tool for sports. Now, as a mobile social environment for Sports amateurs and hobbyists, the word still captures our idea very well".
That Slow-Motion Video Assessment tool became crucial to what Khelfie is today. The app, in its nascent stages, got down to the core of the sports it was targeting. In all three sports - cricket, golf and tennis - it was about getting a professional to analyse upcoming players' swings. In cricket, they focused on the bowler's action. In tennis and golf, it was the racquet and club swing.
Quickly enough, Arun says, they "doubled-down" on golf as their only target. "It is a structured sport played seriously, but in a more casual context, as a hobby for life. We are now focussed on capturing the Indian Golf market, before scaling across geographies and sports," Arun tells Catch News.
In fact, Golfication has tied up with more than ten professional coaches to help budding golfers with swing analysis and on-course lessons. The first coach they tied up with was none other than Amandeep Johl, the current Indian national golf coach. Johl also teaches a growing number of juniors.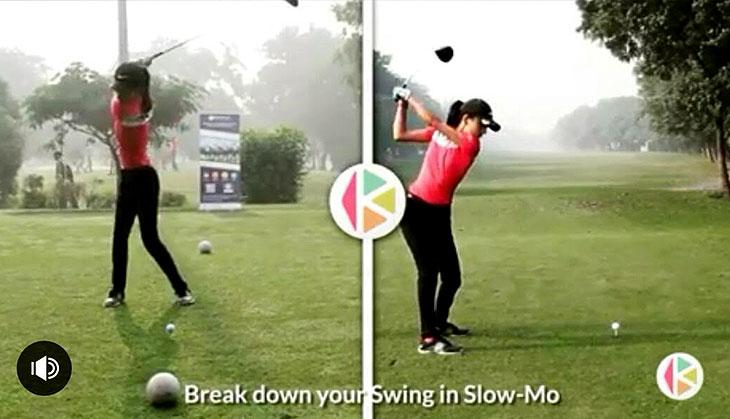 Khelfie
The team, now consisting of eight people, are beaming with their first round of funding that comes from avid golfers and angel investors. The investors include: Hemant Dua – CEO of Delhi Daredevils, Vishal Sampat – Chief Digital Officer of Reliance Jio, Sanjeev Anand – Country-Head of IndusInd Bank, Alok Gupta, Srikant Sastri - serial entrepreneur and founder of Crayon Data, Jayavardhan Diwan, and Sudha Sastri – a patron of the Indian Olympic contingent through Olympic Gold Quest.
"Some of them are avid golfers, and they all believe in the future of Sports," Arun says. More crucially, Arun and Sood met some of these very investors on the golf course. "Focussing on Golf as our first sport has proven to be one of our best decisions!"
Arun continues to talk about why the company pivoted. "While Cricket is a massive opportunity, it's almost too massive. It's mostly not standardised, and people don't have fixed frequencies of playing - because they're in such a stage in their lives," Arun says. "Golf, on the other hand, has a serious audience, interested in improving, competition and enjoying the sport in general. It's nascent, but it's growing fast! Did you know there are 60 million golfers in the world?" In India, the number of people picking up the sport is increasing by the day.
Professional Indian golfer Anirban Lahiri is already a popular name in the country. After last year's Olympics in Rio De Janeiro, it's female golfer Aditi Ashok that everyone is talking about even six months later. At one point during Round 2 of the Olympics, Ashok held the league, and the nation went crazy. She eventually finished 41st but it was a commendable performance. "This has led to a surge in female players taking up the game," Arun tells Catch. "Right now, it's still skewed towards males - with a ratio of 75:25 - but the growth in female golfers is high!"
While the cricket market was largely an Android-based market, owing to it being easier to pick up a bat and ball, golf is an iOS based market. "While the rest of India is building apps for a 95% Android market, our user base is actually skewed towards iOS. We've built a focussed user-base of over a thousand golfers, and are certainly transaction-focussed," Arun continues.
By the end of the year, Golfication aims to truly be the one stop app for all golfers - whether professional or merely playing for the first time. "We aim to have reached out to the golfing population of the country, and drive initiatives to make Golf more accessible," Arun tells Catch. "We're actually opening up the sport, without memberships and without equipment. We will be a one-stop concierge for anyone who wants to golf!"
For Arun and Sood, spending time on the course proved very beneficial. "Since we come from several HNIs and Fund Managers on the course, we're invited quite a few times to discuss potential investments. Golf is seriously brilliant for networking," Arun says. Hence, the two of them have started taking lessons. They even meet once a week, at Siri Fort Sports Complex, to play and socialise with other golfers.
There is hope within the small team that they can quickly expand to other sports, but for now, they are singularly focused on the game of golf. Maybe one day, we can see the founders of Khelfie take part in the Hero Indian Open.