FIFA 18: Indian Super League to feature alongside Chinese Super League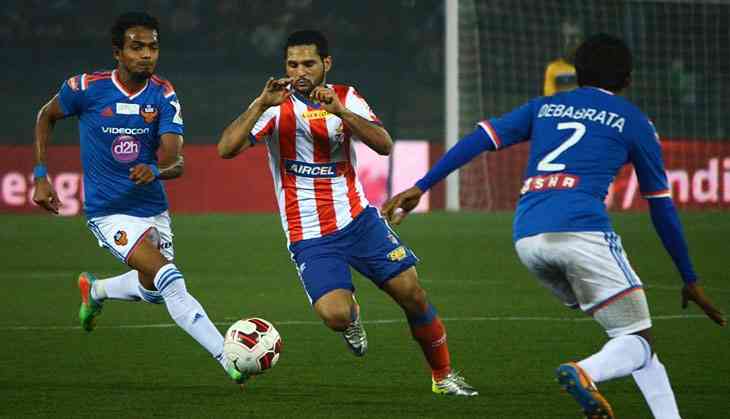 (NurPhoto/NurPhoto via Getty Images)
FIFA 17 may be hot property now but fans of the popular football video game are eager to get their hands on the upcoming FIFA 18. One can expect FIFA 18 to up the stakes in terms of gameplay, new league addition (Indian fans might get the new and popular Indian Super League), better graphics and will be available on newer consoles. While details are scarce at the moment, here's what we know so far:
For the past few years, fans have had to endure similar release cycles. First, fans wait for the European leagues to wind down, culminating with the finale of the Champions League. Then they go through the hoopla of the summer transfer window. When that ends around 31 August, it's time for the FIFA video game demo and then near the end of September, the release. Here's all that we know about FIFA 18:
1.

Release date:

We can look back upon previous versions to get an idea of this year's edition. FIFA 17 was released on 29 September

2016

, FIFA 16 on

22 September 201

5,

and FIFA 15 on

23 September 2014

. FIFA 18 presumably will also launch in the last week of September.

Platform availability: FIFA 18 might be the first game to exclude support for previous generation consoles. EA CFO Blake Jorgensen said back at the Stifel 2013 Technology Conference that the publisher of the most popular sports-based video game will only release titles for last-generation consoles until 2017. Therefore, all signs are pointing towards FIFA 18 being a current-generation & PC exclusive.

As it currently stands, FIFA 17 was pared down for Xbox 360 and PS3 consoles. The hardware on those consoles couldn't handle the new Frostbite technology. What we also know is that FIFA 18 will be available on Nintendo's brand new console Switch.

The publisher had shied away from releasing the title on its last-generation console Wii U. "Well, as we have said, we are custom-building a FIFA version for the Nintendo Switch," EA's chief competition officer, Peter Moore said at a FIFA event held in Paris. "It will be FIFA 18, and it will obviously be later this year when FIFA 18 comes out."
Graphics:

There won't be a massive improvement but it will still look better than FIFA 17. This comes from Frostbite Studio Director Jonas Skantz who spoke to Dream Team Gaming last year. Essentially, with Frostbite powering more games, the development team can "spend more time building new groundbreaking gameplay innovations".

New league:

Indian football fans will surely like this bit. Each year FIFA puts out a vote on the fan voting website (

http://www.fifplay.com/fifa-18-leagues-vote/

) and the top three voted leagues, at the minimum, are included in the next version of the game. The end date for voting is not known but given the size of the lead, it's pretty certain which league will be in the upcoming version of FIFA. Currently, the Chinese Super League (18%, 157,003 votes), Indian League - ISL (18%, 156,003 Votes) and German 3rd League (17%, 145,512 Votes) lead the voting by far. Greek league, Portuguese 2nd league and Israeli league come in at 7%, 7% and 3% respectively. Rumours already abound that the Chinese Super League has more or less been confirmed for FIFA 18.

Cristiano Ronaldo at the helm:

Cristiano Ronaldo was the best player in FIFA 17 and that seems to be repeated in FIFA 18 after the Portuguese player

'

s phenomenal year. He might even receive a small boost in terms of rating.

FIFA and VR:

This one is a toss-up, but a probable inclusion on the PC and PS4 Pro. Sony is one company that has invested millions in PSVR and needs more games to show off its technology. To that end, FIFA 18 might just be one of those games.

Dynamic weather: We know it exists in the Frostbite engine, courtesy of Need For Speed (2015) and Battlefield 1.

Here's EA's DICE's Patrick Bach explaining to Metro last year: "We often talk about these different dimensions in Battlefield, where you have the rock, paper, scissors and then you marry that with the destruction and you create unpredictability from different angles. And with the layer of weather we actually change the way you play in a very drastic way," Bach said.



"So, if you have the tactics of being a sniper and it starts to rain then you probably have to change tactics. And the same with fighter planes, once the fog rolls in it's like, 'Okay, this is not as effective anymore, so I probably need to go back on the ground'. It's not only a pretty effect, it actually changes the way you play the game,"

he added.

China over Manchester United:

With the inclusion of the CSL, Chinese teams might overtake Manchester United in terms of team budgets and that could thro

w

the game into disarray with many more players than in reality leaving for the Chinese leagues.

The return of China bound players:

With many popular players having gone to China in the past few years, the inclusion of the CSL means the return of such players. The likes of Hulk, Ramirez and Carlos Tevez will be featu

red

in FIFA 18.