Giant of the game: why HBO's new film on Kareem Abdul-Jabbar matters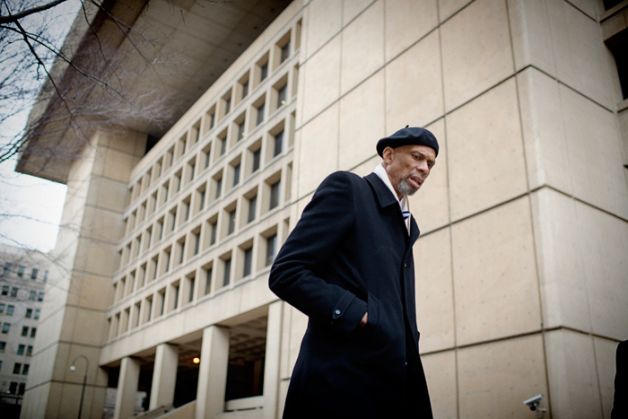 Stats don\'t lie
Kareem Abdul-Jabbar is, statistically, the greatest basketball player of all time
He scored the most points in history, won 6 NBA MVP awards and had 19 All-Star selections
Unusual superstar
Unlike most superstar sportspersons, Kareem never kept quiet on social issues
He was vocal on racism, and spoke out on his political views
More in the story
Why HBO\'s new documentary on Kareem is significant
How Kareem truly is in a minority of one as a star sportsman
Sport has this curious ability to unite people across the world. Take the remotest part of the world, and chances are that you still won't find five people in a row who haven't heard of Pele, Diego Maradona, Roger Federer, Sachin Tendulkar, or Usain Bolt.
However, not every sport enjoys this universal appeal. Take basketball for example: invented by a Canadian, it took nearly a century to step out of the North American continent - and that too, thanks to a transcendent figure like Michael Jordan.
IN PICS - A November to remember: iconic sporting moments from around the world
But what if we told you Jordan wasn't - statistically, at least - the greatest basketball player of all time? That honour belongs to someone who even one's sporting-loving friends thought was everything from a politician to an Egyptian footballer.
On and off the court
At the time of his retirement in 1989, Kareem Abdul-Jabbar was the NBA's all-time leader in points scored (38,387), games played (1,560), minutes played (57,446) and field goal attempts (28,307). To this day, he remains the all-time leading scorer in the NBA. Kareem was also a record six-time NBA Most Valuable Player and a record 19-time All-Star.
Across his 20-year career for the Milwaukee Bucks and the Los Angeles Lakers, Kareem achieved feats on the basketball court which would normally ensure that people constantly talked about him for posterity - a basketballing Donald Bradman, if you will.
Yet, not much is known about him. And it's not even as though he kept a low profile during his career - he was the seven-foot-two-inch pivot of basketball's most glamorous franchise, based near Hollywood. During and post the end of his basketball career, he made film and television appearances, authored books, and has been a cultural critic.
In terms of statistics, Kareem Abdul-Jabbar is the greatest basketball player of all time
Kareem was different because he spoke his mind about issues like racism in the US, and made his political views very clear. In that sense, he doesn't sit with the stereotypical image of the 'superstar' - the likes of football's Cristiano Ronaldo or even Jordan himself, who keep their mouths shut and do the business on the field/court.
Kareem was accused of using his position as a popular sportsman to make political statements, and mixing societal issues with sports. But he would probably just turn around and say: "People are listening, right?"
Peek into his life
It's probably why HBO decided to do a documentary on him. 'Kareem: Minority of One' is as thought-provoking as its title, as for the first time, Kareem opens up about his views and his life - the way he has sought to avoid conventional fame and attention despite being surrounded by it.
Kareem is a creature of conscience - it was behind every decision he took. He wasn't particularly bothered about whether it would generate negativity. It's as he had said earlier: "You can't pick or choose. When something happens, it doesn't matter if it's convenient or not."
Also read - Approaching Muhammad Ali: the tell-all book by a voyeur turned confidante
He sought to fight the social inequalities in the world, and chose to "speak up" rather than "acquiesce" to them. "If it's time to speak up, you have to speak up. You can't be afraid."
In the documentary, the 68-year-old says: "I turned people off with my reticence about personal engagement." This is reflected even in his on-camera moments, as he doesn't open up too much in front of the voyeuristic tool.
Minority of one
Born Ferdinand Lewis Alcindor Jr, he joined a particular Muslim sect in Milwaukee when he was a young professional, and changed his name to Kareem Abdul-Jabbar. This led to his estrangement from his parents for more than a decade, and almost all familial ties were cut.
So how did he feel about that? Not much comes out. It would be tempting to conclude that even the documentary is an exercise in futility, as it hardly scrapes the surface of the potential it has to give the viewer a peek into Kareem's life and motivations.
But if anything, the beauty of the documentary is that it reaffirms Jabbar's image as the elusive, introspective and thoughtful sporting legend.
In a 20-year NBA career, Kareem won 6 MVP awards and scored the most points in history
Speaking purely in sporting terms, Kareem is important because he taught an entire generation new ways to play the sport; his standout move being the 'sky hook', which has become one of the most elegant and effective moves in basketball when done right.
Of course, he was helped by his height, which leads people to say that Jordan was a better player than him, because he achieved what he did with less physical gifts.
But if someone were to get acquainted with Kareem today, he or she would be hard-pressed to ever tell that he enjoyed an ultra successful basketball career.
Because Kareem, at the end of the day, was everything that sporting "superstars" aren't - he truly is in a minority of one.
MORE IN CATCH - Frauds in sports! When heroes betrayed their country and fans
#ThankYouSehwag: they don't make cricketers like Viru anymore