Croatia vs England promises to be a close tug of war for a chance to make history
Three weeks ago, not many would have picked Croatia and England to reach the semi-finals of the World Cup. But this has been a World Cup of subversions. Any notion held with history as evidence has been shown the door. All pre-established protocols have been dissolved and beliefs based on prediction models and modern data tools have been shaken to the core.
The World Cup is born again, baptised in the waters of a brave and weird new world. The implications of this tournament will be analysed once the shindig ends; there are things at play here that are deceptively simple at first look but are definitely more complicated than "football, bloody hell!". But for now, let's enjoy the party.
And the only song of the party seems to be 'Football's Coming Home'. As it immediately stands, Croatia is standing between football and home. It's been a long time since these two teams reached the last four stage of the World Cup. The last time England came this far was Italia '90. Most of the current squad wasn't even born then. Croatia was here in France '98, their first World Cup as an independent state.
Clearly, this has been an excellent and unexpected run for both nations. Both sets of fans are now in delirium, absolutely convinced that their team will lift the little golden trophy on 15 July. But England, in their heads, are already running away with it.
Is the World Cup really coming home?
Media, fans, pundits have collectively invested in the belief that football will come home, by any means possible. The homecoming bandwagon started in irony. Nobody, not even the most optimistic Three Lions fan, believed that England could have a chance to win the whole thing. It was safe to get in with muted expectations and get out with a chuckle and a pint. The general sentiment was that hopefully, this young squad plays pleasantly surprising football, gets out of its group and maybe reach quarter-finals. That would be good. That would be some progress.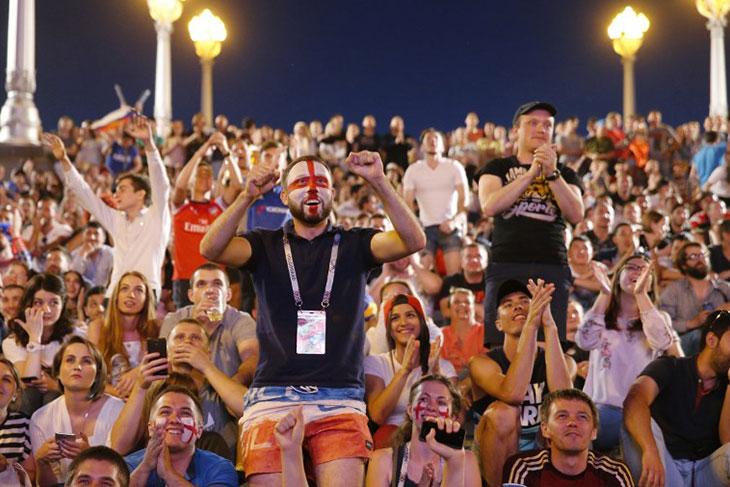 Maxim Zmeyev/AFP
The extraordinary rise in just two years
And now, England have reached the semi-final stage of the World Cup with a ragtag bunch of players and a manager far removed from the brutish, bullish nature you generally associate with British football coaches. At first look, it's hard to believe that England have achieved this riding on the back of the likes of Harry Maguire and Kieran Trippier.
The team mirrors their extraordinary rise in a matter of two years. They represent the shift in team dynamics and core ethics. When you look at England now, you see a bunch of likeable guys who love to joke around and play football. They seem motivated, uninhibited and expressive. This is a far cry from the English teams of the yore that always seemed rigid, morbid and preoccupied with their own image. If the England of the past was divided in factions and allegiances, this one is united in purpose and youth. So when you see them in the last four now, it really doesn't seem that big a shock.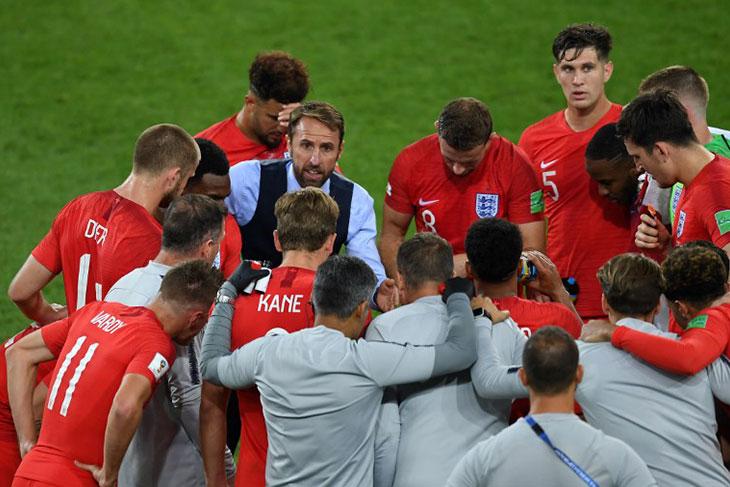 Francisco Leong/AFP
Sure, England got lucky and got the easier side of the knockout draw, but their character has been tested. After a mostly breezy group stage performance, they had to face an old foe right away: penalty shootout. Colombia was always going to be a tough nut to crack and just when everyone thought the job was done, the game thought otherwise. Toward the end, the shadow of penalty shootout loomed over England and its fans, and when it was time, it felt like a familiar ending to the story.
So when England won the shootout - their first ever in World Cup history - they managed to subdue a demon that had been eating them slowly over the years. The belief was bolstered and after brushing aside Sweden, the Three Lions are two now two games away from being crowned king of the jungle.
Croatia have been the dark horses
For Croatia, this has been a less frenzied affair, but not one with any less drama. After a dominant first round performance, they started attracting interest, especially since they fell on the easy side of the draw, after topping their group. Three wins on the trot and just like that, many started calling them the dark horses to win the whole thing. Croatia's current generation of players might be their best in history and this seemed the perfect World Cup for a new winner. Croatia started believing themselves. And why shouldn't they, when they have players like Luka Modric, Ivan Rakitic, Mario Mandzukic, Ivan Perisic, Mateo Kovacic and Sime Vrsaljko.
But as soon as the buzz around them grew, so did the pressure. The knockout rounds have been excruciating for them so far. They barely got past Denmark in penalty shootouts, only to face an inspired Russia and find themselves at the brink of exit on penalties again. Seventy-five percent of penalty shootout winners at the World Cup have gone on to lose their next game. But Croatia refused to be judged by history to reach semi-finals after winning back-to-back penalty shootouts. While that does imply a troubling inability to finish the game in regulation time, it also shows grit. Croatia have taken the difficult road and survived.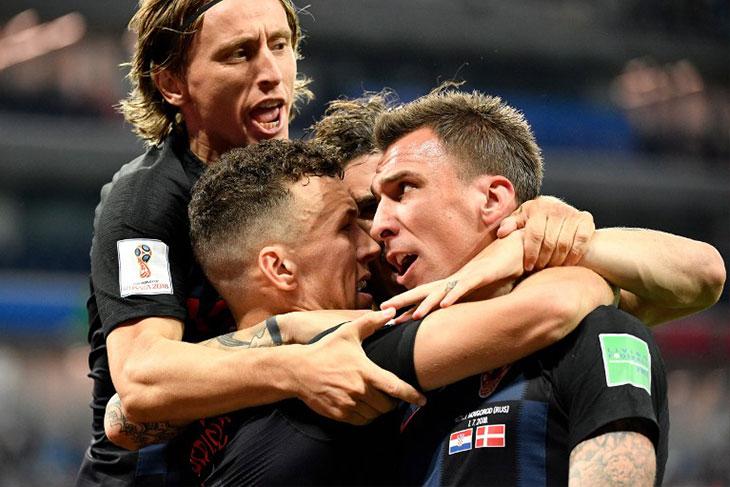 Alexander Nemenov/AFP
Croatia with the stronger midfield
On paper, Croatia has a stronger midfield than England and it's where the game could be lost and won. You can hardly better a midfield combination of Modric and Rakitic. The latter has been given a more free number 10 role and the results are for all to see. Modric, as always, has been talismanic, a constant threat around the opposition box. As a result, Rakitic has taken a back seat and but has been instrumental in providing stability to their central midfield.
England, on the other hand, doesn't have much to boast in the midfield area and they could be caught out there. They are playing out from the back and are employing attacking and overlapping fullbacks, with Jordan Henderson holding the fort in deep midfield. Against Croatia, he could easily get overwhelmed. England might have to set-up differently to counter Croatia's threat through the centre of the field. But they might be reluctant to change what has worked till now.
Moscow is ready for Croatia vs. England 😍 pic.twitter.com/rALtp8V0Sp

— B/R Football (@brfootball) July 9, 2018
An intense end-to-end semi-final
The Three Lions pivot around Harry Kane in attack and Jesse Lingard, Sterling and Alli like to play off him. So when England attack, they move forward fluidly now, exchanging passes and runs. They should be wary of pushing fullbacks high up in attack against Croatia. In the case of transition, Henderson and the English back-three could be left exposed. It promises to be an intense end-to-end game, one that could tilt either way. But, no matter which team reaches the final, history has already been rewritten.