Back from the dead, Germany must work to turn their World Cup around
(Jonathan Nackstrand/AFP)
People say that one moment can change the course of history. The impact of one decisive act, one incident, can ripple through the accepted fabric of humanity, shake foundations and sometimes, build new ones. It also takes a single moment to restore normalcy as well. One act to prevent the world from diving into chaos. Saturday night in Sochi, order was restored when Toni Kroos, in the dying seconds of the game, hit the ball so hard and true that, just for a second, it paused the Earth's rotation.
It was 1938 when Germany were last knocked out in the first round of the World Cup. They have, over the decades, established themselves as the World Cup's most consistent participants. They are the current world champions and they arrived in Russia as favourites to defend their crown. They had a stronger squad than the one that went all the way in Brazil four years ago; their second string squad strolled through the Confederations Cup last year and they were more of a 'team' than any other team. It wouldn't have surprised a single person if Die Mannschaft added a fifth star to their emblem by the end of the World Cup. But since their opener against Mexico, Germany's crown has been under threat.
Germany's defence of the World Cup under threat
A complete tactical fiasco led to Mexico winning in style; a 1-0 loss that could have been way worse had Mexico showed composure in the final third. El Tri exposed Germany on the counter as Javier Hernandez, Carlos Vela and Hirving Lozano ran riot. Germany, keeping a high line and with their fullbacks Joshua Kimmich and Marvin Plattenhardt high up on the wings, were left utterly vulnerable at the back. Mats Hummels and Jerome Boateng were left to clean up the mess.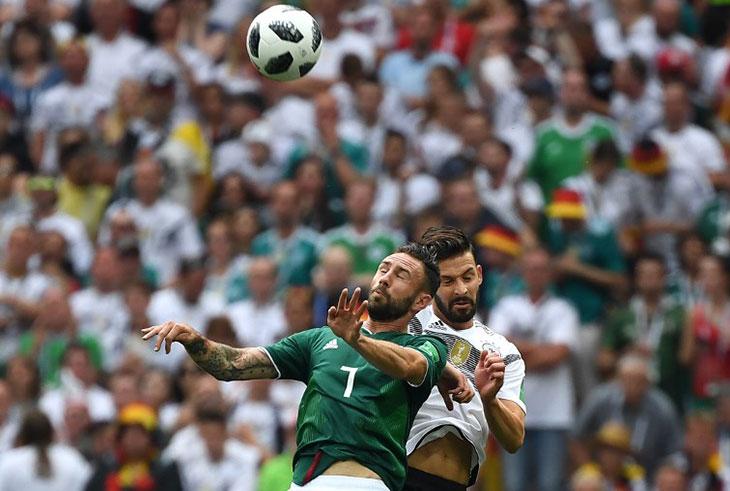 Kirill Kudryavtsev/AFP
The two centre backs were making tackles at the halfway-line to prevent counterattacks. Lozano finally was put through by Hernandez in one of the plays of the World Cup, and Mexico were leading. Germany panicked. Virtually playing without a midfield, they threw more men up front. Their frantic attempts never came close to restoring parity.
The Germans determination against the Swedes
With their pride and position hurting, the Germans had to win against Sweden or their World Cup was in jeopardy. Everyone's eyes were on how Germany approached the game. Changes were made as stakes rose. After a run of 26 consecutive starts for Germany at major tournaments, Mesut Ozil was left out; Sami Khedira was replaced by Sebastian Rudy; and Marco Reus started his first major tournament game for Germany. It wasn't, however, enough to kickstart Germany's World Cup. They predictably hogged possession and again looked weak at the back. With Hummels missing out on account of a neck injury, Antonio Ruediger partnered up with Boateng at the back and the pairing looked shaky right from the start.
German plans were almost instantly waylaid when Sebastian Rudy had to be withdrawn after a what looked like a painful nose injury. His replacement Ilkay Gundogan is a completely different player. Rudy is a defensive midfielder, while Gundogan is a creative central midfielder. The change left German midfield shakier than it already was. They were lucky to not concede a penalty when Boateng brought down Marcus Berg early in the first half itself. And by the time Sweden did take the lead, the German defence had clear fault lines. They seem to have retained the same issues that they exhibited against Mexico.
Loew's half-time changes proved crucial
Joachim Loew made changes at halftime. Julian Draxler who was largely invisible made way for Mario Gomez and it clearly made Germany more threatening in the box. By the time Reus equalised, Germany were all scrunched up in Sweden's half. But since Sweden had swarmed their defensive third, they just couldn't find a way through the centre. They kept attacking the wide areas and putting balls in. Toward the end, Boateng picked up two yellow cards in succession and was sent off.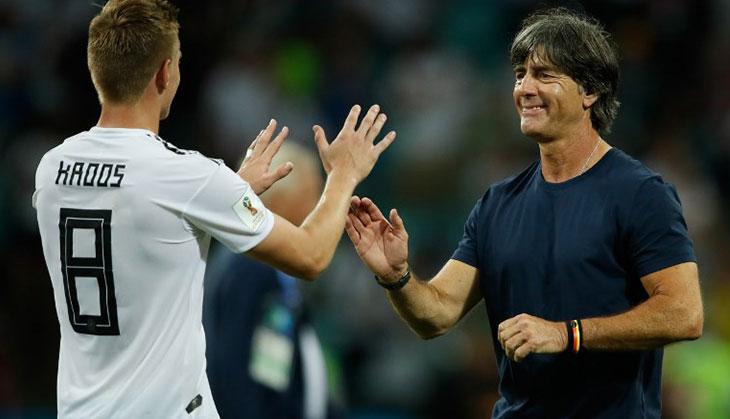 Odd Anderson/AFP
Germany were a man down and the world of football prepared itself for the unthinkable. We all know what happened in the last few seconds of the game. Toni Kroos' free kick will go down in history as one of World Cup's greatest moments. It was a stunning effort, as clutch as one could be. Kroos dragged Germany back from the jaws of death as the world fell in delirium. Germany now had a solid chance of making it into Round of 16.
Despite Kroos free-kick, problems still remain
However, problems persist within German ranks. With their fullbacks basically playing as wingers and barely tracking back, Germany's defence is essentially two centre backs and Manuel Neuer. This makes them highly susceptible to counterattacks. Strong attacking teams will punish them if their shape at the back remains the same. However, it must be pointed out that Neuer was excellent on the night and made a couple of crucial saves. In fact, he started the move that led to the Kroos free kick.
There was quite a bit of chatter around the goalkeeping situation. Sidelined with an injury, Neuer hadn't played for club and country for a long time, while Marc-Andre ter Stegen had a stellar season at Barcelona. Ter Stegen seemed to be the obvious choice, but Loew stuck to his proven guns. Neuer showed why he is still regarded as one of the best, if not the best, goalkeeper in the world.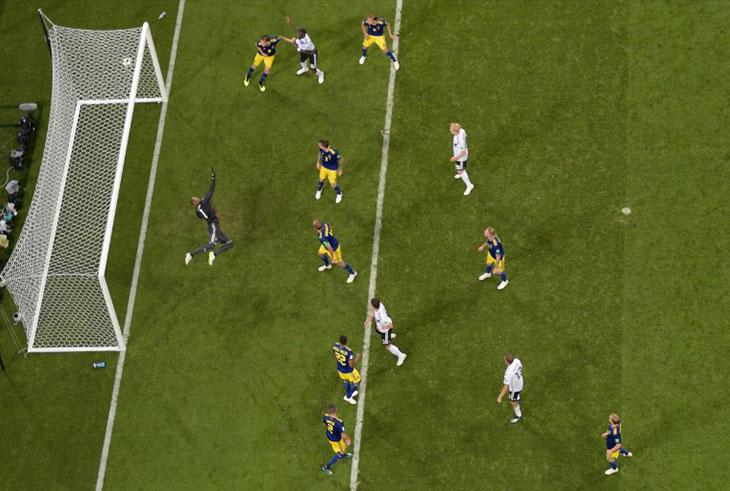 Jewel Samad/AFP
Out of form Mueller and dropping Ozil
Another huge concern for Germany should be that Thomas Mueller, their biggest player in major tournaments and scorer of ten World Cup goals, has not been firing. Mueller has played extensively on the right for both club and country, but somehow he hasn't been able to find spaces from where he can pose a threat: something he's really, really good at.
Germany dropping Ozil was huge move too, but it now seems counter-productive in Saturday's context. Loew didn't even use Ozil from the bench. Germany, for long stretches of the game, were unable to break down Sweden through the centre. They played in wide areas and crossed a lot, but that didn't work. One can't help but think that Ozil's incisive passing was sorely missed.
Ineffective German strikers
Despite a usually prolific Timo Werner at the tip of the attack and Gomez as backup, Germany's strikers have largely remained ineffective. Julian Draxler, Golden Ball winner at Confederations Cup, has been damp too so far, which makes one question the decision to not include Leroy Sane in your World Cup plans. Sane enjoyed an incredible season with Manchester City and could have played the role of impact player off the bench perfectly. All these separate problems make the team look disjointed at the moment. The individual parts are there, but the sum of all parts is missing. Or maybe Germany is just missing Philipp Lahm.
What Germany can be happy about though is that they are still alive. They can take heart from their resilience against a stubborn Swedish side. They missed a few chances, they hit the post, they waited 95 minutes, but they never gave up on that elusive goal. And what a goal it was when it finally came. It definitely felt like a turn-around moment for Die Mannschaft. If that cannot inspire them and help them find their groove, nothing can. Big moments have defined World Cups in the past. It could have been the end of the line for Germany. It can now be a new beginning.