Argentina and Messi bend under pressure but refuse to break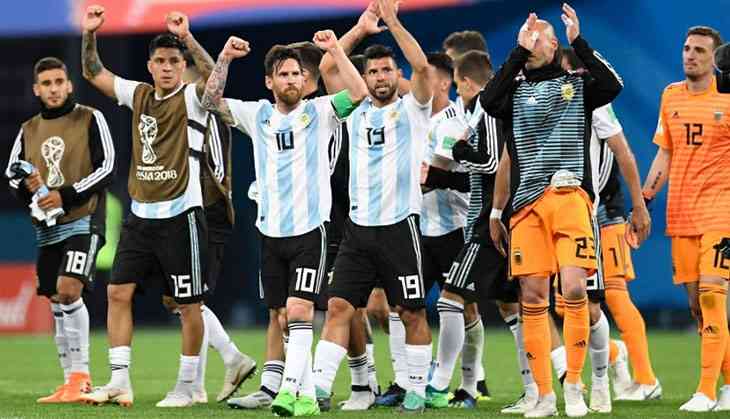 This World Cup has unavoidably been about Lionel Messi. He has been in every conversation and comparison, his photos have been on the front pages all across the world and half of all the written words on the World Cup have been about him. So many of them telling him how to play while pointing out what he is doing wrong. So many of them talking about him like he's a topic for water-cooler conversations, like it is so simple to talk about him.
It is actually incredibly difficult to talk about Messi. So difficult that we don't even know, what we talk about, when we talk about Messi. Are we talking about an all-time great footballer or are we talking about a person? It is a funny thing that nobody really knows the most recognisable guy on the planet. But we can always speculate. We can say that scoring last night against Nigeria must have meant a lot to the Argentinian footballer. That he looked relieved, like a curse had been lifted. It wasn't flawless. It wasn't flowing. But it was enough. Somehow, Argentina battled, bruised and bled their way past a spirited Nigeria to avoid a group stage exit from the World Cup. And we can say that Messi was at the centre of it.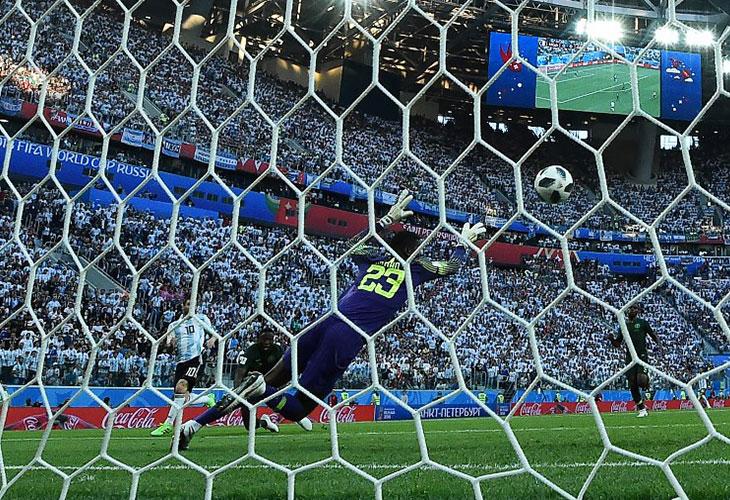 Giuseppe Cacace.AFP
Down but not out
After a tedious draw against Iceland and a shambolic loss against Croatia, Argentina were again on the brink. And so was Messi. Both seemed to have bent under intense pressure. Last night, both showed that they were still some distance from breaking. In just three touches, Messi negated everything that came before. There is a reason why Argentina's games were the first to sell-out at the World Cup.
For two games, Argentina, despite having Messi, felt like they were playing without him. Against Nigeria, they brought him back. Who knew it was so simple. Argentina shifted to 4-3-3 formation, put Messi on the right of the front three. Et voila! Argentina also made five changes spanning across all positions, but none more important than bringing Ever Banega into the midfield.
Banega's decisive pass to Messi
When the rest had been losing him all tournament, it was his pass that found him early on in the first half. Messi controlled the ball on his thigh, took one more touch to bring the ball down to his feet and a final one to cushion it in the net. It was almost unbelievable that Argentina was leading in a must-win game. But for the most part of the first half, one believed it. Argentina looked like a team, they passed and moved forward as a team. They created chances like a team. And Messi was the fuel behind it all.
Even when Nigeria scored from the spot and equalised, you knew Argentina would score again. And they did, even though they left it a little late. Marcus Rojo was the unlikely man at the unlikely spot to hit the volley home and send Argentina through to the last 16. Argentina celebrated like they had won the World Cup. They ran and laughed and cried. The pressure on them has been immense and just for a moment, it seemed to have dissipated.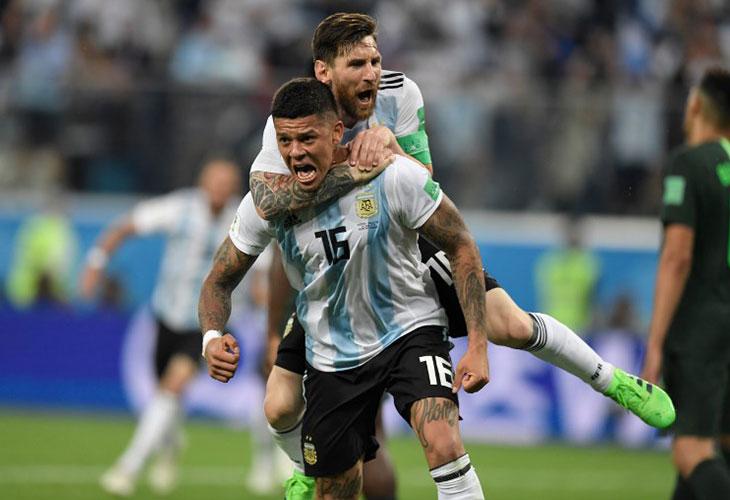 Gabriel Bouys/AFP
It's a miracle that Argentina even reached Russia
Looking back, it is a miracle that Argentina have reached the Round of 16 at the World Cup. But, many would refute that claim. They would point at the attacking options at Argentina's disposal; so full with burgeoning talent that they did not bother to bring Mauro Icardi, the joint-top scorer in Serie A last season. Of course, they'll talk about the little guy; Argentina have Messi, a candidate to Greatest of All Time. And then there is Argentina's history, their iconic shirt with white and light-blue ribbons that remains one of football's most recognisable legacy item.
Look just a little bit harder, however, and you will see a team that is flailing, desperately trying to not drown. They barely made it to Russia. By all logic, they shouldn't have. It came down to a final must-win game, one that they were losing. And they would have lost, if not for Messi's audacious hat-trick. The little guy literally grabbed Argentina by the collar and dragged them to Russia. They had barely made it to the starting line and people were already asking questions like "can Messi take them to the finish line this time?"
Qualification was secured, but everything else remained up in the air. First choice goalkeeper Sergio Romero, who is second choice at his club, was ruled out with knee injury. Thirty-six-year-old Willy Caballero, who hasn't seen first team football in years, was now the man between the sticks for Argentina. Their defence was far from quality their attack boasts. And just in front of that defence, holding the midfield fort was 34-year-old Javier Mascherano, who is — to put it politely — past his prime. Argentina quite possibly was the worst team ever expected to win the World Cup. And yet many did expect. The pressure on Messi to deliver them to glory was crippling. It almost derailed the team in the first round itself.
Can Messi & Co outdo Les Bleus in the Round of 16?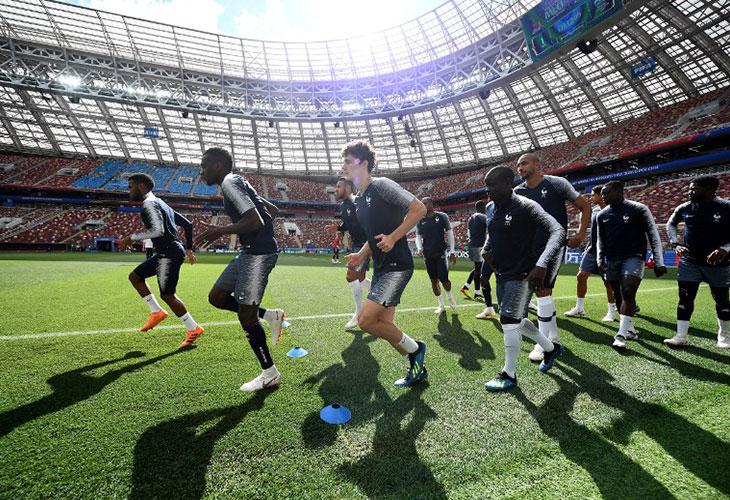 Franck Fife/AFP
Argentina will now face a prodigiously talented France in the Round of 16. Under normal circumstances and on paper, this isn't even a contest. Argentina still have problems to solve. Angel Di Maria still looks like a liability and they must find a way to utilise Paulo Dybala. But the French themselves have hardly impressed.
Despite their start-studded line-up that features Antoine Griezmann, Kylian Mbappe and Paul Pogba, France have hardly lived up to their billing. Two lacklustre wins against Australia and Peru and a tame goalless draw against Denmark hardly made any statements of intent. The French managed to top their group, but Argentina must look at them and feel confident, especially after their win against Nigeria.
This could still turn out to be false hope. France might hit the high gear on the day and Griezmann and Co might run riot against Argentina's shaky defence. The good news is there's no proof yet that they will.