Anurag Thakur as BCCI president: His main challenge will be finances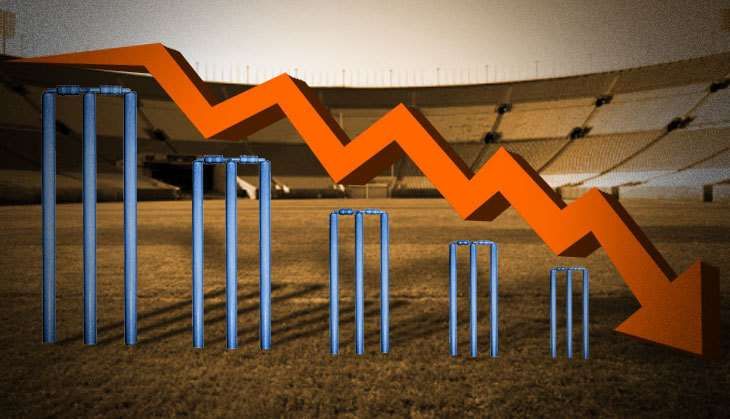 The world's richest and most powerful cricket body, Board of Control for Cricket in India (BCCI), will elect its new president on 22 May 2016. Politicians, across states, have often got involved in this game of controlling the glamorous, cash rich BCCI. Here is a snapshot of some interesting numbers of the BCCI before the high octane election. We find that the BCCI finances have slowed down.
Annual gross receipts from international matches for the financial year ending March 31, 2015.
In the financial year 2013-14, receipts were Rs 194 crore.
Reason: Lower number of international matches during 2014-15.
Additionally, receipts from media rights also decreased from Rs 419 crore in 2013-14 to Rs 389 crore in 2014-15, due to lower number of international matches.
Gross receipts from Indian Premier League in 2014.
In IPL 2013, BCCI receipts were Rs 1,194 crore.
Reason: Only 8 teams participated in 2014 as against 9 in 2013 so incomes from media rights and franchisee fee decreased.
However, income from ticket sales increased from the matches held in United Arab Emirates, in 2014.
Number of other committees in the BCCI.
Of these, 13 are special committees for the year 2014-15 such as legal committee, media committee, disciplinary committee.
Some important committees and their number of members are: seven in finance committee, six in all India senior selection committee, 14 in IPL governing council, 29 in marketing committee.
Anurag Thakur, the man slated to become the next BCCI president finds a place in 15 out of the 25 committees.
BCCI's income from interest on fixed deposits in 2014-15.
In 2013-14, the income from same was Rs 121 crore.
The decrease is largely ascribed to falling interest rates in the financial market.
Interestingly, 'good working arrangements' with banks and 'negotiation' of interest rates led to a good bargaining for the BCCI.
Expenses on account of cricketing operations in 2014-15.
The amount was Rs 516 crore in the previous year.
The positive aspect: The budgeted surplus during 2014-15 stood at Rs 1,937 crores.
Number of office bearers in BCCI.
These are: president, honorary secretary, honorary joint secretary, honorary treasurer, and five vice-presidents representing the different regions of India.
Then there are 23 members who form the working committee.
Apart from the nine office bearers, five permanent test centres, five state cricket associations ( by rotation) and four state cricket associations, who hosted test matches in the last two years, comprise the working committee.