With Eagles and Birdies, Anirban Lahiri is Flying High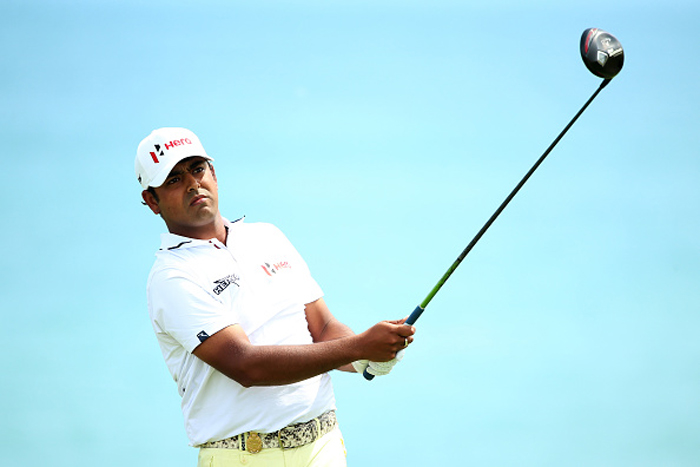 The achievement
Anirban Lahiri\'s fifth-place finish at the PGA Championship is the best-ever result for an Indian at a golf Major
He has earned $367,500 as prize money, and climbs 15 spots to 38th in the world rankings
He has competed in all four Majors this year and made the cut in three - a promising statistic
The man
Lahiri is India\'s top golfer, and has been tremendously consistent over the last one year
The son of an armyman, Lahiri is 27 and honed his skills in Bengaluru
He is currently No.1 on the Asian Tour\'s Order of Merit
He is on track to become only the third Asian ever to earn $1 million in a calendar year
Talking about the lack of recognition for golf in India, Anirban Lahiri once said to an interviewer, "If you're not a cricketer, you're a nobody". But that hasn't stopped Lahiri from making it harder and harder to ignore him.
And on 16 August, Lahiri made history by becoming the first Indian ever to finish in the top five of one of golf's four Majors.
Not just any Major either. With a final score of 13-under, Lahiri finished tied fifth at the season-ending, $10 million purse US PGA Championship, the most lucrative of the Majors.
Lahiri will earn $367,500 for his troubles, and jump to a career-high ranking of 38 from his current 53.
Mastery at the Majors
For the uninitiated, the Majors are the four most prominent annual tournaments in the golfing calendar, with the creme de la creme of the golfing world battling it out for a place in history.
Lahiri may not have won, but in placing tied-fifth, he has announced himself as a serious competitor for golf's top honours. The previous best finish for an Indian at the Majors was Jeev Milkha Singh's ninth place at the 2008 PGA Championship.
This isn't Lahiri's first time at the Majors either, though this is probably his favourite. Lahiri has appeared in six Majors before, but only made the cut in three of them.
His first outing at a Major came in 2012, when the then-25-year-old made it a memorable debut at the oldest Major, The Open, by managing a hole-in-one en route to a tied-31st finish.
After such a bright start, Lahiri's next two appearances in the Majors were anything but positive. In fact, they were positively jinxed.
Lahiri had to cut his honeymoon short in 2014 to play at The Open, but ended up contracting chickenpox. After a two-day struggle, he exited the tournament with a whimper. His next appearance - at the PGA Championship - also ended in heartbreak after illness put paid to his chances.
But if Lahiri was unlucky at the Majors in 2014, 2015 saw him on the road to redemption. He's played at all 4 Majors this year, making the cut in three. He even made the cut on his debut in what is arguably golf's most hallowed tournament - the Augusta Masters.
Asia's finest
While Lahiri's run in this year's Majors has been phenomenal, it hasn't come out of the blue. He's currently leading the Asian Tour Order of Merit rankings, some $600,000 ahead of second-placed Andrew Dodt, and looks set to become the fourth Indian to be Asia No.1.
He's also odds on to become only the third player in the history of the Asian Tour to earn over $1 million in a single calendar year.
Anirban Lahiri leads Asian Tour Order of Merit rankings and is set to become the fourth Indian to be Asia No.1
Since breaking onto the Asian circuit in 2008, Lahiri has managed seven tournament wins, peaking in the last year or so. He's won four tournaments since the fag end of April 2014.
Even though he wasn't the Asia No.1 for 2014, he was still voted the Asian Tour's player of the season by fellow competitors.
He could have been the Asian Tour No.1 last year as well, but skipped the Manila Masters to focus on making the European Tour through its Qualifying School. The decision proved to be a great one.
Not only did Lahiri qualify for the European Tour, but just a few months later, he managed two victories on the European tour. In doing so, he became only the second Indian to ever record two victories in a single European Tour calendar year after Jeev.
The best thing about Lahiri though, is his age. At just 27, he's making a mark far earlier than India's old guard of Jeev and Arjun Atwal did.
It's like Atwal said to him, "We have done all these things that everyone looks up to. You have the opportunity to do that at 27, 28. We did it at 35, 36. So you've got that much more time to outdo us and outdo yourself."
Now, the Bengali boy who got his start picking up golf balls for his armyman father, is set to do just that. With a world top-50 ranking, an Asia No.1 ranking, and the benefit of youth, the future looks bright, not just for Lahiri, but for Indian golf.