Can't keep a Modi down: Lalit back as Rajasthan Cricket chief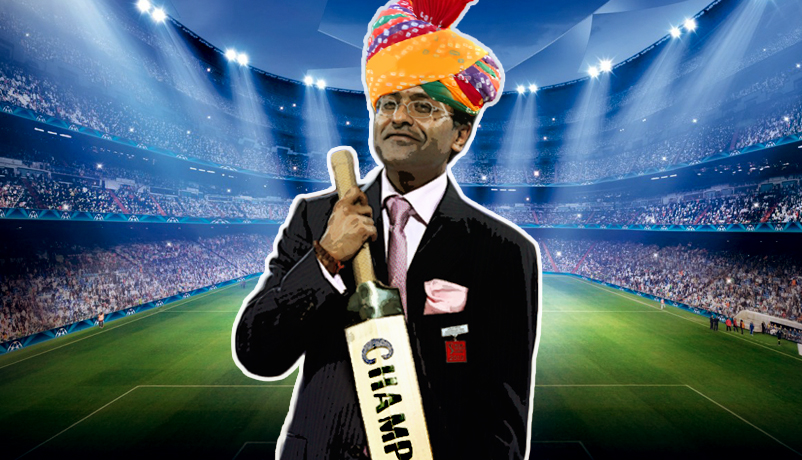 The fall out
Lalit Modi was known to be close to the BJP, and Vasundhara Raje in particular
He became RCA president soon after Raje became CM again in 2013, but soon faced a revolt
BJP member and RCA V-P Amin Pathan launched a no-confidence motion against him
The return
Now, Pathan has withdrawn his no-confidence motion
Without setting foot in India in years, Modi is back in power in Rajasthan cricket
This happened soon after his arch-enemy, N Srinivasan, was replaced by Shashank Manohar as BCCI chief
More in the story
What\'s behind Pathan\'s withdrawal - does Modi have the BJP\'s blessing again?
Sharad Pawar is still a key player in BCCI - why is he welcoming Modi back?
If Lalit Modi were a spinner, he'd have sent down the doosra, teesra and chautha before Saqlain Mushtaq had finished spelling pehla.
Modi is like a tsunami, or a cyclone. You can wish for him not to hit you, but when he does, the only option is to head for higher ground.
One can't but admire the man's genius, which the Indian Premier League displayed, or his cussedness when it comes to power games.
Without having set foot on Indian soil for years, Modi has once again become boss in the Rajasthan Cricket Association. Like we said, a cyclone.
Without having set foot on Indian soil for years, Modi has once again become the RCA chief
Amazing how he worked things around in his favour on remote control, with just a lawyer doing all his dealings in India.
Modi vs BJP
It was actually a surprise that he was out of favour at all, since when the BJP won a landslide victory in the Lok Sabha elections, one had anticipated Modi would be back in action immediately.
Also read: The miracle that is the DDCA. Or why Kejriwal is going after Jaitley
After all, he had a close friend in Vasundhara Raje, and once the Ashok Gehlot-led Congress government had been removed from power in Rajasthan, one would have assumed that Modi would come back with a bang. And he did, before things turned sour.
If the man has one weakness, it is arrogance.
He thinks he is the best thing God showered on Indian cricket (which, ironically, isn't too far from the truth), and everyone else is either malleable, or discardable.
Also, Modi thinks the law is an ass and has no compunctions about bending it for breakfast and breaking it for supper.
All of this didn't reflect well on many BJP bigwigs, including Arun Jaitley and Sushma Swaraj, as has been mentioned in the media in the past two days.
Then of course, there was the Rajasthan Royals franchise. Anything to do with the IPL, and Modi was sure to have had a finger in it. Almost surely, he was at least in the know, if not directly involved, in the betting racket that Raj Kundra and even Gurunath Meiyappan of Chennai Super Kings were later banned for.
Also notable in this mess is the timing of Modi's return.
Also read: Lalit Modi row: the 5 men who raised and ruined cricket
Within weeks of N Srinivasan being replaced by Shashank Manohar as Board of Control for Cricket in India president, Modi is back.
Genius with a remote control
It is all BJP when it comes to Modi's exit and return to RCA. It was BJP's Amin Pathan, vice-president of the RCA, who had initiated the no-confidence against Modi. At one stage, Pathan needed just two votes to oust Modi from the RCA presidency. He couldn't manage those.
This, while Pathan was very much in Jaipur, and Modi was very much in the high seas, on some yacht.
BJP's Amin Pathan, RCA V-P, had initiated the no-confidence motion against Modi. He's withdrawn it
And now, it's the same Pathan who is withdrawing the no-confidence.
The point to be noted here is that Pathan, on ground in Rajasthan, is a formidable foe, and one isn't sure if Modi can match him if it comes to a street fight.
So it is obviously the party high command that has stepped in and asked Pathan to pull back.
Why and when this transaction happened is a good question.
There is also a very interesting little sideshow of Modi's lawyer (and now RCA office-bearer) Mehmood M. Abdi, who's his front man for all purposes in India, ending up in the same hotel as Manohar when the two new IPL teams were getting into bidding action in New Delhi a while ago.
Also read: Lalit Modi's rebel cricket body: can he stump the ICC?
"Coincidence," Mr Abdi insists.
Sure. Coincidence and BCCI are old friends.
Two plus two equals millions
So where exactly does the BCCI stand in all of this? Shashank Manohar has gone to town repeatedly stating that he was above corruption while Modi has every wrongdoing charge in the book being tagged to him.
So how will Manohar react? If we are to believe him, he should fight Modi's return tooth and nail.
Sharad Pawar won't, that we have seen. Pawar was the first man to welcome Modi back. No permanent friends or enemies in cricket. Or politics.
Pawar's stand, however, is also interesting in that often, intentionally or otherwise, the Maharashtra big gun has reflected the BCCI's body language.
Here's Modi's own tweet from 16 December. Make what you will of it.
Lalit Modi Reinstated as RCA President, Gets Sharad Pawar's Backinghttps://t.co/uZ6yBv2g7Z

- Lalit Kumar Modi (@LalitKModi) December 16, 2015
Much as the BCCI may deny, there is no doubt that no one can make money for them as fast as Modi can. So some face-saving formula may well be on the cards.
It's a perfect situation, if that happens. The BCCI is in the dock for all kinds of misdeeds, so it will need government largesse to exorcise those ghosts. The government, on the other hand, obviously likes Modi again.
Much as the BCCI may deny, there is no doubt that no one can make money for them as fast as Modi can
So two plus two will surely equal millions soon.
Modi will be back surely. This is a country where Salman Khan didn't run over anyone, and Modi hasn't even killed anyone. As far as we know.
You really have to hand it to Lalit Modi. He is a puppeteer par excellence. And he has BIG puppets on his strings. A true genius.
Also read: Why Sushma Swaraj's self-defence doesn't wash with Congress