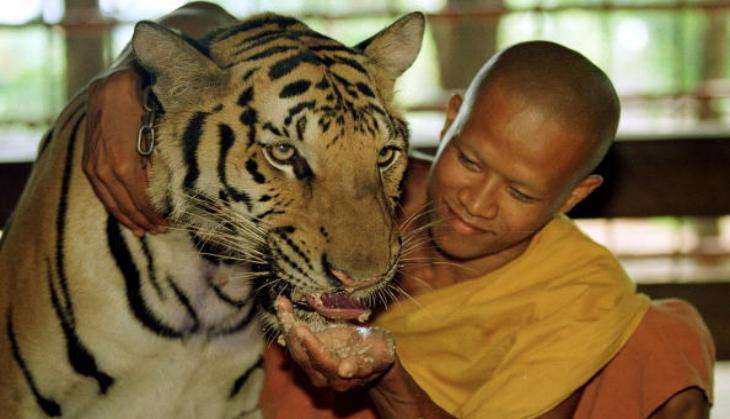 On 30 May, Thailand wildlife authorities kickstarted the process to shift 137 tigers from the country's popular 'Tiger Temple' temple - following allegations that the Buddhist monks of the temple have been engaging in illegal breeding and trafficking of tigers.
Tourists from across the world flock to Thailand's Wat Pa Luangta Maha Bua Yannasampanno, or Tiger Temple as it is known, to get up and close with the 137 tigers and the cubs that live within the temple premises.
The move to remove the tigers comes in response to the allegations that the Buddhist monk were involved in illegal breeding and trafficking of the tigers.
As per news reports,the director of Thailand's Wildlife Conservation Office, Teunjai Noochdumrong, said three tigers were tranquilized and transported on 30 May in an operation involving about 1,000 state personnel that is expected to continue for a week.
The animals will be moved to government-run animal centers in Thailand.
Authorities of the temple, in Kanchanaburi, have been accused of failing to care for the animals. Animal rights activists in Thailand have alleged that the tigers in the temple's care were often abused and under-fed. The temple had plans to operate as a zoo but they didn't materialise when the government determined that the operators failed to secure sufficient resources.
The temple authorities have denied the allegations. The monks have been protesting the attempts to remove the tigers, but have withdrawn the protests after they were issued court orders.
As per news reports, more than 300 officials remained at the temple overnight to ensure the tigers remained safe.