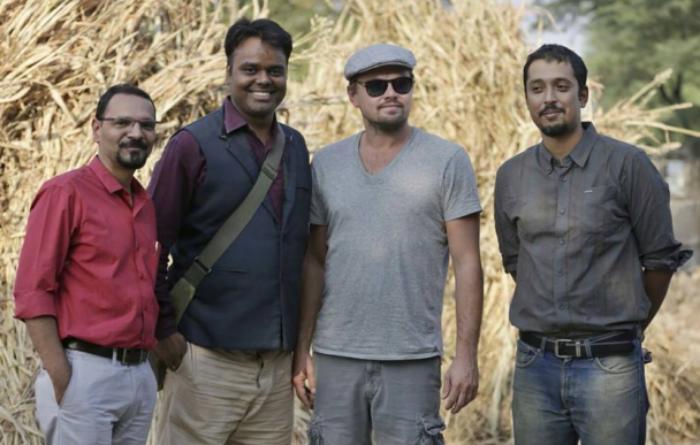 On a visit to India in his role as a climate activist, Hollywood superstar Leonardo DiCaprio held discussions in Delhi on how the world should work together to combat catastrophic climate change and also went to a Haryana village to see the impact of unseasonal weather on farmers.
The star of such films as Titanic and The Departed, DiCaprio was in the country last week. During his visit, he held extensive discussions on energy poverty and use of renewable energy as the way forward.
The Hollywood actor took part here in a sit-down interview on climate change with the Centre for Science and Environment (CSE).
Had a chance to sit w/ @sunitanar, Dir of @CSEIndia, in New Delhi to discuss the effects of climate change & #COP21 pic.twitter.com/Air7UENM5e

- Leonardo DiCaprio (@LeoDiCaprio) November 5, 2015
"DiCaprio visited India last week for a sit-down interview on climate change with CSE. He wanted to understand our perspectives on the issue and discuss how the world should work together to combat catastrophic climate change," the environment NGO said in a release.
During the meeting, top CSE officials, including its DG, Sunita Narain, discussed that what the world needs is an ambitious and equitable agreement on climate change.
"But that cannot happen unless we are willing to discuss the issue of consumption and lifestyle - US lifestyle has to be negotiable," CSE emphasised.
The discussions took place even as the world is gearing up to reach an agreement on climate change at the Paris Climate meet between November 30 to December 11 with the goal of keeping global warming to below 2 C.
CSE officials later accompanied DiCaprio to Kheladi village in Mewat district of Haryana.
"We wanted DiCaprio to see the impact of unseasonal weather on farmers of our country. In this village, he saw acres of productive farmland that was still under water because of extreme rain that had hit the district in mid- September.
"Farmers said they did not know if this was climate change, but they told DiCaprio, in no uncertain words, that their experience of over 50 years in farming was telling them that there was something new and catastrophic afoot," CSE said.
According to reports, the superstar's visit was part of an upcoming documentary film on climate change.
Noting that it was a "fascinating and enriching" day for them, CSE said that DiCaprio's deep commitment to environmental change was "evident".
"But what was also clear is that DiCaprio is a celebrity environmentalist with a difference - he is willing to confront difficult and contested questions because he knows only then can we jointly find the resolution to the coming challenge of a climate-risked world," CSE said.
During his visit to the village, DiCaprio also saw women cooking using cow dung and firewood.
"Even in households which had LPG connections, it was too expensive to use and so women continue to cook using these polluting sources," CSE said.
Narain and the superstar also discussed at length the issues of energy poverty and how renewable energy could be the way ahead, but only if the world accepted that it needed to provide funds to make the transition to a clean energy future.
-PTI