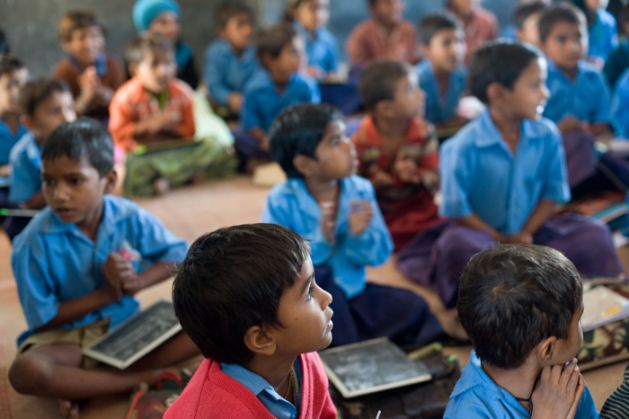 The plan of the new mukhiya of a panchayat in Bokaro to withhold rations from households that do not send their children to school has worked despite initial oposition, reports The Telegraph.
Mukhiya Ajay Kumar Singh of Bundu panchayat in Bokaro district, Jharkhand, had promised that education would be a priority if he was elected.
His panchayat is composed of 11 wards with a population of more than 4,000, and five schools. However, most children enrolled in these village schools attend classes only intermittently. Some don't go for months.
"So I thought the best way to compel parents to send students to school was by formally withholding state benefits if they did not," said Singh.
After being sworn in, Singh shared his idea with officials at the Petarwar block office.
"I said families who don't see to it that their children have more than 80 per cent attendance should not get ration under public distribution scheme, Indira Awas, old-age pension and other social security benefits. To qualify for free government scholarships to SC, ST, OBC and other reserved category students, 90 per cent attendance is a must," Singh said.
He countered all the opposition he faced. "I explained why people should become accountable for their children going to school. Gradually all ward members came on board and we introduced this rule from 1 February," Singh said.
Seema Devi, Petarwar block pramukh, said: "The sole purpose of introducing the attendance rule is to make people accountable to their children's futures. It's like you have to earn your rights to PDS, Indira Awas and other subsidies by sending your children to school not once in two weeks but daily, without fail," she said.
About a week ago, Singh implemented the rule. "I stopped sanctioning ration to around 10 households. They protested, but I told them, I am not asking for bribes. Send your children to school and get ration," he said.
The parents listened, said Singh. "In fact, two parents found out their children, who left every day telling them they were bound for school, were playing truant. This was a good thing, because what's happening is that parents have now become more cautious about keeping tabs on kids," he said.
Bhagirath Bakshi, the principal of Balika Madhya Vidyalaya in Petarwar, said: "My school has 300 students on rolls, but attendance used to be anywhere between 100-150 on an average. This month, many girls who perhaps used to come once or twice a week or even a month before, are suddenly coming every day. We will compile the comparative figures soon."