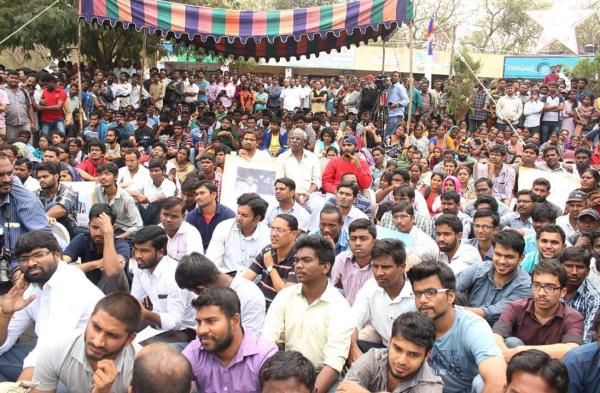 Hyderabad University, the centre of Dalit protests against discrimination after the suicide of Dalit Scholar Rohith Vemula on 17 January, had seen three Dalit suicides before, reports The Indian Express. Investigations into the suicides had all revealed much discrimination on campus against marginalised communities.
As the HRD ministry argues for a judicial commission to investigate the suicide of Vemula, a Ph.D. scholar who had been suspended, along with four other Dalit students, for clashing with members of the right wing student party ABVP, enquiries made by committees three times over the past six years, into the suicides of Dalit students on campus, show that Dalits in Hyderabad University have a "sense of alienation", and face "institutional discrimination" due to "caste considerations".
Dalit students Senthil Kumar, P Raju and Madari Venkatesh committed suicide in 2008 and 2013. The 2008 Prof V Pavarala committee report on Senthil Kumar's suicide by poison said: "He was also apparently under some tension about the supervisor with whom he would have to eventually work for his PhD. Students reported that in the last week or so, leading up to his death, Senthil was considerably uneasy and found it difficult to sleep." The report added that students from Scheduled Castes and Scheduled Tribes were the most affected by "ambiguous procedures" in the university.
The V Krishna Committee investigating the 2013 suicide of P Raju by hanging said: "Some students. spoke of a sense of alienation - distinctly accentuated in the case of Dalit students - in coping with the demands of the regular MA programme. This was also corroborated by some teachers, although the explanation offered for variation in performance was that in the MA segment, the academic competition was more intense."
It added: "The Committee did not find any evidence of a grievance redressal mechanism in place in The Centre for Applied Linguistics and Translation Studies (CALTS). Informal consultation with departments/ schools/ centres also revealed the absence of such a mechanism."
According to the Justice K Ramaswamy committee report on the suicide of Madari Venkatesh by poison, "No Doctoral Committee was constituted to supervise his research which is mandatory. Whatever research he had done, it was only by his self effort. He was discriminated on the ground of caste consideration."
The report added: "The antagonism, antipathy and insensitive mindset of the faculty, in particular of the School of Chemistry. towards the student belonging to marginalized social groups is clearly apparent."