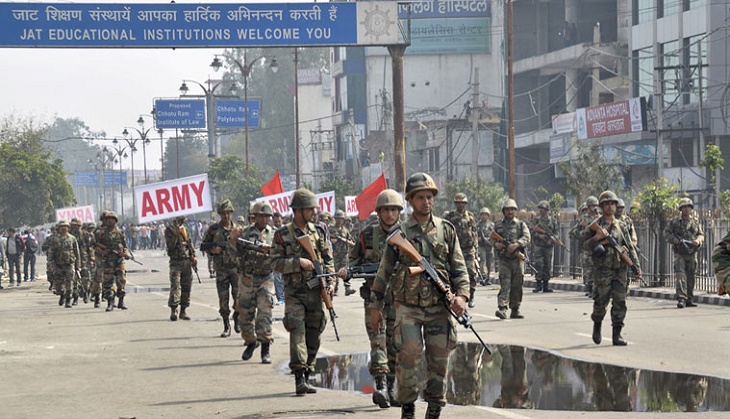 Accused of administrative paralysis when the Jat community in Haryana went on the rampage in February, the state government is preparing for the next phase of the community's agitation for reservations which could begin on 5 June.
Paramilitary forces have been deployed in seven sensitive districts of Haryana, while Section 144 of the Criminal Procedure Code (CrPC) has been enforced in eight districts for two months as a preventive measure, says the Hindustan Times.
The agitation in February killed 30 people and caused damage worth crores. Though the state government had notified a 10 per cent reservation for Jats in government jobs and educational institutes in April, the Punjab and Haryana high court stayed the notification on 26 May.
Two companies of the Rapid Action Force and one company of the Border Security Force have been stationed in Rohtak, where the February violence started. Two more companies of the RAF have been deployed in Sonepat district. One of these two companies is at Garhi Bindroli village where mobs had cut off the connection of Munak Canal, cutting off water supply to Delhi.
Haryana ADGP (law and order) Mohammad Akil said: "The police force is fully prepared to deal with the protests. All necessary measures are being taken to ensure everything remains under control."
However, All India Jat Aarakshan Sangharsh Samiti (AIJASS) chief Yashpal Malik said on Thursday said the community will not obstruct roads and railway tracks during their indefinite stir.
"If people are found violating Section 144, strict action will be taken against them," Rohtak additional superintendent of police, Himanshu Garg, said.
Police stations have been stocked with tear-gas shells, plastic bullets and water cannons even as the state administration tries to persuade Jat leaders to avoid violence during their agitation.