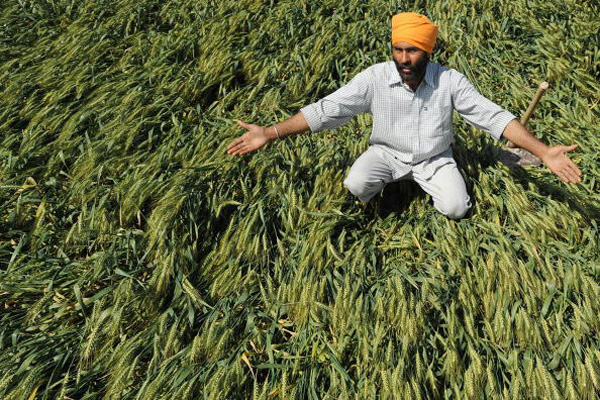 The government has issued a farm alert after a forecast of rain, hail and snow in the north-western states of India which could spoil harvests and set off landslides.
The forecast says that bad weather triggered by a western disturbance will take hold from Friday. It predicts that most of the states in the north-west will see rain between 11 and 13 March, and that hailstorms could hit Punjab, Haryana, Chandigarh, Delhi, Rajasthan and Uttar Pradesh, according to the Hindustan Times.
A Met Office advisory has asked farmers to harvest their crops immediately if it is possible. Last year, bad weather had destroyed 10 million hectares of crops in nearly 150 districts of the country.
Jammu and Kashmir, as well as Himachal Pradesh and Uttarakhand could see severe weather that may trigger landslides, said an official.
Madhya Pradesh, Chhattisgarh, Vidarbha, Bihar, Jharkhand and West Bengal have all been warned of wet and windy conditions. Some of the worst-hit districts of the country in the current agrarian crisis, such as Vidharbha in Maharashtra and Bundelkhand in Uttar Pradesh, could be affected.
The Met Office advisory asked farmers to maintain proper drainage channels and postpone irrigation, as well as reap such crops as are mature immediately. The advisory said that orchards in Himachal and J&K should use hail nets.