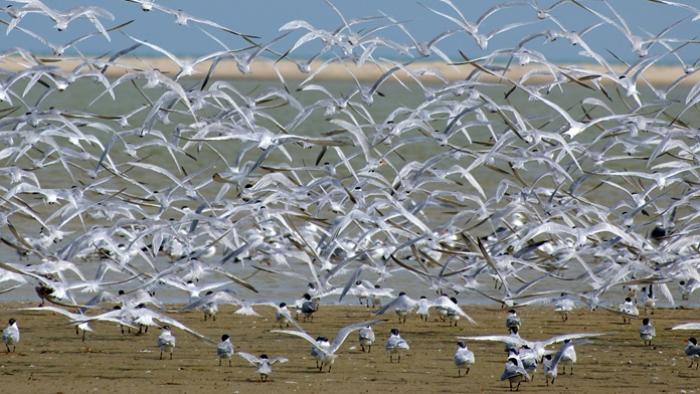 Migratory birds which grace the Chilika lake in Odisha from far off places during this time of the year, are reportedly under the threat of poaching.
According to media reports, wildlife personnel have arrested two poachers from Subhadrapur under Tangi wildlife range on 5 November and seized three dead birds of two species - gadwall (2) and pintail (one).
The accused persons were identified as P Bhaskara and P Sushant of Bhikaripalli under Ganjam district's Chhatrapur police station limit.
The poachers were suspected to have poisoned the birds, divisional forest officer, Chilika Wildlife Division, B R Das said.
Also read: In the red: 5 reasons why India is the most dangerous place for birds
This was the first bird poaching case reported after the migratory birds arrived at the Chilika, known as the winter abode of millions of avian guests.
Around 40,000 birds of 60 different species have already descended in the blue lagoon. More birds are taking shelter in 15-59 sq km Nalabana bird sanctuary and Mangalajodi areas, he said.
Meanwhile, the wildlife division has set up 19 temporary camps in the lake. Patrolling was intensified in and outside the lake to prevent poaching of the migratory birds, the DFO said.
While 60 daily wagers, engaged for six months, are deployed in the camps, the division has hired at least 10 boats in the lake. The division has eight boats. "We have taken strict measures to prevent the poaching," he said.
Last winter, 7.62 lakh feathered guests of 172 different species had visited the lake, while around 7.19 lakh birds of 158 species had visited the lake in the previous winter, despite cyclone Phailin that hit the lake.
Winged guests from far off places including Caspian Sea, Lake Baikal, remote parts of Russia, central and South East Asia, Ladakh and Himalayas descend every winter for feeding and roosting. They start their homeward journey with the onset of summer.