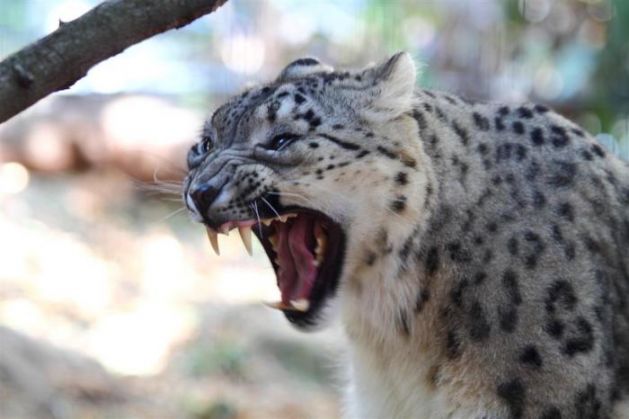 The elusive snow leopard has been spotted in four places in North Sikkim, World Wildlife Fund India said on 27 January.
The photos of the animal establishes the success of the wildlife body's pilot project of installing camera traps to map endangered snow leopards.
The wilflidfe body said that the photographs captured through the project, aimed at understanding the presence of snow leopards in the region and prepare a management plan has provided the "first ever" tangible evidence of their existence in the region.
The cameras have also helped capture other mountain wildlife such as the rare pallas cat, blue sheep and the Tibetan argali.
The snow leopard, a species of the high altitudes, is a Schedule I animal under Wildlife Protection Act of India and is listed as 'endangered' by International Union for Conservation of Nature (IUCN).
WWF-India said that the information on the distribution of this elusive cat is scanty and its current range is "poorly" mapped mainly due to the high and inhospitable terrain.
"Addressing retaliatory killing of snow leopards due to livestock depredation, managing the population of free ranging dogs and securing livelihoods of local communities, especially by targeting the community resilience towards climate-induced changes are the pillars of our conservation efforts in this region," said Dipankar Ghose, Director of the Species and Landscapes programme.
Since 2006, WWF-India has been working in Jammu and Kashmir, Arunachal Pradesh and Sikkim to understand the snow leopard's status and distribution in India.
In Sikkim, the exercise of setting up camera traps began in 2015 under the project Conservation and Adaptation in Asia's High Mountains. As part of a larger programme funded by USAID in six Asian snow leopard range countries, this project aims at developing climate-smart snow leopard conservation plans, the wildlife body said.
"The camera trap study will be implemented across the entire potential distribution range in Sikkim in multiple phases. Several local youths from the village of Lachen who are engaged in this exercise, have been enthused and motivated by the latest findings," WWF-India said.
The body said that this is the first attempt to fill the vast gaps in the knowledge on snow leopards at this important snow leopard habitat.
Conservation efforts for these animals in India have so far largely been restricted to the Western Himalayas while the snow leopards in Sikkim are contiguous with its populations in Nepal, making it one of the key habitats for ensuring the animal's long term survival in the Eastern Himalayas, it said.