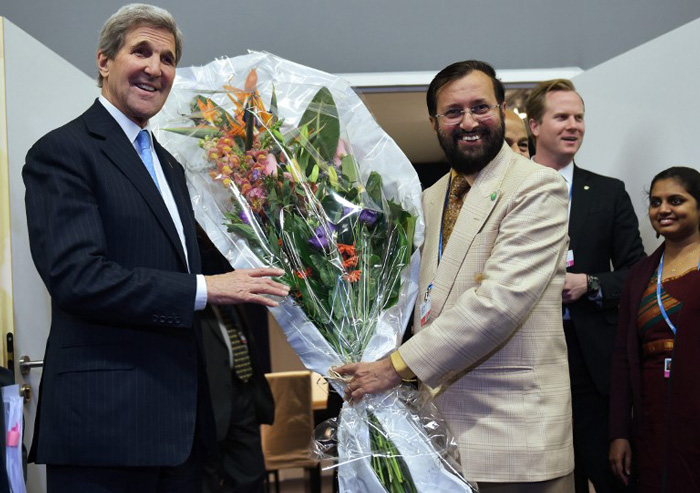 The historic climate pact was signed in Paris on 12 December after nearly two weeks of intensive negotiations.
India, one of the most populous nations and biggest developing country greenhouse-gas polluters, has regarded the signing of the universal agreement as a step to a brighter future.
"What we have adopted is not only an agreement, but we have written a new chapter of hope in the lives of seven billion people on the planet," Indian Environment Minister Prakash Javadekar said to loud applause from exhausted, but elated, climate negotiators.
Here are the five takeaways for India:
1) Different responsibilities
This has been a long-standing demand of developing nations, especially India. There is a moral responsibility on the developed nations to cut down emissions and help poor nations they since they got rich by using fossil fuels and caused global warming.
The principle finds mention in the United Nations Framework Convention on Climate Change (a constitution of sorts for climate change negotiations) but the rich nations have been trying to rewrite it.
The principle is included in the current agreement, although with a caveat that it is applicable not universally but "in the light of different national circumstances".
The need for sustainable lifestyles finds a mention in the agreement's preamble. It also talks about how rich nations should "take the lead" in this regard.
3) Transparency
The transparency aspect of the agreement is rather flexible, keeping in mind the different circumstances each nation is faced with. This is again a win for India, which has been saying that rich nations should be the most transparent, with developing nations gradually catching up.
Also read: First look at the COP 21 deal: what's in-what's out?
4) The target for 1.5 degrees
The previous goal was to limit global warming to 2 degrees Celsius increase over pre-industrial era temperatures. But this would have been catastrophic for the coastal regions and islands of the world, which would have been submerged under seawater.
For them and of course for all such regions in India, the 1.5 degrees is the right target.
5) Some borrowed time
For the first time ever, COP21 allowed nations to set their own goals for cutting down global warming. But what most nations committed was barely sufficient - it will still cause warming up to about 3 degrees.
According to the Paris deal, countries can submit more ambitious goals by 2018, two years before the agreement comes into force.
-With inputs from Nihar Gokhale