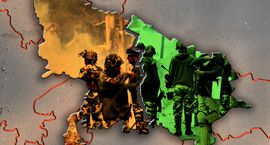 Incidents of communal violence in 2015 went up by 17 per cent from 2014, reports The Economic Times. The highest number of incidents came from Uttar Pradesh, Madhya Pradesh and Karnataka, according to statistics shared in Parliament on Wednesday.
While there were 644 incidents of communal violence in 2014, 751 such incidents were reported last year. Casualty statistics rose from 95 to 97, while injuries rose from 1,921 to 2,264.
These figures put a question mark on minister of state for home Kiren Riiju's December 2015 statement that communal violence had gone down since his government, led by Prime Minister Narendra Modi, came to power in May 2014.
Madhya Pradesh, ruled by the BJP, reported the highest increase in incidents of communal violence in 2015, up by 64 per cent from 2014. Congress-ruled Karnataka reported a 44 per cent increase, with 105 incidents against 73 in 2014. The figures from Uttar Pradesh are the highest, with 155 incidents of communal violence and 22 deaths. The death of 20 people due to communal violence in Bihar in 2015 represents a four-fold increase for the state.
However, BJP-ruled Gujarat and Rajasthan had a drop in figures from 2014.
In reply to questions from the House, the government said that since public order and police are state subjects, "the responsibility of dealing with communal violence, registration, investigation, inquiry and prosecution of crimes and maintaining data in this regard rests primarily with respective state governments".