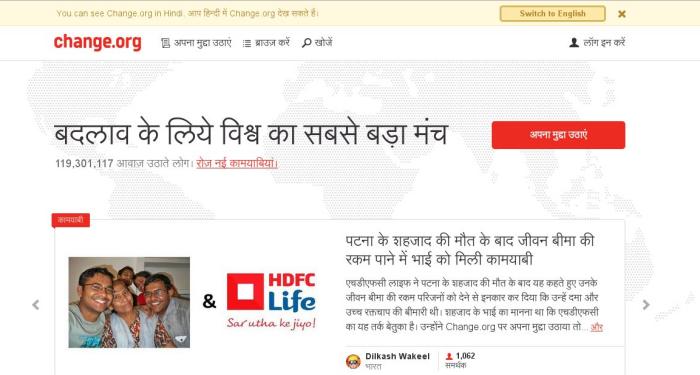 Change.org, the world's largest platform for social change, has launched a Hindi version of its website on 2 October.
"With 30 lakh users and more than 350 successful campaigns in India, Change.org is already catering to a audience in India. And we have rolled out the Hindi version for greater impact," Preethi Herman, India Country Lead and Campaigns Director for Change.org, told Catch.
Meanwhile, Delhi Chief Minister Arvind Kejriwal, Rajya Sabha member Rajiv Chanderashekar and Congress MP Shashi Tharoor congratulated the platform for the move.
"Rajiv Chandrashekhar started a campaign on Change.org that already won. He has now started another one on the issue of Child sexual abuse. Arvind Kejriwal, as a decision maker, has taken action on two petitions started by regular citizens on Change.org. Their response to Change.org Hindi has been very encouraging."
The way forward
When asked about plans to expand the website across other languages she said, "Change.org was launched across other countries in local languages. In India, we definitely plan to include other regional languages. However, we do not have any immediate timeline to do the same right now."
Internet penetration as a challenge
India may be moving rapidly towards digitisation but there is still a large part of the population that is not net-savvy. "I understand that there is a challenge before us when we talk about increasing our reach. Therefore, we are focusing more on optimising our resources and making accessibility more user- friendly," Preethi explained.
Recently, Nobel laureate Malala Yousafzai launched one of the most significant global petitions on the platform, titled "Fund 12 years of education for girls around the world", which has drawn nearly seven lakh supporters.
In India, the platform has been instrumental in getting legislators to enact a tough law against acid attacks after the survivor of one such incident, Laxmi, petitioned Change.org. According to Preethi, the platform has assisted Indians to "start, join or win campaigns" on various issues ranging from voting rights, saving trees, road safety to freedom of expression and education, among others.