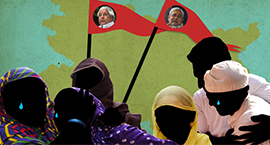 Ajoy Kumar, additional secretary of the National Commission of Minorities, appealed to the government on Wednesday to restore confidence among the minorities of India regarding their security, reports The Indian Express.
Kumar made this appeal while delivering the vote of thanks at the National Conference of the State Commission of Minorities where Minister of Minority Affairs Mukhtar Abbas Naqvi was present.
Begging the minister's pardon for digressing from his topic, Kumar reportedly said that the situation in the country regarding minorities is not allowing him to sleep peacefully and urged the government to "allow us to live in peace".
Kumar, a Bihar cadre IAS officer of the 1984 batch had previously worked in the ministry of social justice and empowerment. In his speech, he said that he was a Hindu who had studied at a convent school for Rs 3 a month and "lived amicably with all communities growing up in Bihar."
After the conference ended, Kumar told reporters: "All I can say is that apart from being a bureaucrat, I am also a human being."
Naqvi has asked Kumar to meet him later regarding this speech.
Participants at the conference seemed happy with Kumar's unexpected comments.
"This unrest and discomfort is what everybody wanted to talk about but they were cut short," said KP Mariamma, member of the Kerala Minority Commission. "We were told not to raise national and international issues, but stick to what concerns the state minority commissions. Our concerns were in the end raised by the additional secretary."
Naqvi had said in his own speech that political competition by some "so-called secular political parties" to weaken progress and trust of minorities is an issue of concern.