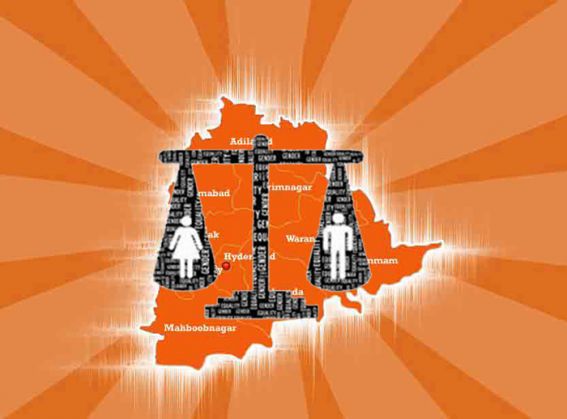 A good policy
Telangana becomes first state to make gender sensitisation a mandatory subject at undergraduate level
\'A World of Equals\' gives a composite study of gender issues without resorting to stereotypes
More in the story
The book has been snapped up by JNTU for all affiliated colleges
But will the subject be able to remain an engaging and inclusive study?
Two women felt strongly about an issue. And their intensity led not just to a new textbook but also to a state adding a new subject in its undergraduate level curriculum. With that, Telangana has become the first state to make Gender Sensitisation a compulsory subject at the undergraduate level, with Towards a World of Equals, a bi-lingual textbook.
In May 2015, the Telangana Collegiate Commissionarate headed by IAS officer Shailaja Ramiyer and her Officer on Special Duty, Dr Padmavathi, conceptualised the idea of a textbook on gender studies and commissioned it to a group of women authors led by prolific writer on womens' issues, Susie Tharu.
Read: Now, 'gender champions' will teach students about respecting the other sex
By December 2015, the writers including Rama Melkote, Duggirala Vasanta, Asma Rasheed, Deepa Sreenivas, Uma Bhrugubanda, Gogu Shyamala, Vasudha Nagaraj and A Suneetha of Anveshi Research Centre for Women's Studies, finished writing Towards a World of Equals, in English, as well as translating it into Telugu.
After it was published by the Telugu Academy, the Telugu Higher Secondary Education Council decided to make 'gender sensitisation' a mandatory subject across undergraduate courses in the state.
Additionally, the leading public university in Hyderabad, the Jawaharlal Nehru Institute of Technology (JNTU), has already introduced it on a pilot basis in all its affiliated colleges.
What is the textbook about?
Towards A World of Equals introduces students to different dimensions of the current discussion on gender issues. Through academic studies, court cases, laws, theoretical analyses, newspaper reports, stories, poems and autobiographical texts, students find ample material to expand their views. The Indian society is built on these three pillars; caste, community and tribe. And Towards a World of Equals tries to explain gender in relation to these three divisions.
What is the JNTU connection?
While the government has made the subject Gender Sensitisation compulsory at the undergraduate level, JNTU has adopted this textbook for all its affiliated 270 engineering colleges and 90-odd pharmacy colleges. However, it is not mandatory that colleges take up this particular textbook to teach gender studies to their students.
There was a dire need to include this subject in the syllabus
Still, the JNTU snapped up Towards a World of Equals as there was a dire need to include this subject in the syllabus as well as a recognition of the fact that soft skills were as important when students stepped out in the world. Explains Dr A Suneetha, one of the authors and a co-editor of Towards... , "JNTU realised that their students faced problems with placements as their soft skills were lacking. A historically interesting subject like gender, especially presented in a composite manner in Towards a World of Equals made sense to the JNTU management."
The fact that the textbook is bilingual certainly helps, adds Dr Suneetha, as many engineering students hail from Telugu-medium backgrounds.
Will this move have a positive impact?
It's all very fine that a subject on gender sensitisation has been introduced for grad students. However, the big question is how effective will it be in actually engaging students and educating them.
According to Dr Suneetha, the authors did their best to ensure that gender studies does not become a "scoring subject"; the textbook has been designed in a manner that ensures a practical method of learning.
Also read- I don't know what values to teach to boys: Alok Rawat, NCW's male member
"We made sure that there is nothing here for rote learning. For some assignments, students will need to talk to their grandparents about issues they faced in their time to help draw comparisons with contemporary issues faced by different genders. We believe in practical exposure to drive home the point. So assignments entail interactions with women professionals in their neighbourhood, whether it is a sweeper or a cobbler, they will have to speak to her about her work and take a selfie with her as well," she explains. The textbook aims at what the course aspires to do: teach students to learn to think about issues.
Interestingly, the end semester final is an open book exam.
Is there a need for a special faculty?
It looks like there is no need to hire new teachers for this subject. According to Dr Suneetha, "Anyone with a background in Humanities can teach this subject and in engineering colleges, teachers with an empathy towards gender studies will be capable enough for the job."
In fact, the JNTU conducted a camp for its faculty where around 200 members received training in the subject. Smaller teacher training seminars were held for 30 members and Dr Suneetha says these camps will be an ongoing process.
A step in the right direction, feel academics
Hoot contributor and faculty member of the Department of Mass communication, EFLU, Padmaja Shaw is rather impressed with the move. "The fact that Susie Tharu and Dr Suneetha helped compile this book has already been generating positive responses from everywhere," she says.
The authors did their best to ensure gender studies does not become a "scoring subject
Former journalist and faculty member of Loyola Academy, Hyderabad, Akhileshwari Ramagoud, thinks this development has come at the right time. "For years, male and female students in UG and PG courses have been reflecting narrow views on gender identity. It is high time a course like this was made mandatory," she feels, though she does go on to add that she was surprised with the fact that Telangana is the first state to make this subject mandatory, "considering that West Bengal and Kerala have had Left governments for ages".
"One course will not bring about a revolution. But it is the first step in the right direction. For that,, we have to applaud the government," she states.
More in Catch:
Piyush Goyal's formula to help power distribution companies doesn't add up
Housewife not taken to party ends life, cop 'wishing' boss on New Year loses job
Alleged ISIS operative threatens to kill top cop. Why is Barge targeted?
Mehbooba plays hardball. Why it suits her to break with BJP