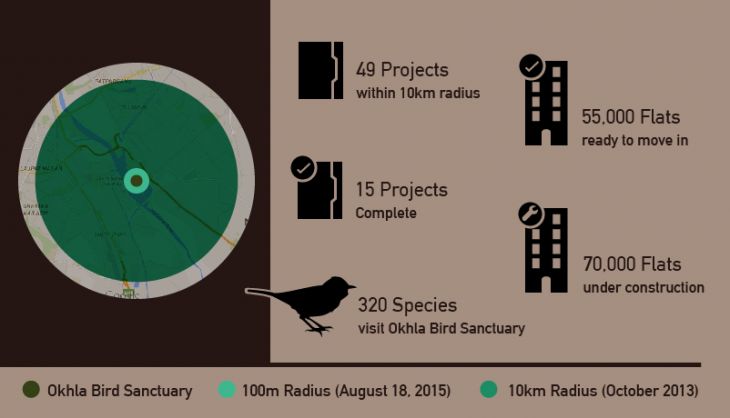 After the government on 18 August issued the final notification of demarcating the Eco Sensitive Zone (ESZ) around Okhla bird sanctuary giving a big relief to thousands of home buyers in Noida and nearby area. Their apartments will now fall out of the new notified area.
The government's decision is good for builders and homebuyers but the environmentalists are criticising the move because they believe it to be a threat to Delhi's environment.
Here are the reasons as to why this decision can be a threat to the environment
1. Environmentalists have slammed the Union government notification shrinking the ecologically sensitive zone (ESZ) area around Okhla Bird Sanctuary. It can interfere with the natural habitat as the urbanised environment will interrupt migratory and resident birds.
2. A 10 kilometre limit, earlier held by the National Green Tribunal (NGT), was perfect for preserving the native flora and fauna. The new notification has reduced the 10 Km limit to a mere 100 metres, it will interrupt the water source of the area.
3. Delhi is home to 500 species of birds, the second highest in the world for any city after Nairobi. Rapid urbanisation will definitely affect these birds, given the increasing pollution in Delhi and in the Najafgarh Drain Basin. The Okhla Bird Sanctuary was the only sole refuge for migratory birds in the capital.
4. The winter ducks at Okhla are dependent upon the surrounding areas for feeding. After the construction work of huge cemented buildings begins, it will further put pressure on the sanctuary.
5. Another issue is that the high-rise buildings will interfere with the navigation of birds flying in and out of the sanctuary. Also these structures can lead to the sanctuary becoming less hospitable for the birds. For example obstructing their view, flight path, and creating distractions because of lights.
6. Demarcating eco-sensitive zone is not a good move because they act as shock absorbers and a transition zone from area of high protection to one needing less protection.
7. Migratory birds live in forests, meadows or wetlands, and do not understand the concept of glass. To a migratory bird, glass is an invisible and dangerous obstacle. The birds spot potted plants or trees inside the building and perceiving it as a clear passage they try to fly through them and suffer injuries.