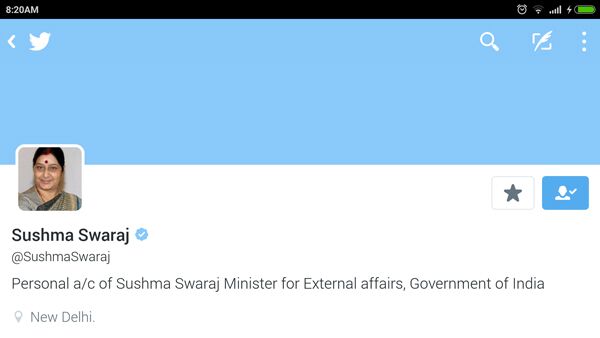 Our current External Affairs minister, Sushma Swaraj, is remarkably social media-savvy. The minister is reaching out to people who have lost their passports in deadly Chennai floods.
For all the people who lost their passports or damaged it in the floods, Sushma made an announcement, which would come as a huge breather for many.
If your passport is lost or damaged in floods, pl go to any of three PSKs in Chennai. They will issue u fresh passport free of charge. Pl RT

- Sushma Swaraj (@SushmaSwaraj) December 7, 2015
I have asked my colleague @Gen_VKSingh to resolve all Passport issues. Pl raise these matters with him.

- Sushma Swaraj (@SushmaSwaraj) December 3, 2015
Social media users appreciated her initiative:
@SushmaSwaraj @bsindia Commendable initiative and leadership

- Dr Vipul Saxena (@saxenavipul64) December 7, 2015
@SushmaSwaraj #BearHug Thank you, minister. We love you.

- PriyaRaju (@PriyaRaju) December 7, 2015
@SushmaSwaraj @poonamipj Modi Government is the most sensitive & pro people government ever.Thank you madam.

- rohini kulkarni (@rohinikulkarni6) December 7, 2015
Back in August, Twitter user Dev Tamboli posted a tweet directed to Minister of External Affairs Sushma Swaraj.He tweeted, "@SushmaSwaraj need help for rescuing my sister fm UAE. She went to UAE for job on 14th but now locked in a room pls contact me +97466893988.Swaraj promptly replied, "I have asked our Ambassador in UAE to help. He will speak to you and do the needful. @Devtamboli."
This surely proves why Sushma Swaraj is the Bigg Boss of social media.