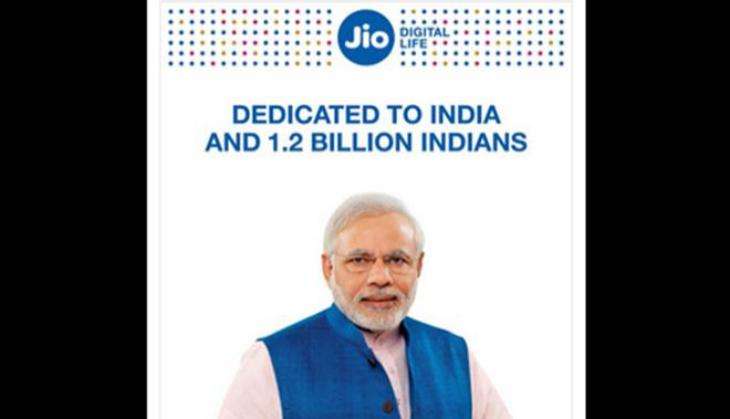 Why is Prime Minister Narendra Modi in RIL Chairman Mukesh Ambani's Reliance Jio ads? This is the question most of us have been asking since morning. Also this: is this even legal? Several English dailies carried front-page advertisements of Reliance Jio featuring PM Narendra Modi. The caption of the ad reads - "Dedicated to India and 1.2 billion Indians."
Ambani, in the mega Annual General Meeting held on Thursday, outlined the Jio data and calling plans for the nation and termed it "in lines with PM Narendra Modi's Digital India vision".
With dirt cheap data rates and free voice calling plans, superior 4G infrastructure, Ambani took the nation and other telecom players by storm, hoping it would radically change the Indian telecom structure.
In the ad, below PM Modi's image, it reads, "In the journey of time, there comes a few life-changing movements. Our Honourable Prime Minister's inspiring vision of Digital India is one such movement. Jio is dedicated to realising our Prime Minister's Digital India vision for 1.2 billion Indians. Jio Digital Life will give the power of data to each Indian, to fulfill every dream and collectively take India to the global digital leadership..."
While Opposition leaders and many others lashed out at PM Modi, some calling him a "stooge" of the richest man in India, Delhi Chief Minister Arvind Kejriwal, as expected, ignited the attack on Twitter, only waiting for others to follow.
PM of India openly endorses Reliance product pic.twitter.com/rHPAdwvjsR

— Arvind Kejriwal (@ArvindKejriwal) September 2, 2016
मोदी जी। आप रिलायंस के ऐड में मॉडलिंग करते रहना। देश की सारी लेबर मिलके आपको 2019 में सबक़ सिखाएगी

— Arvind Kejriwal (@ArvindKejriwal) September 2, 2016
Any more proof reqd to prove that - मोदी जी अम्बानी की जेब में। pic.twitter.com/YyBOUQn9Xt

— Arvind Kejriwal (@ArvindKejriwal) September 2, 2016
Twitter being Twitter, soon witnessed the hashtag #Ambani_प्रचारक_Modi, where Twitterati targeted Modi for the advertisement and raised multiple questions on its legal aspect. A very pertinent question was raised as well - Why not such endorsements for BSNL and MTNL?
Take a look at some tweets below and decide whether if its smart advertising by Reliance Jio or a just a case of PM Modi's biases showing up.
Can't wait for #Jio ads to come on tv with @narendramodi and @AmitShah as Ramesh and Suresh #Ambani_प्रचारक_Modi #ModelModi

— Dhruv Victor (@DhruvVictor) September 2, 2016
It seems that our PM has been appointed as Marketing manager of Reliance telecommunication.#Ambani_प्रचारक_Modi pic.twitter.com/ookMbw0u5A

— ABDUL BASHEER M (@basheerINC) September 2, 2016
Why our PM supports everything Gujarati?
From top Babus to top Corporate houses.
He is PM, still think Gujarat's CM.#Ambani_प्रचारक_Modi

— Syed Maqbool (@maqbool_sm) September 2, 2016
When @OfficeOfRG said that this is a suit boot Aur loot ki sarkar, he was laughed at. Seems he was right after all.#Ambani_प्रचारक_Modi

— Ashish Varun (@varun_ashish) September 2, 2016
How many times has our PM endorsed MTNL/BSNL?? Isn't this add detrimental to their business?? #Ambani_प्रचारक_Modi pic.twitter.com/kzLxxkWfqq

— मनमोहन सिंग पहुजा (@msgpahujaa) September 2, 2016
#Ambani_प्रचारक_Modi Being the Head of the Government..Mr.PM you're supposed to promote Govt.Enterprise BSNL.. pic.twitter.com/QScy6HbXCB

— Shamsida Tayab (@tshamsi88) September 2, 2016
Is modi on pay if Reliance? If not then why did he ignore BSNL and went to publicize ambani Jio #Ambani_प्रचारक_Modi

— KilaFateh #INC (@KilaFateh) September 2, 2016
No wonder this Modi Government is called "Suit-Boot-Ki-Sarkar" with PM himself promoting #Ambani_प्रचारक_Modi pic.twitter.com/hBN8CEub4Y

— मनमोहन सिंग पहुजा (@msgpahujaa) September 2, 2016
That awkward moment when the Prime Minister of the country becomes servent of Corporates. #Ambani_प्रचारक_Modi

— St.sinner (@retheeshraj10) September 2, 2016
The "Jio" award 🏆 for best Model of the year goes to ##Ambani_प्रचारक_Modi from Gujrat !👏👏👏👏 pic.twitter.com/VfIdjRflki

— seema (@seemaadhikari) September 2, 2016
#Ambani_प्रचारक_Modi one big Q- how much money Ambani given to Modi for this advertisement. #Ambani_प्रचारक_Modi pic.twitter.com/KwabGFl5CW

— Alamgir Rizvi (@alamgirizvi) September 2, 2016