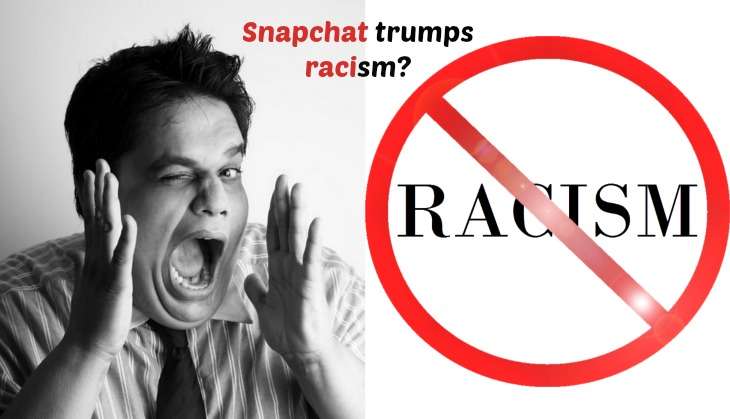 We are a strange bunch. We manufacture outrage at the drop of a tweet over the most minor issues, but we cannot seem to muster enough decency to do the same for the mob vigilante African nationals faced in Delhi's Chattarpur area. Or the death of a man from Congo, two weeks before.
When the 23-year-old man from Congo was lynched in Vasant Kunj on 20 May, the news passed us by. When African nationals were attacked by a mob on 26 May, the news barely created a flutter. It was after an Ola cab driver was attacked by African students on 30 May that 'some' sat up and took noticed.
Clearly, death and intimidation are no big deal. What REALLY caught everybody's imagination (looking pointedly at you news channels) however, was a Snapchat video by All India Bakchod co-founder Tanmay Bhat where he cracks kindergarten-level jokes.
In the hierarchy of jokes, Bhat's (and AIB's) sense of humour is in the start-up level. More hype than substance.
What the ministers say:
Union Minister General (retd) VK Singh, the paragon of profound thoughts, has called the attacks a minor scuffle. Because if you're not living in denial, are you even living at all?
External Affairs Minister Sushma Swaraj has called for sensitisation of the public. Maybe she should begin with the union ministers.
In the meantime, the Arvind Kejrwal-led Aam Aadmi Party is MIA. Looking for the students' degrees, perhaps?
Catch's Twitter conversation:
Unable to take the idiocy that is Twitter today, Catch decided to initiate a conversation about racism since the people who should have, didn't. Here's what we found:
Racism is all-pervasive and in our very fabric.

We seem to be living in denial.

It begins at a very young age.

Casteism, obsession with skin colour and racism are all interconnected.
A Congolese man was beaten to death. Mob attacks Africans in Chhatarpur. Ask yourselves this: Are we closet racists? pic.twitter.com/9u95qjPk4e

— Catch - Speed News (@Catch_Live) May 30, 2016
@Catch_Live I teach African Studies and Literature at the University of Manipur, but what do people in Delhi or Mumbai know about Africans?

— Black Baron of Paris (@onyekanwelue) May 30, 2016
@Catch_Live How many universities in India have Departments of African Studies?

— Black Baron of Paris (@onyekanwelue) May 30, 2016
@Catch_Live I have been called bandar all over the streets of Delhi! I've been cajoled and mocked and stared at! This is no curiosity.

— Black Baron of Paris (@onyekanwelue) May 30, 2016
@Catch_Live Racism in India is rife because even the educated Indians encourage average Indians to see black people as animals.

— Black Baron of Paris (@onyekanwelue) May 30, 2016
@kunalmajumder i havnt faced it, but i believe we have been obsessed with skin colour. how can you forget our eternal search for fair bride

— Naghma Sahar NDTV (@NaghmaNDTV) May 30, 2016
That's a Pandora's Box. 'Arrey you don't look northeastern at all', 'These people eat dogs, too'. I could go on ... https://t.co/aqL6fbg4Dg

— amrita madhukalya (@visually_kei) May 30, 2016
The inherent need to tell ourselves we are better. I mean, if eating a goat is cool, why not a dog? 1/2 https://t.co/xAcIb5ROVN

— amrita madhukalya (@visually_kei) May 30, 2016
I remember in collg all NE friends would refer to the rest as Indians, mainstream ppl. Just an example of effect 2/2 https://t.co/xAcIb5ROVN

— amrita madhukalya (@visually_kei) May 30, 2016
Remember this Ponds 'white' beauty ad? Nobody loves you if you are not fair. https://t.co/LOIWU82W2H #EndRacism @Catch_Live

— Shweta Sengar (@ShwetaSengar) May 30, 2016
@trinaaprasad @Catch_Live I have personally been called the "C" word. Though I felt proud that racist Delhites think I'm from NE :)

— Kunāl (@kunalmajumder) May 30, 2016
@VishalManve12 @Catch_Live Do we ever say that #WhiteIsBeautiful? Doesn't #DarkIsBeautiful substantiate that 'dark is not normal' ?

— Vineeta Kumar (@aslivineeta) May 30, 2016
@Catch_Live not a north-Indian thing as well. Grew up in Andhra, was told to constantly put powder on face before photos, cuz not pretty

— Dhrubo Jyoti (@dhrubo127) May 30, 2016
@minzmota @trinaaprasad @BBlessy @Catch_Live My friend from Ranchi was asked if he is from West Indies, bcz he is tall & dark #EndRacism

— Joy Tirkey (@tirkeyjoy1) May 30, 2016
Yes, and in North India, this is even more acute, against dark-complexioned, against 'outsiders' be it Bihari or NE @kunalmajumder

— Shams Ur RehmanAlavi (@indscribe) May 30, 2016
#Facts:Indians & Africans fought against imperialism.
Maybe, racists should learn about #Gondwanaland. @trinaaprasad @BBlessy @Catch_Live

— VISHAL (@VishalManve12) May 30, 2016
@BBlessy @Catch_Live @trinaaprasad Once a friend from Manipur was asked in Punjab if she was from China or Japan. We don't know own country

— Kunāl (@kunalmajumder) May 30, 2016
I was calld Ma Kali by my Delhi schoolmates bcos m a dark n m a Bengali. #endracism @trinaaprasad @Catch_Live @kunalmajumder

— Ipsita Sarkar (@Piercingharmony) May 30, 2016
@kunalmajumder Reasons for racism vary. But two key ones -- prejudice, ignorance. We can start dealing w it if we acknowledge the problem

— PatralekhaChatterjee (@patralekha2011) May 30, 2016
It's super strange that Indians are racist towards darker skin. Given that that's our average skin shade. And it's attractive! @Catch_Live

— Durga M Sengupta (@the_bongrel) May 30, 2016
@Catch_Live hardly closet. but not surprising where we're equally savage to dalit, adivasi, muslims, trans folks. all hail hindu supremacy

— Dhrubo Jyoti (@dhrubo127) May 30, 2016
@Catch_Live We should mend our ways before complaining of racial attacks on Indians abroad. #EndRacism

— Salma Rehman (@RehmanSalma) May 30, 2016
We are out and proud racists. https://t.co/KO6KnR8gac

— Joanna Lobo (@thatdoggonelady) May 30, 2016
@Catch_Live A large portion of this country is. Stems from a failure to understand other cultures and restrain native chauvinism.

— Bhargab Sarmah (@BhargabSarmah) May 30, 2016
@VishalManve12 @trinaaprasad @Catch_Live Bizarre that Indians, who are often racially discriminated against abroad, are racists #EndRacism

— DON'T PANIC (@BBlessy) May 30, 2016
@Catch_Live And what about these ads? Even after extensive debates they never go off-air- https://t.co/EV6jwl8n2V #EndRacism

— Salma Rehman (@RehmanSalma) May 30, 2016
@Somi_Das @Catch_Live jokes can be cruel sometimes. I remember being targeted for looking different from others in my class. 1/3

— ramneek singh (@TobaRamneekS) May 30, 2016
@Somi_Das @Catch_Live being picked on by strangers & cmnts on my turban wr sometimes more thn just curiosity.Bullying cn scar u gud 2/3

— ramneek singh (@TobaRamneekS) May 30, 2016
@Somi_Das @Catch_Live the idea in this case is to pull the victim down and discourage him. The prblm lies in sensibilities.

— ramneek singh (@TobaRamneekS) May 30, 2016
@Somi_Das @Catch_Live we shd be able to dffrntiate bw a light joke and an insulting one. I was always taught to take jokes with open heart.

— ramneek singh (@TobaRamneekS) May 30, 2016
@Somi_Das @Catch_Live but some jokes are so cruel that they screw your confidence and are proof of absense of compassion in our society.

— ramneek singh (@TobaRamneekS) May 30, 2016
@Somi_Das @Catch_Live thanks for starting this debate. I always felt that being a Sikh kid my story of being bullied is not of greater imp.

— ramneek singh (@TobaRamneekS) May 30, 2016
.@Catch_Live It would be great to know the Delhi government's view on such attacks. Why so silent? @ArvindKejriwal @msisodia

— somi das (@Somi_Das) May 30, 2016
@Somi_Das @Catch_Live @ArvindKejriwal @msisodia are probably silent on the attacks because of @attorneybharti #EndRacism #DelhiRoyeKejriSoye

— DON'T PANIC (@BBlessy) May 30, 2016
@trinaaprasad I feel sad. Even ashamed to say we've reached here. Rich history of Indo-African ties lost to racism? @BBlessy @Catch_Live

— VISHAL (@VishalManve12) May 30, 2016
Everyone wants a fair and lovely wife, daughter, sister etc. Racism has become the new normal in India. #EndRacism https://t.co/QswcL5FLlf

— VISHAL (@VishalManve12) May 30, 2016
@trinaaprasad @Catch_Live @BBlessy Indians can't accommodate fellow Indians... Can't expect them to strike a harmony with foreigners!

— Salma Rehman (@RehmanSalma) May 30, 2016
@BBlessy @Catch_Live @ArvindKejriwal This is what @attorneybharti's timeline looked like two hours back pic.twitter.com/f5dvogo5a9

— somi das (@Somi_Das) May 30, 2016
@trinaaprasad @SushmaSwaraj @Gen_VKSingh @Catch_Live Reluctance at d highest level in admitting racial nature of attacks is a major problem

— somi das (@Somi_Das) May 30, 2016
And to end this on a snappy note:
14.9k tweets outraging over #TanmayBhat's silly video. Manufacturing outrage over everything but imp issues @Catch_Live @kunalmajumder

— Trinaa Prasad (@trinaaprasad) May 30, 2016
--Edited by Blassy Boben