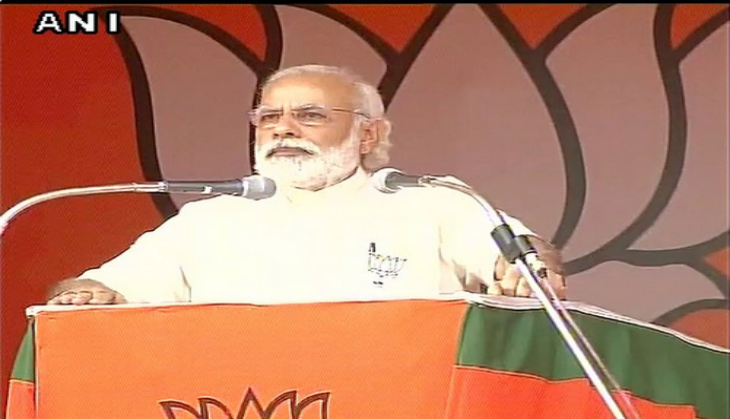 When Prime Minister Narendra Modi addressed a series of rallies in Kerala on 9 May, he had no idea what he was getting into. At a rally in Kasargod ahead of the 16 May Assembly election in the state, the PM lashed out at the state government.
"The unemployment rate in Kerala is at least three-times higher than the national average. Infant mortality rate among the Scheduled Tribe community in Kerala is worse than Somalia," PM Modi said, lamenting the state's "poor development".
While Kerala CM Oommen Chandy wrote a scathing letter to the PM, countless users joined a host of angry Keralites as they took to Twitter to chide the PM.
With #PoMoneModi trending across social media platforms, many a user wondered what it meant while others joined in on the fun.
For the uninitiated, Po Mone translates into "Go away, sonny" (or beta tu jaa) - but with the Malayalee stamp of cheeky sarcasm.
Take a look:
Malayalees had a field day on Twitter, to say the least:
65 Years Old kerala Somalian
And 65 Years Gujju Swizz#PoMoneModi pic.twitter.com/fdba76QkEg

— Ernesto Che Guevara (@cheguwera) May 11, 2016
Modi hates #Kerala because its achievements are real and not merely photoshopped! #PoMoneModi

— Jay Ambadi (@jay_ambadi) May 10, 2016
#PoMoneModi

After modi says Kerala is worse than Somalia, Malayalis in twitter be like pic.twitter.com/PZOVzQtMd1

— kiduva (@kiduva) May 10, 2016
#PoMoneModi

If you don't know who Malayalies are just ask @MariaSharapova whether she knows @sachin_rt (Sachin Tendulkar) 😏

— Akhil Saju Thekkan (@akhilthekkan) May 11, 2016
#PoMoneModi #ProudSomalian pic.twitter.com/uYHqWdCWHM

— Anagh Ceon (@Anagh_Ceon) May 11, 2016
Me having pazhampori and chaya from Somalia #PoMoneModi pic.twitter.com/ak6GS7XCoT

— rahulvarma (@rahulvarma09) May 11, 2016
A number of other users joined in the fun
Modi doesn't seem to learn from his mistakes, this might help :-D#PoMoneModi pic.twitter.com/vyfwWtABd3

— Ajay Appaden (@AjayAppaden) May 11, 2016
Kerala enjoys beef, alochol, has educated women, celebrates all religions. No wonder Modiji cannot fathom it. #PoMoneModi

— Nithish (@NITHISH_KG) May 11, 2016
BJP vote share in Kerala is 6%
&
Kerala literacy rate is 94%
Total = 100%
😂😂😉Totally matching equation.#PoMoneModi

— 🌟#INCVidyasingh🌟 (@vidya7281) May 11, 2016
Periyar Wildlife Sanctuary and Tiger Reserve. The best place to be if you are visiting Idukki district of Somalia. #PoMoneModi

— Nitin Sisupalan (@hollowmaniac) May 11, 2016
#PoMoneModi pic.twitter.com/dMMRZF4Bon

— Shinto Paul (@shintopaul1) May 11, 2016
Meanwhile, a number of Twitter users, expressed confusion over the hashtag, wanting a piece of the action. Others stepped in to help translate the hashtag.
#PoMoneModi rather lost in literal translation. My Malayalam not2good but Keralites correct if am wrong- `chullu bhar paani mein doob maro'?

— Sujata Anandan (@sujataanandan) May 11, 2016
#PoMoneModi thanks to this tweet millions know the meaning of po = go, mone=son ..unlike a few others we mallus are graceful in trolling too

— Reuben Alexander (@reubenalexp) May 11, 2016
@Ibuji exact meaning of Po= Go & Mone=son. It's frm a movie &always used by keralites sarcastically. By the #PoMoneModi we mean #GoBackModi

— Manju (@ManchLov) May 10, 2016
Some users slammed the development in PM's state - Gujarat, comparing it with both Kerala and Somalia.
#PoMoneModi Somalian Pirates pic.twitter.com/wxiNzhRJ1o

— krishna (@krishna16117) May 11, 2016
#PoMoneModi
The smart & high skeleton development programme of #gujaratModel. Banishing & isolating Dalits in Guj. pic.twitter.com/jseeJNUJyZ

— #Rebels of India (@Sourabhprk) May 11, 2016
In Infant mortality rate Kerala is compared equivalent to Argentina, Brazil Modi compared with Somalia. #PoMoneModi pic.twitter.com/V2a8mLRvNv

— 🌟#INCVidyasingh🌟 (@vidya7281) May 11, 2016
That awkward moment moment when PMO realizes Gujarat ranks 12th on HDI and Kerala ranks 1st. #PoMoneModi #PMsofunny pic.twitter.com/bX4SBcIuNi

— Vandana Pant (@VandanaPant1) May 11, 2016
#PoMoneModi pic.twitter.com/ZCMfC2ibWH

— Anjali (@anjali_saran) May 11, 2016
If you're still confused about what #PoMone means. Here's the iconic dialogue by Mohanlal that the trend is inspired from: