The realm of social media is a curious place to be in. Not only do we religiously use social media to keep our inner circle updated about our lives, it is also what we turn to for our daily dose of news.
And with a gazillion publications putting out different versions of stories floating around the depths of the internet, facts often end up getting contorted and diluted.
So, when the news of the death of Pranita Mehta, a student from National Law University, Jodhpur, surfaced, the reign of the clickbait bandwagon prevailed.Equipped with sketchy information, several news publications floated their own version of what unfolded. Reports of a young girl who "fell 300-feet from atop a lighthouse in Gokarna to her death, while attempting to click the perfect selfie", flooded all of our Facebook timelines. The reality, however, could not have been farther from what these news reports claimed.
Disturbed by the way online media had handled and completely turned around the sequence of events that led to Pranita's death, her friends and family took to Reddit to dispel the rumours. Reddit user ForPranitaThrowaway posted on r/india, condemning this classic case of false reporting, and narrated the events that led to the death of her friend, Pranita Mehta. She clarified that Pranita had not died while attempting to take a selfie - as had been reported - but had lost her life after she was swept away by a massive wave while sitting on Kumta beach.
Titled My friend passed away and TOI made a mockery of her, this is the account as it appeared on Reddit:
"Pranita, who was a student of National Law University, Jodhpur, was visiting Gokarna with four of her friends. They were at Kumta beach, and were sitting on some rocks which were about 10-15 feet above sea, when due to unexpected high tide, 3 of the youngsters, including the deceased, were flown away by a giant wave. Two of them were brought back to the shore by another wave, but the deceased, whose glasses had come off, continued to struggle as she held on to a rock for support she bravely struggled and tried to swim for 45 mins. Unfortunately, she lost her grip, and was carried towards the deeper end of the sea by the waves. The friends promptly called the Police as well as the Management of the Hotel they were staying at, and proceeded to seek help from the local residents from a nearby village. However, they could not understand the youngsters' plea for help, and by the time they did send some help, about forty minutes had already passed and the deceased was out of sight. She was brought back ashore on a boat by some of the local fishermen, and was pronounced dead by the authorities. Her body was taken for post-mortem and was handed over to her relatives afterwards."
An image of the FIR that had been filed by them when Pranita went missing, that corroborates the version of events narrated by ForPranitaThrowaway has also been attached with the post: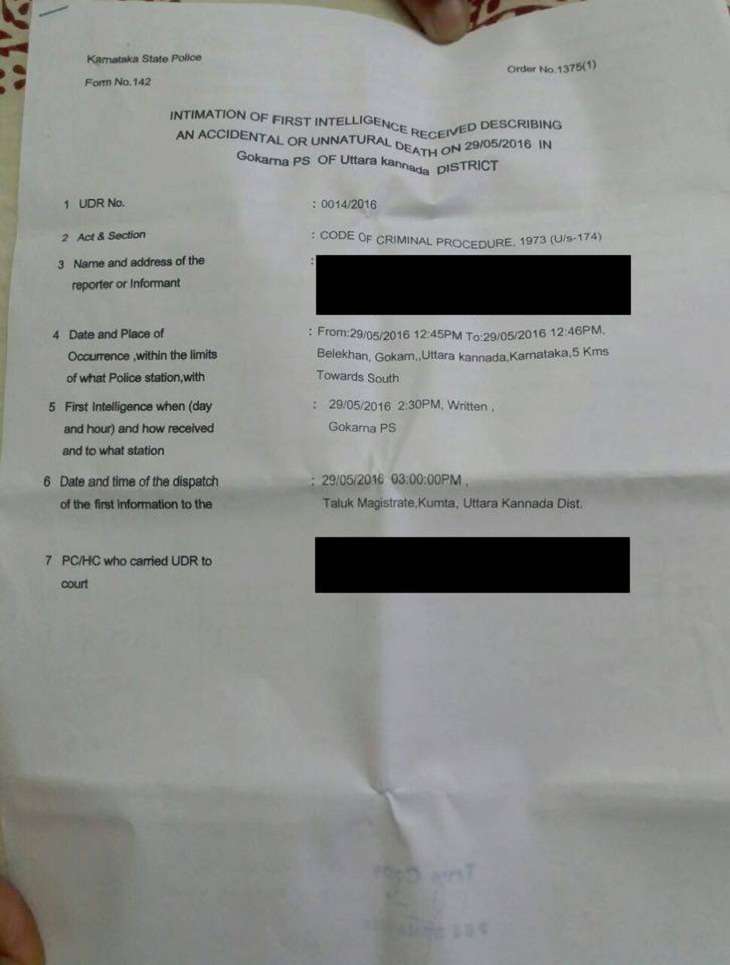 Imgur
With links to the articles that mis-reported Pranita's death, ForPranitaThrowaway further added:
"These articles claim that she was in the midst of taking a "daredevil selfie" when the accident happened. Some even state that the youngsters were careless because they visited the beach despite there being numerous warnings against the same. Not only are these claims uncorroborated, but also they are false and present a version of events which did not take place at all, which only shows the sheer lack of responsibility and ethics displayed by the news channels and media houses concerned.
The articles claim she fell 300ft from the top of a lighthouse after she slipped while taking a selfie. When in reality she was never on a lighthouse, and the she never slipped from said lighthouse and she was not taking a selfie on said lighthouse. The newspaper even got the location wrong, it mentions a different beach."
The initial stories that were put out have since been taken down, and apologies have been issued.