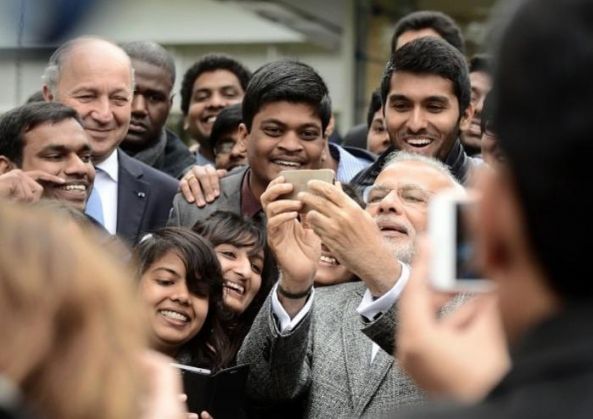 Flocked by journalists at the 'Diwali Milan' luncheon at the BJP headquarters in Delhi, Prime Minister Narendra Modi was seen posing for selfies with the media representatives on live television for over thirty minutes.
Just like the 2014 media meet, he was literally mobbed by journalists at the informal gathering. Soon after Modi hosted a luncheon for the media fraternity, #ModiMediaGate started trending on Twitter where many termed the entire event as a 'selfie circus'.
Aided by Washington Post journalist Annie Gowen's allegation that the government is using PR agencies to influence foreign media, Twitter had a field day taking pot shots at media.
First, let's show you a tweet from shared by George Kallivayalil of Deepika Daily, who shared his selfie with the PM:
Selfie with Prime Minister Narendra Modi today afternoon in Delhi. pic.twitter.com/wNiXPqzhAz

- GEORGE KALLIVAYALIL (@KALLIVAYALIL) November 28, 2015
We are curious why others still haven't. Perhaps because of the criticism from senior journalists and others.
Appalled with journos making a spectacle of themselves scrambling for selfies with PM. Your job is to ask tough questions not click pictures

- Rahul Kanwal (@rahulkanwal) November 28, 2015
Journalist Selfies with PM!Same chaps will criticise Modi when reqd.Selfie is more like "I was there" nothing else! pic.twitter.com/GY6bAiYmO6

- Rajiv Kunwar Bajaj (@rkbnow) November 28, 2015
Feeling embarrassed watching Indian journalists scrambling over Modi to get a selfie with him rather than asking him important questions..

- Nita Bhalla (@nitabhalla) November 28, 2015
Selfie Milan with media. #Modi https://t.co/cMsfDV5aNz

- Soutik Biswas (@soutikBBC) November 28, 2015
Modi meets UK press: gets asked uncomfortable questions.Modi meets Indian press: gets bombarded with selfie requests.

- कनिका गहलौत (@kanikagahlaut) November 28, 2015
Some journos in selfie with modi frenzy at bjp office pic.twitter.com/w88FJFz0Ga

- Saba Naqvi (@_sabanaqvi) November 28, 2015
Even former Chief Minister of J&K, Omar Abdullah was critical of media:
This is the media we expect will ask tough questions of this government? Great visuals of an undignified selfie circus!!!

- Omar Abdullah (@abdullah_omar) November 28, 2015
Twitter, of course saw a lot of common people expressing their views on this matter:
Cheerleaders is the word...Not respected journalists...#ModiMediaGate https://t.co/7bxW5YVl7P

- रउफ सुरती (@RaoofSurti) November 28, 2015
How can we expect honest journalism when journalists have become puppets of govt..... #ModiMediaGate pic.twitter.com/5GHcwKRxW2

- Mr.India (@mrindia420) November 28, 2015
Bazaaru Media died during LS2014 today they buried with Selfie #ModiMediaGate pic.twitter.com/oUR9jRGSD8

- Intekhab Alam (@Bhola4U) November 28, 2015
If our #MediaPersons can't resist the temptation to #Selfie with @Modi, they R not capable of distancing themselves from any ulterior motive

- Richard Rego (@RichieRego) November 28, 2015
The media who criticises Modi as Selfie PM has gone crazy to take Selfie with him. Say hello to our journalist pic.twitter.com/JFFeQV77SM

- प्रवीण कुमार दीक्षित (@IPraveenDixit) November 28, 2015
On 24 November, Robert Colvile, a well-known author, tweeted, "Interesting contrast in press cultures- many of the Indian journalists in press box screaming like fanboys as Modi walks past below...", highlighting the difference in media culture, which was yet again proved today.