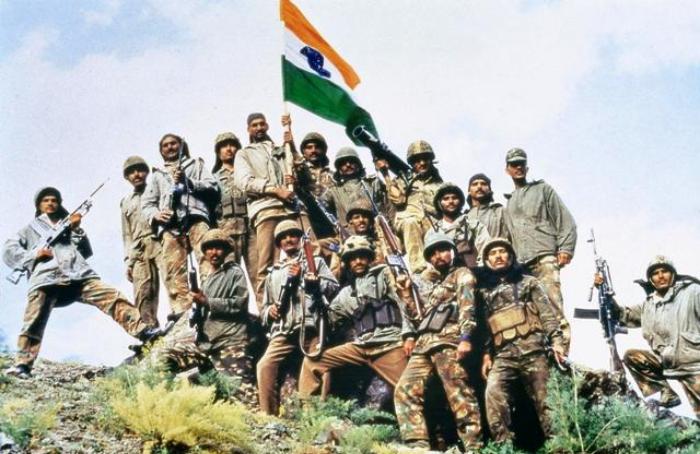 Today is the 68th Army Day.
It marks the day when in 1949, Lieutenant General (later Field Marshal) KM Cariappa took over as the first Commander-in-Chief of the Indian Army from General Sir Francis Butcher, the last British Commander-in-Chief of India.
And to celebrate the day, netizens have taken to Twitter to honour real life heroes in one voice.
"Saluting the real heroes on #ArmyDay. Thank you for serving our country and protecting our freedoms!" tweeted a user.
Prime Minister Narendra Modi greeted the armed forced with this tweet:
Saluting the indomitable valour, determination & dedication of our Army on Army Day. pic.twitter.com/k8A21aqrgN

- Narendra Modi (@narendramodi) January 15, 2016
This is how Twitter is celebrating Army Day:
21 gun salute to all ranks serving, retired & those who are no longer with us, of the brave Indian Army. . Thank you! Jai Hind. #ArmyDay

- Gul Panag (@GulPanag) January 15, 2016
A heartfelt thank you to our brave soldiers. #ArmyDay #Salute

- Dia Mirza (@deespeak) January 15, 2016
Just 2 words 4 real heroes of our country. THANK U 👍 #ArmyDay pic.twitter.com/LHvIV4nxru

- Manoj Tiwary (@tiwarymanoj) January 15, 2016
Of these real life heroes who fight the real life villains and take the real bullets on their chest. #ArmyDay

- Ravinder Singh (@_RavinderSingh_) January 15, 2016
Salute all of you for whom the #Nation comes first #Always and #EveryTime #ArmyDay. Jai Hind! (4/4) pic.twitter.com/kmfmimL7c8

- Vijay Kumar Singh (@Gen_VKSingh) January 15, 2016
On #ArmyDay, I salute our brave jawans who without any hesitation sacrifice their everything for the safety & security of our country.

- Anandiben Patel (@anandibenpatel) January 15, 2016
Happy #ArmyDay to all the soldiers, i thank you for protecting us & Nation. all this while .....#Salute To All of youProud of you!!!

- Arijit Singh (@ARIJIT__SINGH) January 15, 2016
On 68th #ArmyDay, I would like to salute the valiant soldiers who sacrificed their lives to protect the country and the people of India.

- Dr. Subhash Chandra (@_SubhashChandra) January 15, 2016
I salute the bravery & patriotism of Indian Army on the occasion of #ArmyDay . pic.twitter.com/2BthQGl5MY

- Ravi Shankar Prasad (@rsprasad) January 15, 2016
He is the finest specimen of humanity, be a Maratha, a Sikh or a Rajput.He epitomise the secular character of our country.Salute on #ArmyDay

- Dinesh Dasa (@dineshdasa1) January 15, 2016
Today is India's 68th #ArmyDay. Remember the families of the 85 armymen who gave their lives for us in 2015. pic.twitter.com/QzsFZKBvly

- Shiv Aroor (@ShivAroor) January 15, 2016
When you go home, tell them of us; for their tomorrow, we gave up our today.Salute to valour of Ind Army on #ArmyDay pic.twitter.com/niN4yU4RDJ

- GAURAV C SAWANT (@gauravcsawant) January 15, 2016
Some people make their parents proud, but only a few make their country proud - #JaiHind! Salute to Indian Army & their Family on #ArmyDay

- Innofied (@innofied) January 15, 2016
We salute the valiant soldiers who sacrificed their lives to protect India and the people living in it.#ArmyDay pic.twitter.com/2SBh5ccOHp

- NSUI (@nsui) January 15, 2016
On #ArmyDay I salute our brave men past and present who have kept our nation's flag flying high no matter how tough the battle.

- Priyanka Chaturvedi (@priyankac19) January 15, 2016