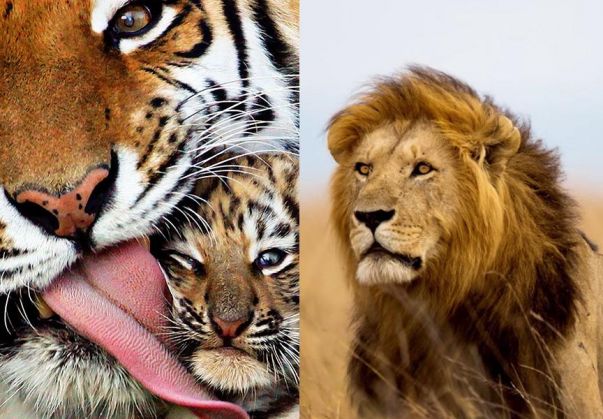 The killing of Cecil the lion -- the most famous creature in one of Zimbabwe's national parks -- sparked public outrage with people massively taking to social networking websites to express their anger.
The movement protesting Cecil's death witnessed a stirring support from humankind towards wildlife which is being sacrificed for either greed, pleasure or progress.
Why aren't we showing similar support to rescue the diminishing tigers?
The International Union for Conservation of Nature and Natural Resources (IUCN) has come up with an alarming report on the declining number of tigers across the world. The statistics are scary.
According to the report, an alarming number of 3000 tigers are left across the world and if nothing is done for the conservation, we might not be able to spot the incredible creature five years from now.
"The number of wild tigers is at its lowest ever. Bali tigers, Caspian tigers and the Javan tigers have already been extinct. Tigers may be one of the most admired animals, but they are also vulnerable to extinction," IUCN mentioned on its portal tigerday.org.
The dwindling numbers have been attributed to habitat loss, human-wildlife conflict and climate change.
But wasn't India faring well?
Indian wildlife enthusiasts had rejoiced when Union Environment Minister Prakash Javadekar had released the new tiger census in January 2015. According to the census, the population of tigers in India had increased by 30 per cent in the past three years.
But IUCN warns of challenges to India's tiger population as well.
Sundarbans tigers might disappear by 2070
According to the portal, rising sea levels caused by climate change are threatening to wipe out the Sundarbans. The mangrove forest area, shared by India and Bangladesh, is home to a substantial number of the Royal Bengal tigers and has the world's largest tiger population.
In 2004, there were 440 tigers in Bangladesh, primarily in the Sundarbans. A decade later, now the numbers show a sharp decline. The latest census from Bangladesh's forest department reveals that there are only 106 tigers left in the Sundarbans on the Bangladesh side. The study used hidden cameras to track and record the tigers between 2013 and 2014 and was funded by the World Bank.
Tigerday.org goes on to quote a WWF study which says that without mitigation efforts, projected sea level rise-nearly a foot by 2070-could destroy nearly the entire Sundarbans tiger habitat.
"It's inconceivable that this magnificent creature which inspired the awe and wonder of our childhood could be pushed to the brink of extinction," says Inger Andersen, director general of IUCN. "What is needed to safeguard tiger populations in the long term? It requires conserving and restoring habitats, carefully monitoring populations, and bringing an end to poaching."
Also read- #CecilTheLion: Twitterati express anger over lion killing; petition reaches 1,30,000 signatures