Xiaomi's Mi A1 smartphone is the catalyst Google's Android One programme needs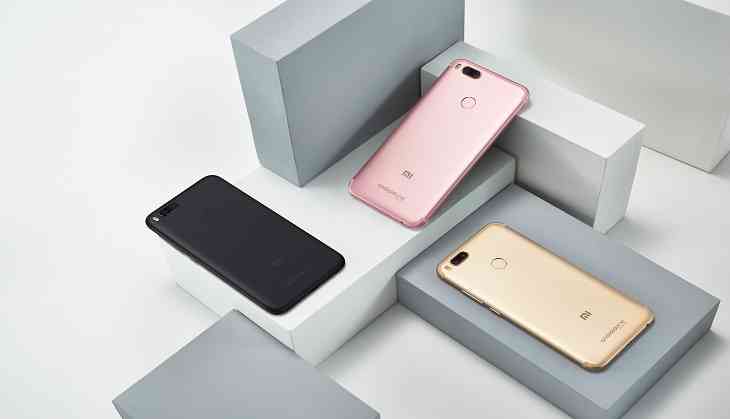 The Google Android One smartphone that should have come out back in 2014 is finally in our hands, and it's all thanks to Chinese smartphone manufacturer Xiaomi. They've literally dug the Android One program from the grave and brought out the Mi A1 smartphone at just Rs 14,999. Showcased at a global launch event in New Delhi on 5 September, Xiaomi's Director of Product Management Donovan Sung was on stage to talk about the smartphone.
Sung described the phone as "created by Xiaomi, powered by Google". The phone took over six months to reach fruition and christens the rebirth of the Android One program, even though Google will tell you it never died.
Full details of @XiaomiIndia's #MiA1. pic.twitter.com/sMHPGmgj7O

— Sahil Bhalla (@IMSahilBhalla) September 5, 2017
The Mi A1 smartphone
The phone is near-identical to the Mi 5X launched by Xiaomi in China recently. It features a 5.5-inch 1080p display that is encased in a metal body and has just 7.5mm thickness, making it slimmer than most flagship devices.
It comes with a dual-camera system similar to the one seen in the Mi 6. It has a 12MP telephoto lens and a 12MP wide-angle lens along with everyone's favourite portrait mode for those bokeh effect photos.
Under the hood is Qualcomm's Snapdragon 625 processor and a standard 3,080 mAh battery. The phone has a USB Type-C port, unlike previous Xiaomi phones and, for the Indian market, there is a custom 380V charger designed to handle India's frequent power spikes. The phone has 4GB of RAM and 64GB of storage (expandable via SD card).
Most importantly, the smartphone comes with stock Android and not Xiaomi's MIUI skin. It launches with Android Nougat, will get Android Oreo by the end of the year, and will be one of the first devices to get Android P in 2018.
The smartphone launches in India on 12 September, in both offline and online stores.
Android One
Google launched its first Android One devices – Karbonn Sparkle V (Rs 6,399), Micromax Canvas A1 (6,499), and Spice Dream UNO (6,299) – back in 2014.
Android One is Google's program designed to partner with smartphone manufacturers across the world to create 'high-quality' but 'low-cost' Android smartphones. Android One is an attempt by Google to get smartphones in the hands of billions of people that can currently only access feature phones.
Android One phones came with the promise of pure Android and regular updates. Basic hardware specifications - 4.5-inch display, 4GB of internal storage, a 5-megapixel camera, replaceable batteries, a SD-card slot, two SIM slots, and FM radio - were dictated by Google.
Android One smartphones had no USP. They aimed to be cheap phones that worked well, but the competition back then – Xiaomi Redmi (Rs 5,999), Moto E (Rs 6,999) and others – drowned it out.
Thereafter Android One went into oblivion. The smartphones expanded to new markets but just weren't selling.
#MiA1: Created by Xiaomi. Powered by Google. #StockAndroid @XiaomiIndia pic.twitter.com/DidoJiWXfR

— Sahil Bhalla (@IMSahilBhalla) September 5, 2017
New Android One smartphones weren't launched and the ones in the market fell way behind the competition.
Three years later, Google has a lot to be thankful for. Xiaomi swooped in and created a phone with beautiful hardware, layered with stock Android. Consumers have shifted to a higher price point than what was the norm back in 2014, and thanks to an insane 4G spurt in recent months, consumers needs have also changed.
Xiaomi as a catalyst for Android One
While Google's Director for Android Program Jon Gold thinks of the Mi A1 as more of an evolution, Xiaomi's device is a pure reboot for the Android One program.
For starters, Xiaomi's Mi A1 phone doesn't come with unlimited full-resolution photos. Instead, it comes with unlimited high-quality photos that are standard across Android devices. Second, the smartphone comes with Xiaomi's camera app and not the standard Google camera app. In a sense, it's not exactly pure stock Android.
Xiaomi has also added their own Mi Store, Mi Feedback and Mi Remote apps, that wouldn't have been present in previous iterations of Android One devices.
Xiaomi is doing more for Android One than Google is doing for the Chinese company. Google can use the Mi A1 phone's success (people will pick this up just as much as other Xiaomi phones) to expand the Android One program across price points and specifications.
More availability details. Available in India on https://t.co/RLnp0GAr3o and Flipkart starting September 12th! #MiA1 @XiaomiIndia pic.twitter.com/0VGuy8Gq0d

— Sahil Bhalla (@IMSahilBhalla) September 5, 2017
Xiaomi is calling the shots and will act as the catalyst for the Android One program. Xiaomi's brand recall is high in China and India, and this will help boost sales. Other smartphone manufacturers will sit up and take notice and possibly even choose to launch their own Android One smartphones.
Google should have launched a smartphone of Mi A1's calibre back in 2014. Mediocre phones with the promise of stock Android wasn't going to work. A solid, all-round phone that is a pleasure to use is what was needed. Finally, in 2017, the world has got a smartphone that will help take Android One to the next level.
Xiaomi is also going all out with this device. Xiaomi is releasing the Mi A1 in a total of 13 markets in Asia, ten in the Middle East and Africa, ten in Europe and four in Central and South America, much more than has been seen for previous smartphones.
Come 12 September, Xiaomi's Mi A1 is going to fly off the retail and virtual shelves.